Okanagan Lavender & Herb Farm | 4380 Takla Rd. Kelowna, BC V1W 3C4

The lavender is just starting to blush and turn purple – it's a great time to get out and visit the Okanagan Lavender and Herb Farm (4380 Takla Road) and stroll the gardens. The gift shop has lots to take home, too. 

Jennifer Schell recently visited the farm and checked in with Andrea McFadden.

BUTTERMILK SCONES WITH ROSES AND LAVENDER
Ingredients
3 cups unbleached white flour
2 tablespoons baking powder
¼ teaspoon salt
2/3 cup cold butter
1 ½ cups milk
1 tablespoon lemon juice
2 tablespoons dried rose petals
1 tablespoon dried lavender buds
Baking Directions
1. Pour milk into a measuring cup, add lemon juice and let sit until milk curdles.
2. Sift flour, baking powder and salt into a bowl.
3. Cut butter with 2 knives until it resembles small peas
4. Add milk and mix quickly with a fork to form a soft dough. Add rose petals and lavender buds.
5. Knead several times, until dough feels elastic when stretched. Add flour if it feels too sticky.
6. Lightly dust a cutting board with flour.
7. Using hands, press scone dough out to a circle shape of even thickness.
8. Using a knife, cut dough into 12-18 even-sized triangular pieces
9. Place pieces on baking sheet in a circle with 1" space between scones.
10. Brush tops with milk.
11. Bake at 425°F for 10 - 12 minutes, until they sound hollow when tapped or the colour is golden brown.

You can also pop into the gift shop at the farm and find a mix to help.

---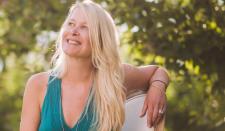 Jennifer Schell is a writer, editor of BC Food & Wine Trails Magazine and internationally award winning author of three cookbooks titled: The Butcher, The Baker, The Wine & Cheese Maker. Born and raised on an orchard in East Kelowna, Jennifer's family roots run deep in agriculture. An advocate for all things local, she focusses on shining the spotlight on the people of the food, wine and farm scene.