Gatzke's Farm Market | 3996 Irvine Road, Oyama, BC V4V 2J2 | 250-548-344

Kelowna is just so peachy!
When I created my first cookbook, I asked the chefs that I was interviewing that did not grow up here what their first sensory memory of the Okanagan was. 99% of the responses were about peaches! Biting into warm peaches off the tree, juice running down their chin, sunshine, happiness. Yup, that's how we roll here in the summertime and it is bliss.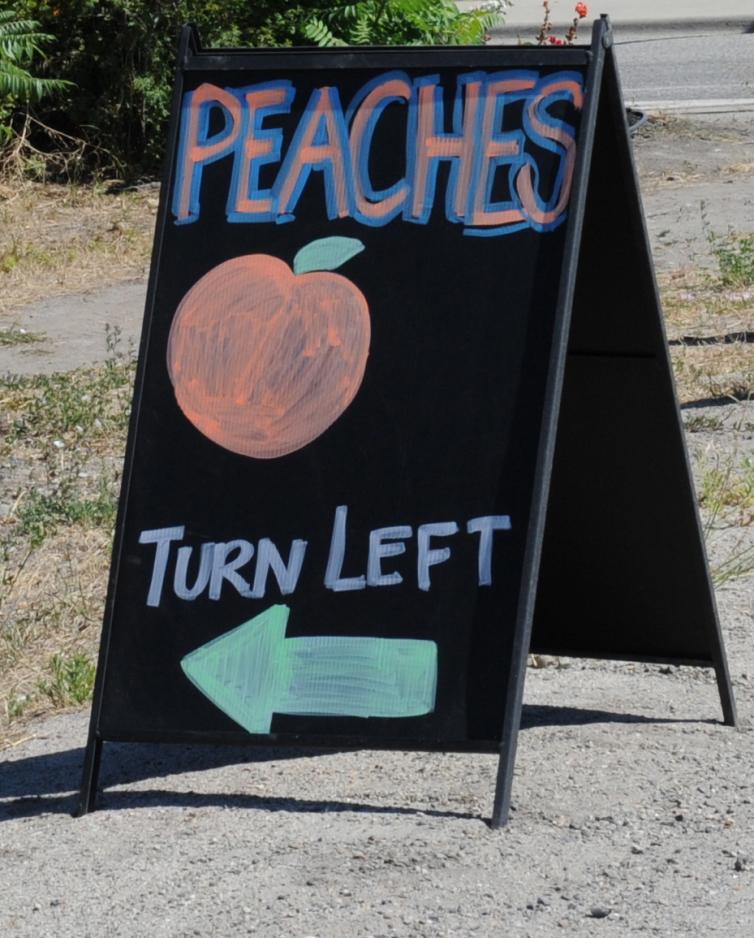 The farm girl that I am, I grew up surrounded by orchard and fruits ranging from apples, plums, pears to a very special peach block that my mom maintained. Every year I would marvel as the pilgrimage began, cars with different coloured license plates would starting rolling in like clockwork from the "prairies", all coming to collect a box of their favorite peaches. Mom's peaches were huge, freestone and super sweet and I cashed in on her customer loyalty as well. I picked up all of the windfalls to sell for jam and that was my money to keep. This was much more feasible business model than our Kool-aid stand that we had by the road constructed from apple bins. Old East Kelowna Road didn't get much traffic in those days, seeing maybe a couple of cars in one sweltering afternoon, my cousin Kim and I didn't earn much treat money that way.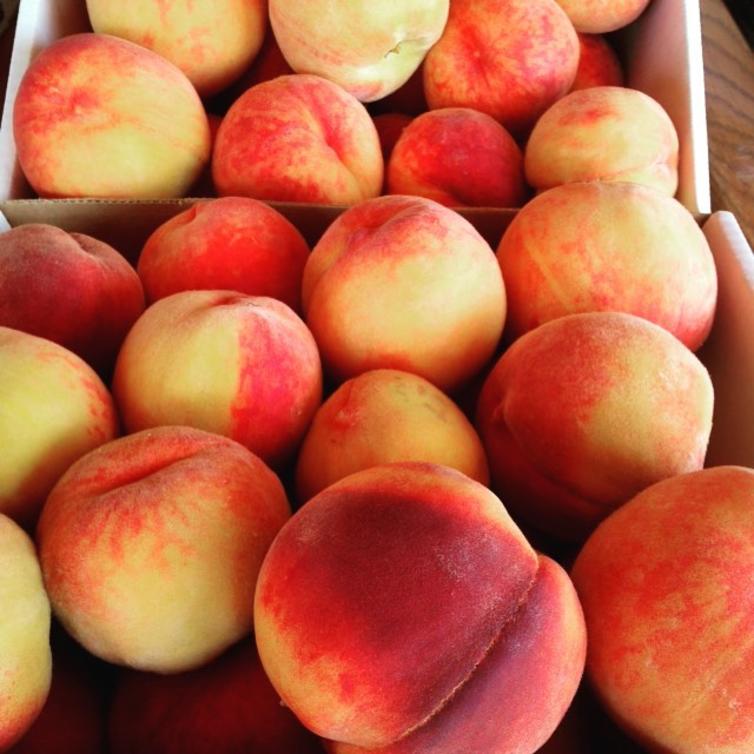 Peaches are now in season! My mom's block is long gone, but they have a tree left to feed the family. I love chopping fresh peach into salads or serving it sliced on hot buttered toast drizzled with maple syrup- a trick taught to my by my Aunt Connie. I also use chopped peaches in fruit salsa to top my fish tacos. Gatzke's Farm Market in Oyama is famous for their peaches and their Peach Salsa, selling jars and jars of it to fans from near and far. I couldn't believe my luck when I asked owner Al Gatzke if he would share the recipe in my current cookbook, The Butcher, The Baker, The Wine & Cheese Maker- In the Okanagan and he said yes! Here it is, get ready to do some chopping.

IF you don't feel like making it, go pick some up from the farm shop at Gatzke's Orchard in Oyama, made with the peaches grown on the farm and it is an amazing place to visit. He offers a few varieties including the incredible white peach and ask to see the donut peaches! Gatzke's market has a huge array of local fruits and vegetables and is also famous for their housemade fruit pies. Check out the land, Al has created an incredible space with a stage, a vine covered beer garden, a cafe and there are tons of farm memorabilia to see. GO to their Gatzke Orchards website to see the line up of events, concerts and dinners featured this year- you can also book your own event there (something I plan to do). This is a totally authentic farm experience lead by a totally authentic farm guy. Al is a legend. gatzkeorchard.com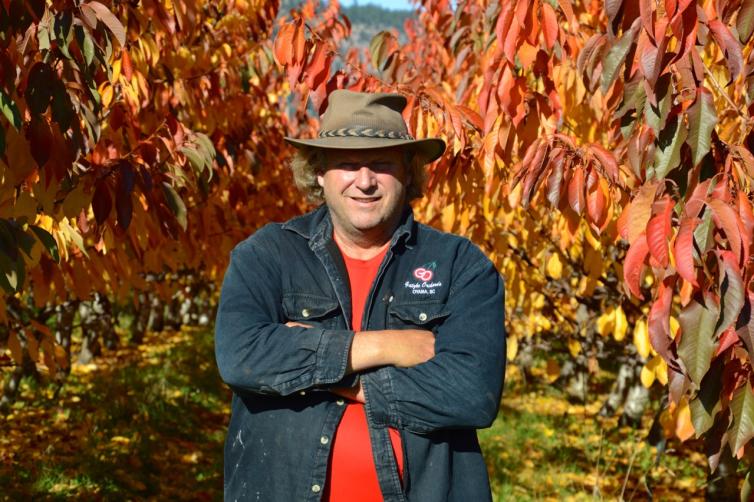 Gatzke's Peach Salsa
Makes about 15 2-cup (500-mL) jars—enough for all your friends!
16 cups (4 L) peaches, chopped
6 cups (1.5 L) onions, chopped
14 cups (3.5 L) peppers (your choice of colour), chopped
3 Tbsp (45 mL) garlic, minced
6 Jalapeno peppers, minced
1⁄3 cup (75 mL) white sugar
1 1⁄2 cups (375 mL) white vinegar
1⁄2 cup (125 mL) lemon juice
1⁄4 cup (60 mL) coarse salt
1 Tbsp (15 mL) dried oregano
2 Tbsp (30 mL) curry powder
1 Tbsp (15 mL) cumin
1 Tbsp (15 mL) cornstarch dissolved in
1⁄4 cup (60 mL) of water brown sugar to taste (optional)

Chop all of the fruit and vegetables into small cubes. Mix the rest of the ingredients together, except for the cornstarch and brown sugar. Cook in a large pot, on low until the mixture comes to the boil. Boil gently for about 30 minutes, or until all of the ingredients are soft. If there is still a lot of juice in the pot, drain some off and then add the cornstarch/water mixture and stir until mixture thickens. If sweetness is needed add 1⁄2 cup (125 mL) of brown sugar at a time until desired sweetness is reached. Fill sterilized jars and screw on lids. Process in a water bath for 17 minutes at a rolling boil.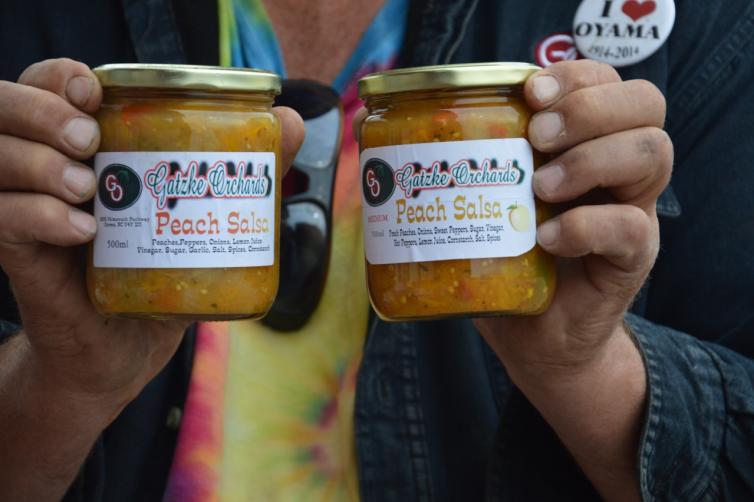 ---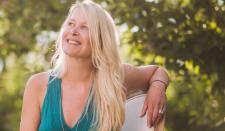 Jennifer Schell is a writer, editor of BC Food & Wine Trails Magazine and internationally award winning author of three cookbooks titled: The Butcher, The Baker, The Wine & Cheese Maker. Born and raised on an orchard in East Kelowna, Jennifer's family roots run deep in agriculture. An advocate for all things local, she focusses on shining the spotlight on the people of the food, wine and farm scene.