Mission Hill Family Estate Winery | 1730 Mission Hill Road, West Kelowna, BC V4T 2E4
Mission Hill Family Estate Winery itself is a marvel to behold. Standing grandly atop the West Kelowna hills, the castle-like estate holds court with rolling views over vineyards onto the expanse of shimmering Okanagan Lake and our blue mountain range. The viewpoint has captured the grandeur of what makes us so special here - food, wine, farm (and lake!)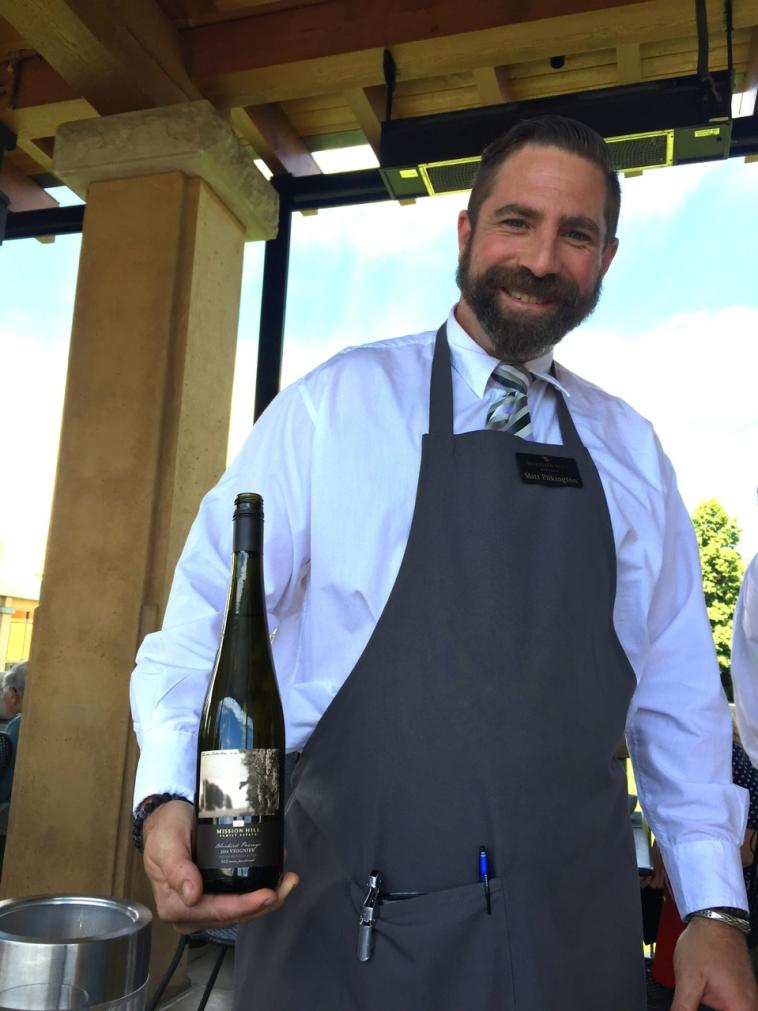 The Terrace Restaurant experience is always memorable. Staff are all expertly trained and a pleasure to chat with. They are as efficient as they are elegant and charming, they are an extension of the Mission Hill brand. The Terrace is just that, a sold stone, euro-style terrace overseeing the vineyard and lake view, where visitors can drink in the ambiance (including the chiming of the clock tower on site) while drinking in the award-winning wines and devouring the ethical, sustainably sourced menu featuring the best of the Okanagan.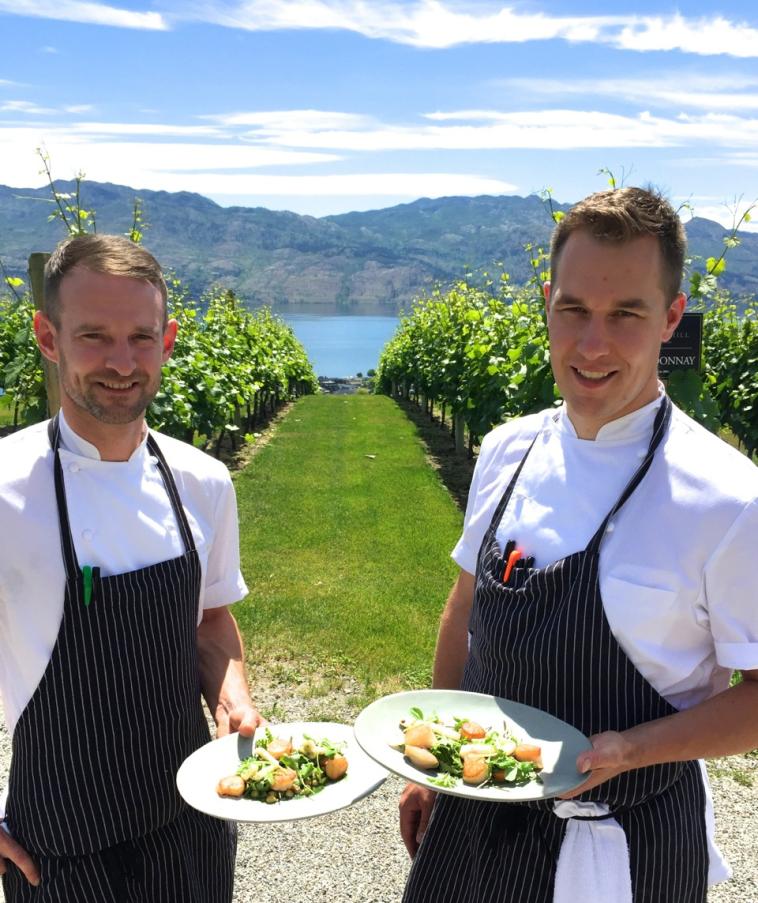 Recently the Mission Hill family has bid adieu to another of their long list of past shining star chefs, Executive Chef Chris Stewart whom I caught on this video clip before he left. His successor, Patrick Gaylor (shown in the photo with Chris) has made a seamless transition; the two have been trained by the same bible and whose brands are so strongly ingrained with farm to table/sea to table ethic that they have become leaders and teachers of the movement.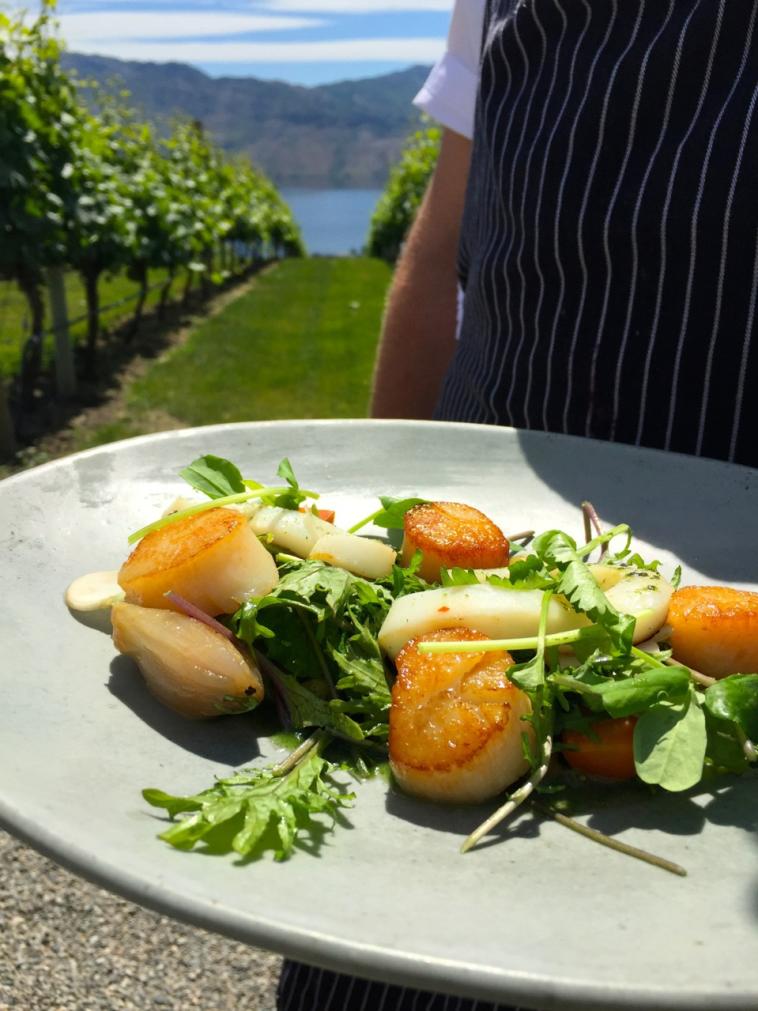 The menu here is constantly evolving by the season, but always offers an amazing range of choices. This Roasted Scallops & Humboldt Squid dish (featured in photo and video clip) served with Siberian kale, garbanzo beans and nettle salsa verde was one of my favorite dishes there ever. And then there is the wine…As usual, I started with the gorgeous Mission Hill Rosé, a wine that so perfectly pairs with this view (and or some frites and charcuterie if you are so inclined), but then we switched to the suggested Viognier that made for a perfect pairing for the scallops and squid. If you don't trust yourself to choose the best pairing, the menu graciously supplies their sommelier's choices that are always spot on.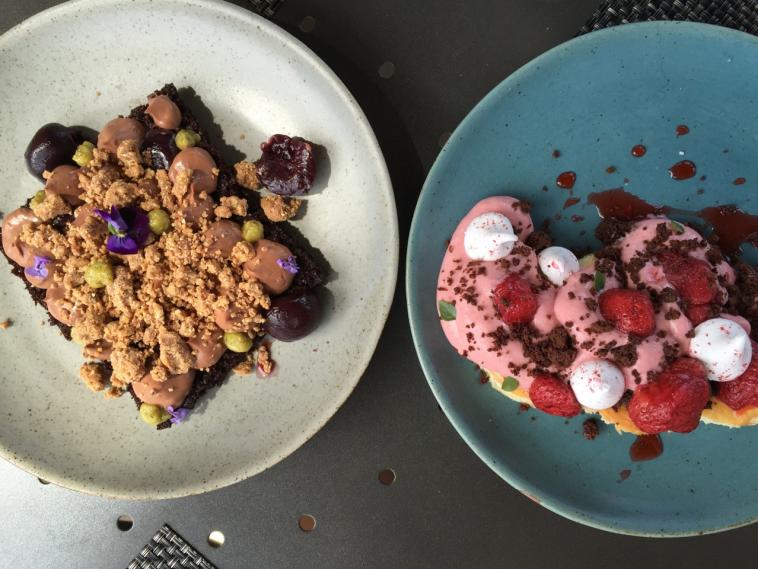 If you are a lover of decadence, the dessert menu here will send you. I have sampled many of the kitchen's creations and they are all divine. Shown here is the Strawberry Rhubarb Shortcake and the Chocolate Aero Cake (absolutely moreish) – we also tasted the Vanilla Soft Serve that came in a little mason jar.
You really must go...
---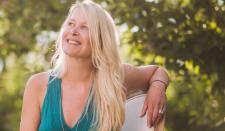 Jennifer Schell is a writer, editor of BC Food & Wine Trails Magazine and internationally award winning author of three cookbooks titled: The Butcher, The Baker, The Wine & Cheese Maker. Born and raised on an orchard in East Kelowna, Jennifer's family roots run deep in agriculture. An advocate for all things local, she focuses on shining the spotlight on the people of the food, wine and farm scene.