With spring right around the corner, there's no better time to show yourself some love while making the most of Kelowna. Here are a few ways to focus on self-care and wellness in Kelowna this winter and spring.

Soak up Your Surroundings
By now, you've likely heard of forest bathing, an exercise (shinrin-yoku) that started in Japan in the 1980s to counteract burnout and encourage Japanese locals to reconnect with nature. The Global Wellness Institute defines forest bathing as the "conscious and contemplative practice of being immersed in the sights, sounds, and smells of the forest."
Not only is this practice a perfect way to explore more of Kelowna and focus on your own mindfulness, but it has also been shown to offer several health benefits, including the reduction of stress and anxiety. Mill Creek Regional Park, located east of the Kelowna International Airport, offers quiet, mostly flat trails nestled amongst the trees, perfect for the connection and peacefulness of forest bathing. Walk slowly, relax, and take in the surroundings with all your senses.
Other suitable trail options in and around Kelowna include Angel Springs, Mission Creek Greenway, and Rose Valley Regional Park. If you want to try forest bathing on snowshoes, head to Telemark Nordic Centre in West Kelowna (rentals are available onsite) or to one of the other nearby snowshoe trails.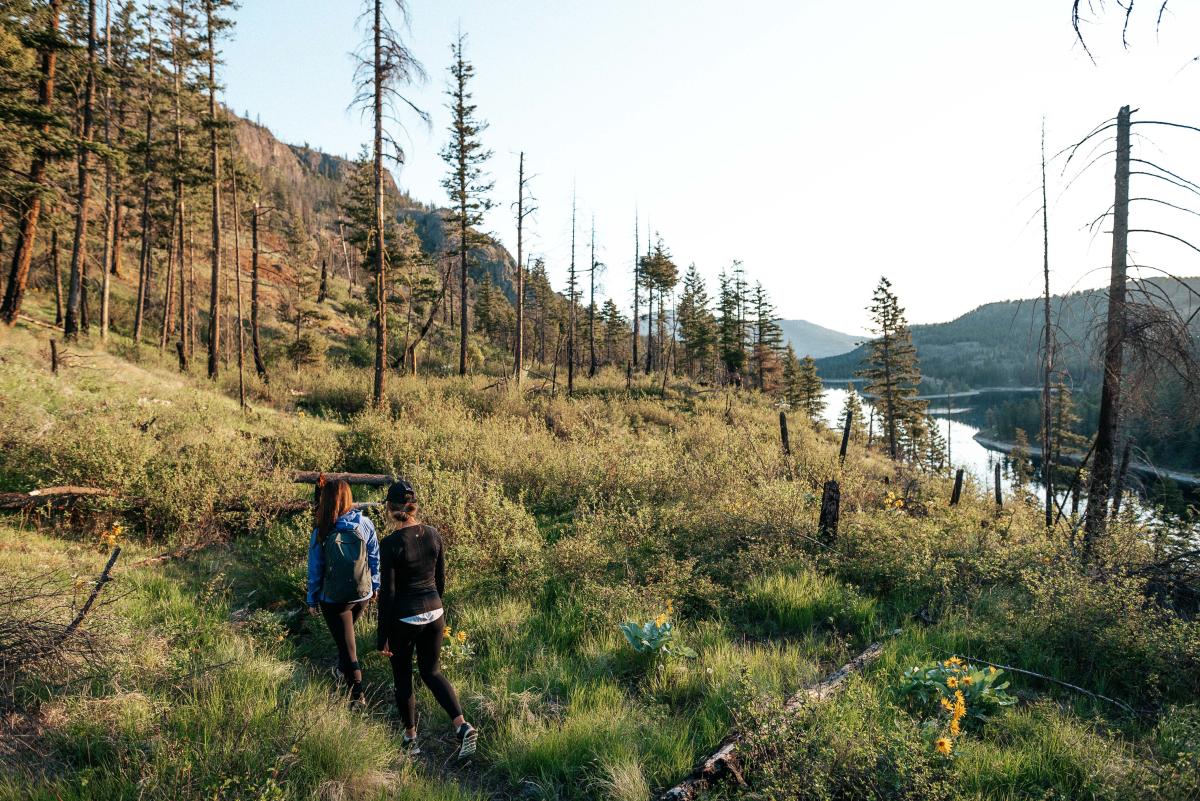 Rose Valley Regional Park. Photo by: Nic Collar Film
And while forest bathing as its known today started some 40 years ago, Indigenous peoples have been connecting with nature and immersing themselves in a variety of wellness practices related to Mother Earth for thousands of years. On March 16, join the Okanagan Heritage Museums virtual event to learn more about these Indigenous wellness practices from syilx/Okanagan Elders and knowledge carriers.
Move Your Body
Nothing says self-care like being present in your body and taking part in your favourite physical activities or discovering new favourites. Maybe it's strapping on the skis or snowboard for a run down the slopes at nearby Big White or SilverStar, strolling alongside Okanagan Lake downtown Kelowna, or getting your heart pumping on one of the area's many hikes.
For those that prefer indoor activities, head to one of Kelowna's indoor rock-climbing facilities to test your strength and push your body. Beyond the Crux Climbing Gym is Kelowna's first full-service climbing gym, offering more than 5,000 square feet of bouldering, top-rope climbing, and lead climbing. Downtown, you'll find Gneiss Climbing's newest open-concept facility, with an array of bouldering and top-rope climbs that will help build power, coordination, and problem-solving skills (Gneiss' original location, which offers bouldering only, is located on Banks Road). You'll feel the love for your body once you reach the top of these fun climbs!
Pro tip: If you're looking to climb outdoors, stop by our Kelowna Visitor Centre to pick up a copy of our area map, which shows outdoor bouldering and sport climbing locations in the region.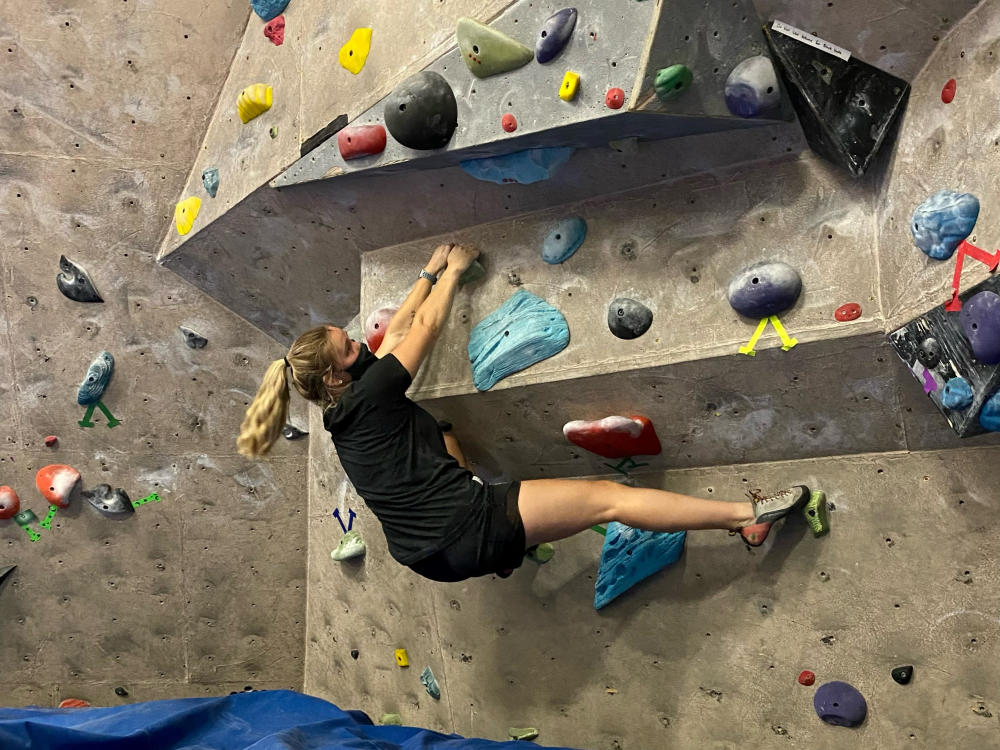 Beyond the Crux Climbing Gym. Photo Credit: Chris Lewis
If you want an equally intense workout, check out the Introduction to Buti Yoga workshop offered by Bliss Yoga Lounge on March 12. This form of yoga kicks up the energy by combining cardio and dance, strength training, and yoga for a dynamic, full-body workout. The workshop will include a 30-minute introduction to the basics, followed by a 45-minute minute session. There's no doubt you'll be feeling yourself by the end of the class.

Carve Out Some 'Me Time'
Take a break from the pressures of day-to-day life and invest in some "me time" by planning a Kelowna getaway or staycation for yourself. If you're not local, a quick flight from Vancouver, Calgary, or Edmonton will have you touching down in the Okanagan right as we get ready to say goodbye to winter and hello to spring.
Craving some time at the spa? Book your accommodations at the Coast Capri Hotel, Cove Lakeside Resort, or Delta Hotels by Marriott Grand Okanagan Resort to take advantage of the onsite spa services—you can book a massage at Beyond Wrapture Day Spa in the Coast, a hydrotherapy session at the Spa at the Cove, or a customized facial at Damara Day Spa in the Delta.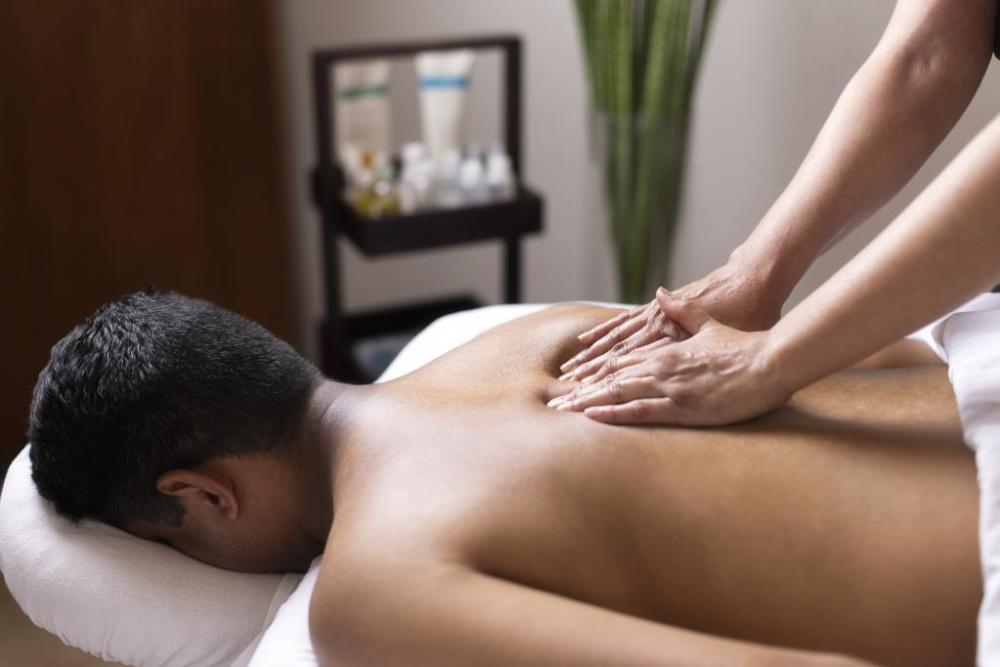 The Spa at the Cove. Photo Credit: Shawn Talbot Photography
If arts and culture are what helps you feel rejuvenated, head to the Cultural District in downtown Kelowna where you'll find the Kelowna Art Gallery, Rotary Centre for the Arts, Okanagan Heritage Museum, and more. Looking for more? Set out to discover the Uptown Rutland Mural Project or explore the public art on display in Kelowna, West Kelowna, Westbank First Nation, and Lake Country.
In addition to all the activities listed above, you can also stroll along the waterfront boardwalk with a locally roasted coffee in hand, savour local flavours at one of the many farm-to-table restaurants, or treat yourself to a wine, beer, spirit, or cider tasting. 
For more inspiration of things to see and do, follow Tourism Kelowna on Facebook and Instagram.
Kelowna and area residents, find more staycation inspiration on our website and take advantage of our #exploreKelowna Local Savings Pass.