Lake activities may be over, but Kelowna turns into a magical place in the winter. The mild weather makes it easy and comfortable to explore all there is to do in the valley and visiting in the slower months means lengthier stops at each attraction, more face time with winemakers, brewers, and locals, and shorter wait times. Booking a five-day stay allows you to spend time on the little things and take your time at each stop, making the most of each moment. 
First things first, accommodation. Kelowna has a great variety of accommodation options, which means you'll find what is right for you.  Are you looking for a funky and fun in the middle of downtown vibe? Then Hotel Zed is the choice for you. If you would like to be surrounded by old-world charm with a European mystique, you'll want to check out Eldorado Hotel. Looking to stay in West Kelowna in a new, full of amenities hotel a stone throw's away from world-class wineries, book at the TownePlace Suites by Marriott West Kelowna, or if you're looking for something more intimate, look into staying at one of the amazing bed & breakfasts peppered throughout the Kelowna area. 
The size of Kelowna and its surrounding communities make it easy to get around with a car, and with its rolling hills and breathtaking panoramic lake vistas driving around is an adventure of its own. Budget Car Rental makes it easy to find a vehicle suited to your needs and is a great option when visiting the area. 

Day 1: Start at the Beginning

Stuart Park Skating Rink. Photo by David Vassiliev
What better way to start exploring Kelowna than learning about its heritage and history? Head to the cultural district, located in downtown Kelowna, and visit some of the great museums in the area such as the Okanagan Heritage Museum, the Wine & Orchard Museum, and the Okanagan Military Museum.  It'll give you great context to everything else you visit and discover on your trip. You can also add a little fun to the cultural district by visiting Art Lovers Gallery, tucked into the lobby of the Delta Grand Hotel, home to a unique collection of the world-famous Art of Dr Seuss. 
After spending the morning in the cultural district, head towards the boardwalk along the lake and walk past marinas and parks as you make your way towards Bernard Ave, the heart of downtown Kelowna. You can spend a leisurely afternoon strolling through City Park, grabbing lunch at one of the many eateries, or indulging in a little retail therapy in one of the many shops (Morgane, Textile Apparel, or The District on Bernard are great options). Coffee lovers will also be in heaven downtown Kelowna with many choices to choose from, Bean Scene Coffee is a staple in Kelowna and the original third-wave coffee roasted in the area, but you'll also find Blenz Coffee, Deville Coffee, as well as Bliss Coffee and Sprout a little further north. If you're feeling a little adventurous, you can finish the day off by having a skate at the outdoor public staking rink, right in the middle of downtown and with views of Okanagan Lake. 

Day 2: It's all about West Kelowna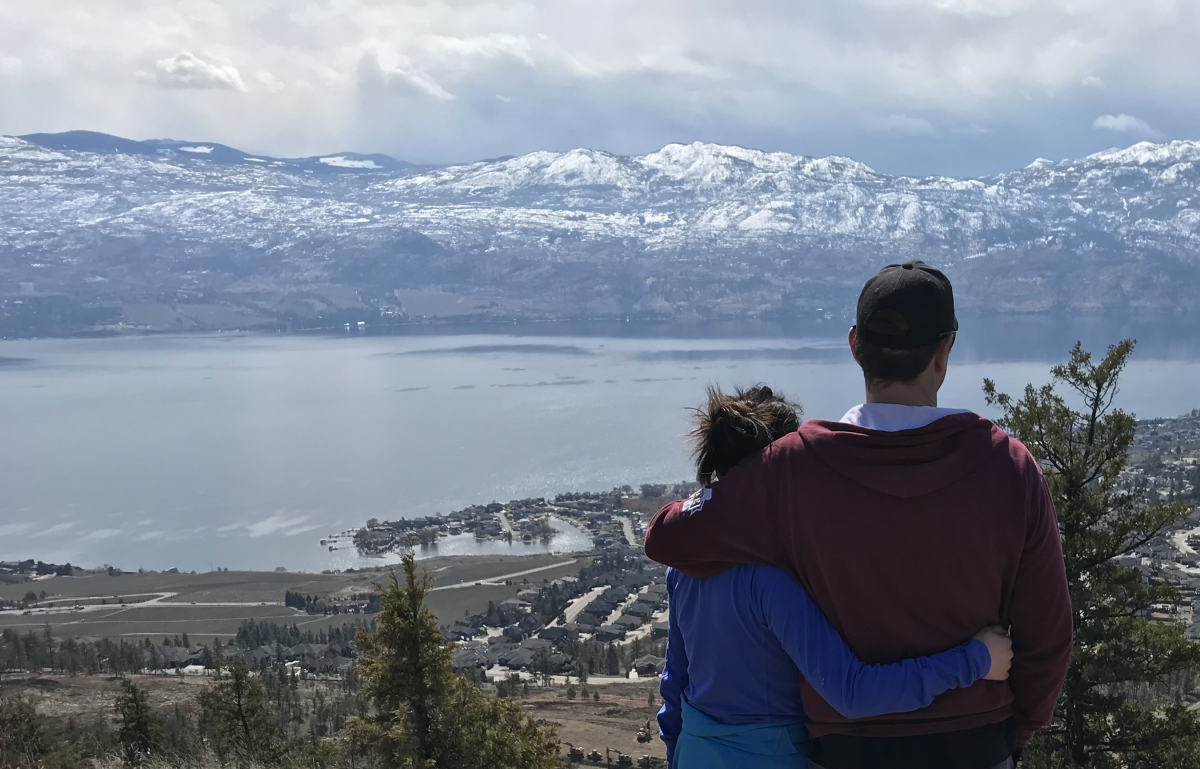 View from Mount Boucherie. Photo by Wesla & Duane English
Day two is all about exploring the City of West Kelowna and everything it has to offer. A great way to start the visit is to head to the Sncewips Museum where you can experience the collections, histories, and oral studies of the syilx/Okanagan people from an Indigenous perspective. Following your visit, if you're in the mood for a little exercise head to the Mount Boucherie trails, an extinct volcano that is 50-60 million years old and a focal point of the community. Boucherie Rush Trail is a 6km round trip hike with an elevation of 275m (expect 1-3 hours) that offers amazing lake views at the top. 
By this time you've likely worked up an appetite, so a visit to Kekuli Cafe to sample some of their amazing bannock is well deserved. Sweet or savory, they are all delicious, and a great way to get ready for an afternoon of wine tasting. 
The Westside Wine Trail is the largest wine trail in the area. It has 13 wineries to choose from with some of the most recognized names in the area and ranges from large estate wineries such as Mission Hill Family Estate Winery, Quails' Gate, Volcanic Hills, Mt. Boucherie, or Grizzli, to small family-run tastings rooms such as Kalala Organic Winery, or Off the Grid. They all offer something unique and exciting and are always worth a visit. Check out the full list of all westside wine trail wineries here. 

Day 3: Wind your way through Wine Country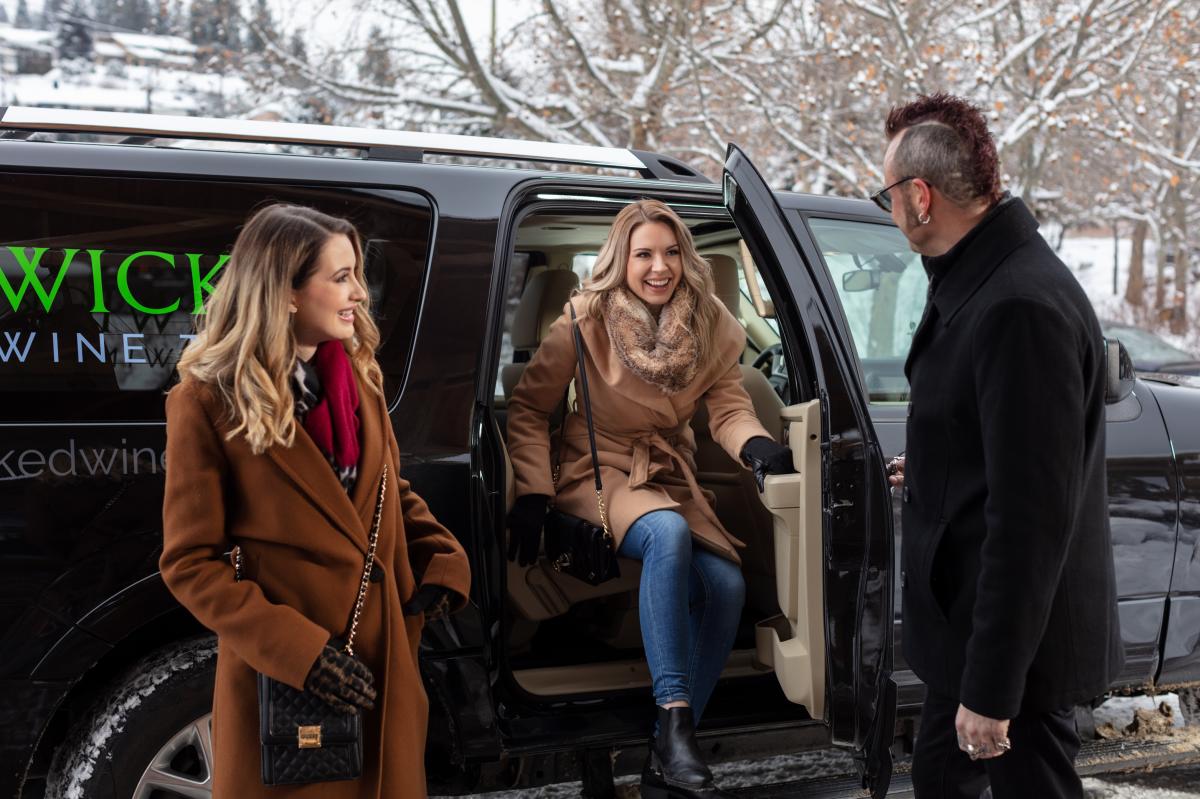 Wicked Wine Tours. Photo by Shawn Talbot Photography
With over 40 wineries, Kelowna and area has become synonymous with wine country. Explore the unique and distinct wine trails as you sample a range of varietals and blends from single block Rieslings to Bordeau-style Meritage. The Kelowna Southeast Bench is known for its rolling hills, and winding country roads where the wineries tend to be on the smaller side, family-owned, and share a rural, cool, and funky farm feel to them The Lakeshore Wine Route, as the name implies, winds along the shores of Okanagan Lake and offers breathtaking views that are accompanied by delicious award-winning wines. Located just north of Kelowna in Lake Country, the Scenic Sip wineries almost guarantee a stunning view from wherever you stop, giving the name to the area's wine trail. 
With so many options to choose from, the best way to explore, and taste the wines is by booking a guided tour. It's not only the safest option, but you'll get all the fun facts, history, and cool stories about the industry from professional and knowledgeable tour guides, and with over 30 companies to choose from, you'll find one that caters to your needs.

Day 4: Snow Trails and Ales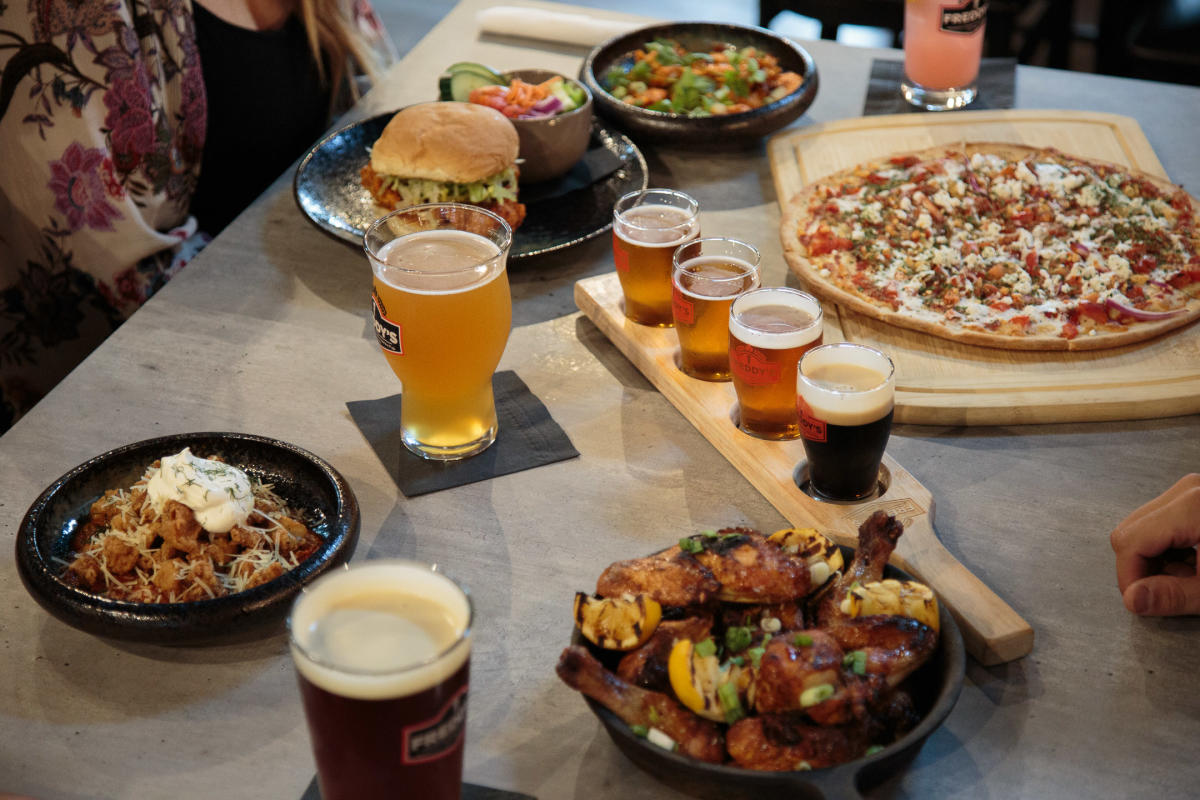 Freddy's Brew Pub. Photo by: BC Ale Trail
The mild winter temperatures in Kelowna mean it's easy to head into the hills and enjoy some fresh air and amazing views. There are hundreds of trails for snowshoeing and cross-country skiing in the surrounding areas. Telemark Nordic Club in West Kelowna is only 15 minutes from downtown and they offer equipment rentals and day passes (book online ahead of time to guarantee rentals), as does Big White Ski Resort, located about 45 minutes from Kelowna. Keep an eye on both websites for trail opening dates. 
Let's face it, one of the best things about snowshoeing or cross-country skiing is apres ski (or snowshoe) and with 20 craft breweries in Kelowna, you will not find a better place to enjoy a frosty one. No matter where you are staying there is likely a craft brewery very close to you. If you're near the north end of downtown Kelowna, you have 10 breweries to choose from, yes ten! The downtown breweries also offer amazing food options, check out Vice & Virtue, Kettle River, Jackknife, or The Office, just to name a few. If you're staying in the Pandosy Village / Lakeshore area, head over to Barn Owl Brewery and maybe a slice of Dunnenzies Pizza. For those staying in midtown, Copper Brewing is where it's happening and you shouldn't leave without trying one of their gourmet hotdogs. Lastly, those staying closer to the north of Kelowna will be lucky enough to pair their brews with bowling at Freddy's Brew Pub! 

Day 5: Pamper & Relaxation

Photo by Shawn Talbot Photography.
After four full days of exploring, shopping, adventuring, and sampling your way through Kelowna, it's time to get ready for the trip home. Why not finish off your vacation by prioritizing a little self-care and making sure that you get home feeling pampered and relaxed? There are several great spas in Kelowna that offer amazing services, check out Beyond Wrapture Mind & Body Spa & Retreat or the Spa at the Cove. If you would rather get home looking your best, pay a visit to Crimson Hair Salon for some amazing styling. 
As your trip comes to an end you might be looking to buy a few local products or some Kelowna souvenirs before you go. Make sure you stop by the Kelowna Visitor Centre where they have over 100 local vendors, the Towne Centre Card Shop, or Ogopogo Giftland for some great Kelowna mementoes.