When the mercury rises in Kelowna, it's natural to look for ways to cool down. On a family vacation to the Okanagan, that means lazy days floating in the lake, swimming in the hotel pool, or visiting a splash park. These days, though, the city's recent explosion of craft breweries means it's possible to bring the kids along while you cool down in a more adult fashion—by enjoying a tasting flight or pint of beer.
We discovered this means of refreshing hydration our first summer in town, when we popped in to the Kelowna Beer Institute (formerly Tree Brewing) to sample their brews with our daughter in tow. She was perfectly content to drink a San Pellegrino and read through the Trivial Pursuit question cards on hand (during Covid, it's been BYO games to enjoy at a table inside or on the expanded patio). Ditto when we stopped by Vice & Virtue Brewing for their crushable Raspberry Berliner Vice and Cherry Sour—the kids happily munched on sharable snacks like fingerling potato nachos while we cheersed our good fortune.
No responsible parent would dream of dragging the kids along on a beer crawl to all of the city's 15 craft breweries (17 if you include West Kelowna), but with a bit of planning it's entirely possible to do a morning family hike followed by a brewery lunch, or an afternoon lake swim that ends with a happy hour tasting flight paired with kid-friendly munchies. Here are a few spots that offer kid diversions along with thirst-quenching beers for those 19+.
Mission families celebrated when Barn Owl opened in the 'hood two years ago. They quickly flocked to the barn brewery and its family-friendly hayloft space complete with a selection of board games and cards to engage children. Meanwhile, adults took flight with a diverse beer roster that includes a saison, gose, radler, a couple of hearty porters, and more. During Covid, the diversions were shelved (families brought their own games to play), but the hope is to allow access to the games cupboard and shuffleboard on July 1 when B.C. moves to Phase 3 of its reopening.
While it's tempting for me to play Ms. Pac-Man all night while I'm at BNA, I do let the kids have a turn when we visit what is arguably the most family-friendly brewery in town. It's not just the taxidermy animals hanging on the walls or the homey vintage décor hand-selected by the owners, it's all the fun—like a wall of old-school arcade games upstairs next to the bowling alley and bocce ball. If that's not enough to entertain your kids, you can try elevating their palates one steamed pork bun and mushrooms-on-toast at a time. (Oh, and the beer is excellent—I recommend the Pamela-Saison.)
If I were a kid in a fantasy restaurant league, I would install Nintendo sets at a selection of booths inside my brewery, and only serve hot dogs that sound like teenage boys invented them—which is exactly what Copper Brewing has done. While parents sample a range of summery ales, sessionable pilsners, and commanding IPAs at the brewery's location in the Landmark district, the kids can play video games and chow down on loaded gourmet dogs (think Pizza Dog with ham, bacon bits and mozzarella).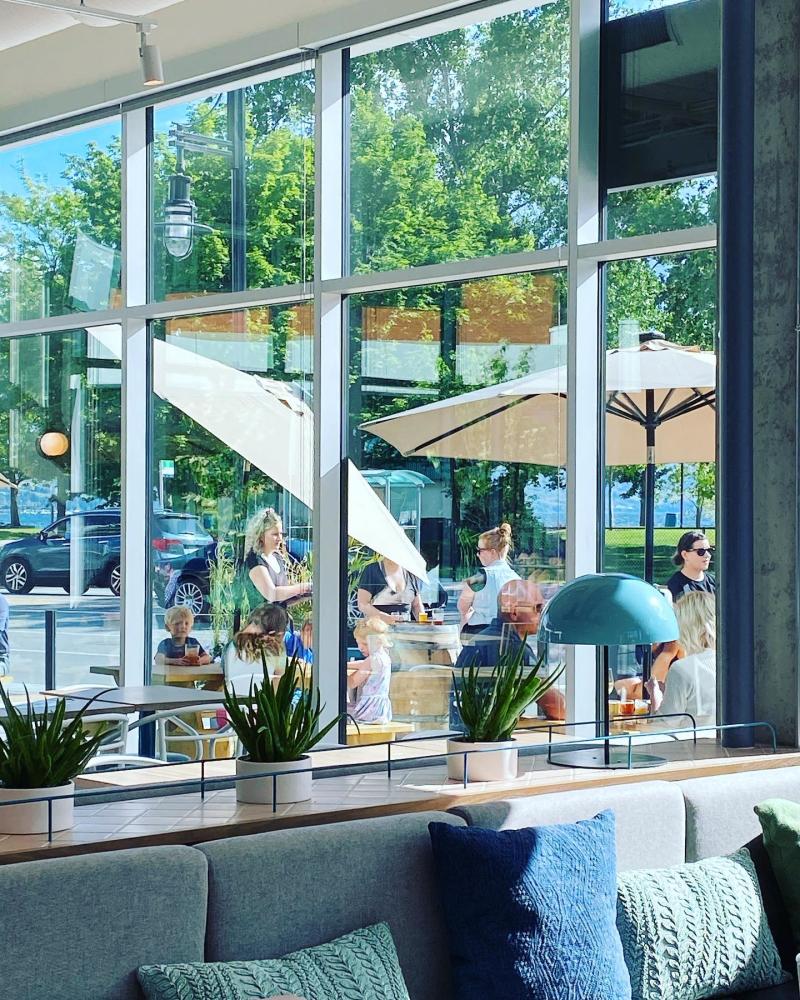 There's one unique feature that sells Shore Line Brewing above all else: location. Situated across the street from Gyro Beach—the city's most popular family beach thanks to the zipline that zooms kids into the water—this brewery need only be open to attract parents who are hot and defeated after a day spent wrangling children at the lakeshore. They'll perk right up once the Gyro Golden Ale and Bombshell Berry Sour passes their lips, and the kids will go from hangry to happy when the pizza arrives at the patio table.