Kelowna is best known for its rolling hills, great wineries, and beautiful Okanagan Lake; however, it also has a thriving arts and culture scene ideal for those wanting to explore the creative side of the city.
The Cultural District, located in the north end of downtown Kelowna, is home to cafés, art galleries, and museums, and it's the perfect place to indulge in an artsy, self-guided walking tour.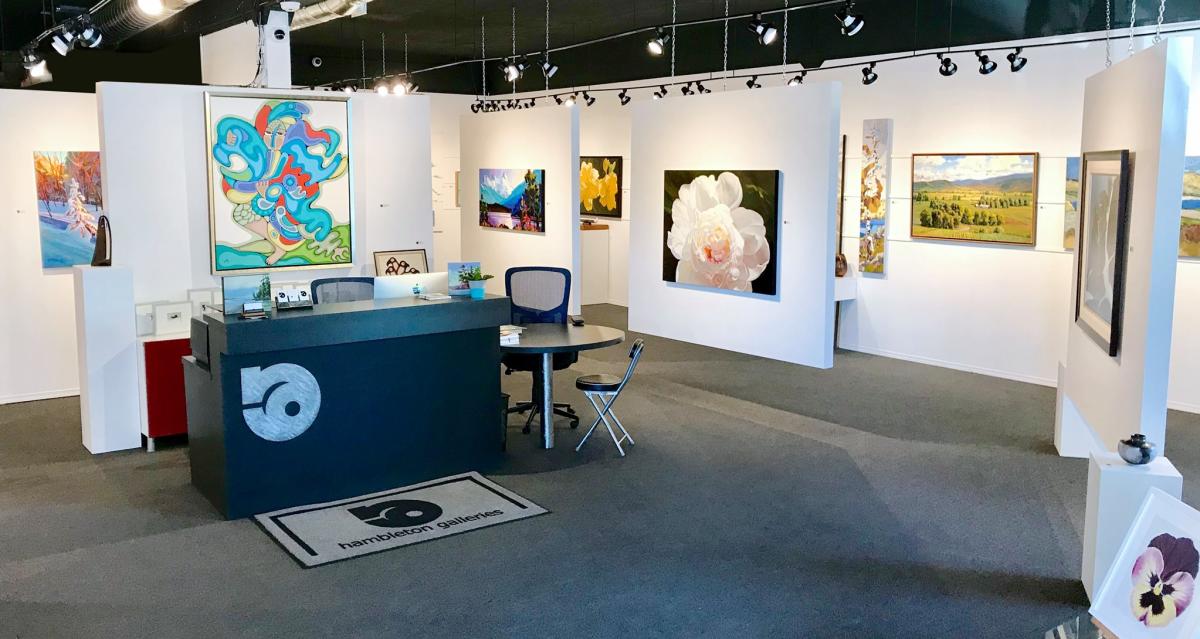 Start by visiting Hambleton Galleries, which was established in 1963 and is the oldest commercial art gallery in the interior of BC. The gallery carries extraordinary pieces by local and national artists, ranging from contemporary works of art to historical pieces, as well as stone sculptures, ceramics, and glass work.
Hours of operations: Open Tuesday to Sunday, 10 a.m. - 5 p.m.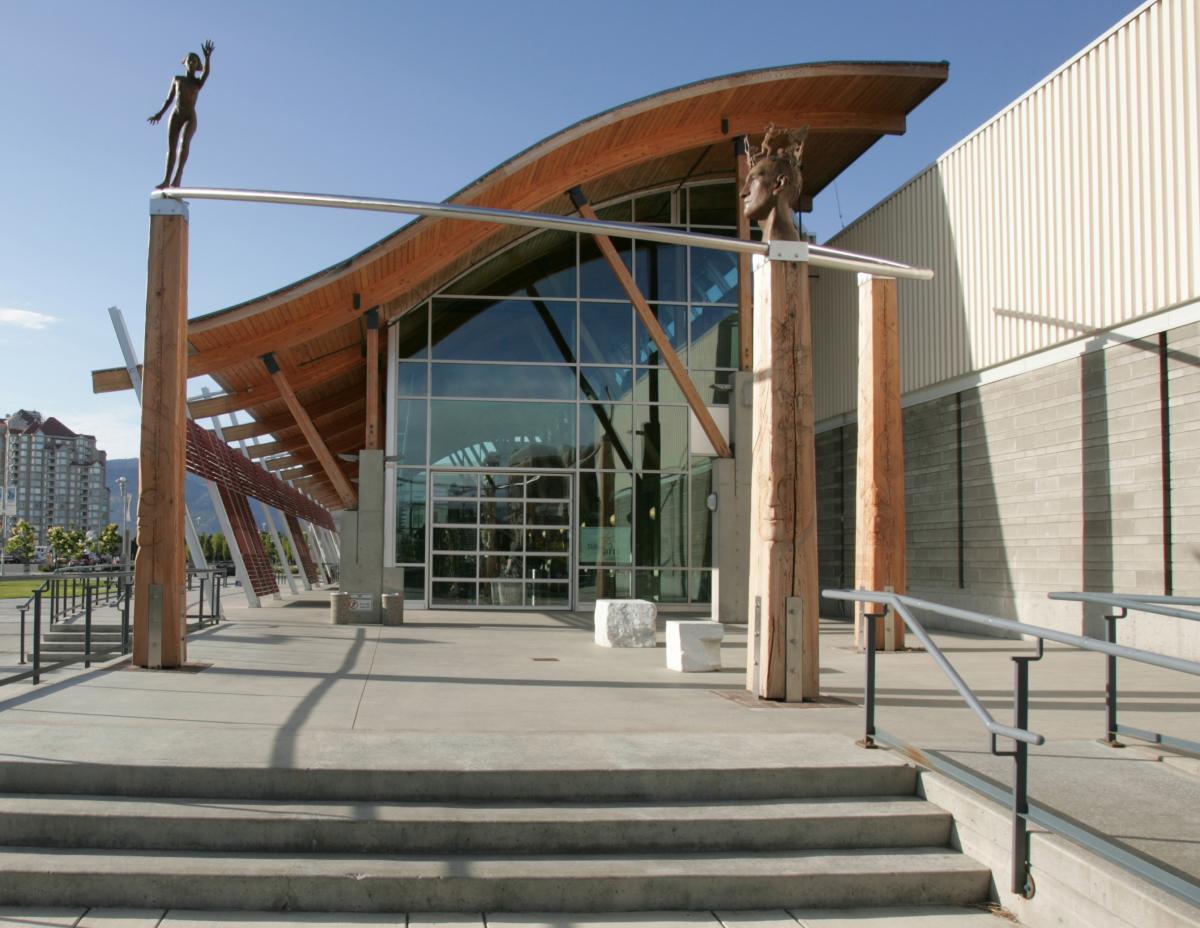 From there it's a hop, skip, and a jump to the Rotary Centre for the Arts, a multidisciplinary visual and performing arts centre, home to the Alternator Centre for Contemporary Art (gallery) as well as the Mary Irwin Theatre and resident artists' studios. Take a moment here to indulge in some delicious artisan gelato from the bistro before you carry on to the Kelowna Art Gallery.
Hours of operations: Monday to Friday, 9 a.m. - 9 p.m. Saturday and Sunday, 10 a.m. - 4 p.m.

Step inside the Delta Hotels by Marriott Grand Okanagan Resort to discover this hidden gem. Art Lovers Gallery brings the magic of local and iconic art into their space to create a unique experience and showcases artwork by some of the worlds' most iconic painters and photographers. The gallery offers a variety of services such as residential art and design consultations, gallery events, as well as pet portraits.
Hours of operation: Tuesday to Saturday, 12 - 4 p.m. or upon request. 

The Kelowna Art Gallery, the last stop on the block, is the heart of Kelowna's cultural scene. It showcases local, national, and international exhibitions in its four gallery spaces, and offers art classes and workshops for all ages throughout the year. You can get creative with the family every Sunday with guided hands-on art activities or you can enjoy the current exhibitions. An exhibition not to miss is From Geisha to Diva: The Kimono of Ichimaru, running until October 11, 2020: "The fascinating life of Ichimaru (1906-1997), one of the most famous geishas of the 20th Century, is told through this collection of her magnificent kimono and personal effects."
Hours of operation: Tuesday: 10 a.m. - 8 p.m., Wednesday: 10 a.m. - 5 p.m., Thursday: 10 a.m. - 8 p.m., Friday: 10 a.m. - 5 p.m., Saturday: 10 a.m. - 5 p.m., Sunday: 12 - 4 p.m.

Pandosy Village Galleries
Continue your exploration of Kelowna's art scene in the trendy Pandosy Village neighbourhood. Here you'll find some quaint and cool art galleries like Tutt Street Gallery and Gallery 421.
Tutt Street Gallery
For 35 years, Tutt Street Gallery has been a select dealer in Canadian contemporary fine art, with a distinct emphasis in original oil and acrylic paintings. They have earned a reputation for upstanding service to their clients, and provide an assurance of authenticity and quality with every single artwork offered for sale. Tutt Street Gallery seeks out visual artists with exceptional abilities and represent local, regional and national artists, whose artworks have built or enhanced private, corporate, and government collections worldwide.
Tutt Street Gallery: Tuesday-Saturday: 11 a.m. - 4 p.m.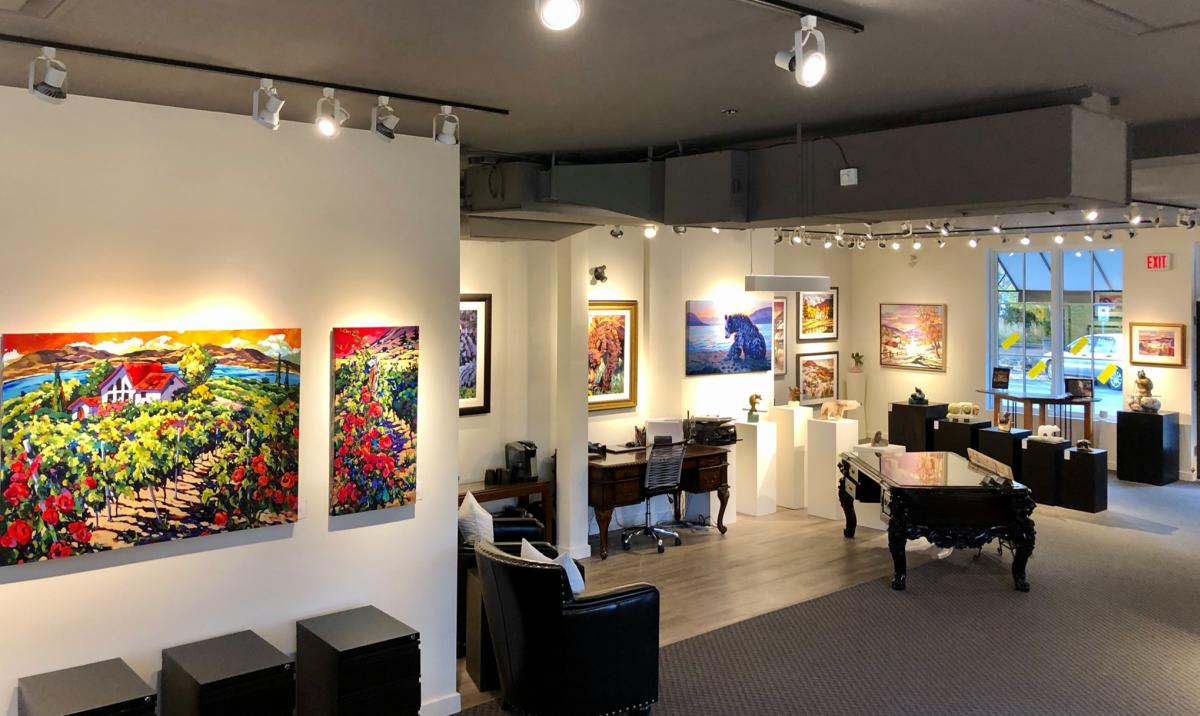 Located in the heart of Pandosy Village, Gallery 421 offers exquisite fine art created by acclaimed local, national and international artists. Stop by a visit to this friendly, relaxing gallery and enjoy viewing painting, sculpture, and beautiful blown glass.
Gallery 421: Monday-Friday: 10 a.m. - 5 p.m., Saturday: 10 a.m. - 4 p.m.
Delve into the intriguing open-air sculpture gardens and studio of acclaimed Dutch artist, Geert Maas, and enjoy one of the largest collections of bronze sculptures in Canada. 
Hours of operation: Open daily 10 a.m. - 5 p.m.