In Kelowna, the northern lights of the city are aglow with humanity. This corner of town that was known primarily as the industrial area has become a happening village with a community scene of its own. Welcome a slew of hip breweries and boom! You've got a sexy new destination for food and drink lovers.
Sandhill Winery ignited the neighbourhood makeover a couple of years ago with a new face and a ton of new community social events. Chef Neil Schroeter of Okanagan Street Food must get props as the pioneer and visionary of the food scene down here (as well as spearheading the food truck craze way before it became mainstream), opening back in 2011. His old school diner is an extension of this catering and food truck biz, offering hearty good food and big breakies (he also pioneered the local fish taco craze…but I digress).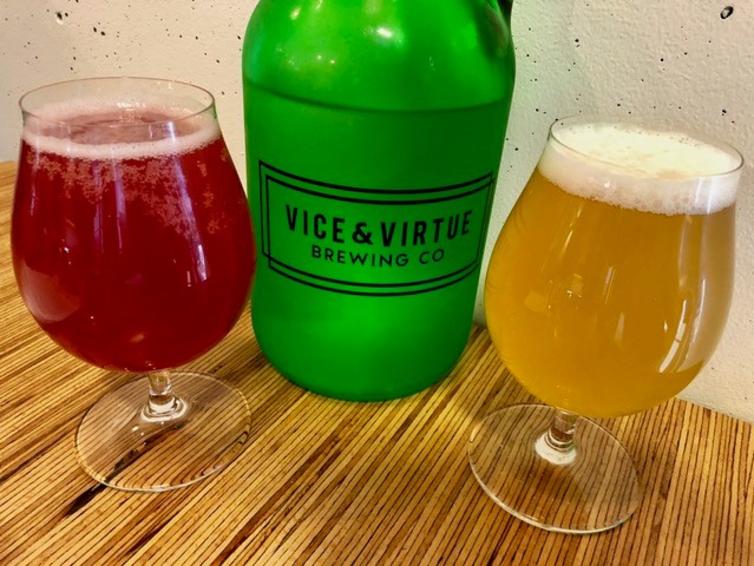 Newest and most delicious news was the arrival of super cool Vice & Virtue Brewing in 2018. This awesome craft brewery was created by six pals who hit the beer scene with raves followed by the hiring of a wicked chef who has created a tantalizing menu of beer-paired delights.
They are not the only brewers in the hood. Along with Kettle River Brewing and Red Bird Brewing, they have all claimed this area and collectively have rebranded it as Kelowna's brewery district and the best place to hop around town. On the perimeter of this heart of the North village you will find other favourite eateries like Central, Waterfront Wines, Bouchon and if you want to carry on your hopping tour, hit BNA Brewing the folks that really started the ignition of this local craft beer craze (ps. They have a bowling alley!)
So they've got wine, they've got beer and food, and they have cider! BC Tree Fruits Co-op, one of the pillars of the Okanagan's fruit industry, has long had a produce store attached to its local packinghouse. They upped their game a few years ago when they decided to enter the drinks game by creating a line of delicious ciders made from their local tree fruit coop orchard members. A mega hit, they attached a store and tasting room to the packinghouse that draws cider lovers from near and far. One of the faves here is their award-winning Apples & Hops cider, so um…this pit stop can officially be on your "hopabout' tour as well.
The North End family will continue to grow with a couple of new craft breweries on the way for 2019. If you have not had a chance to check out this amazing cluster of craft deliciousness, 2019 will be a good year to stop by for a flight or two.