The air may be getting cooler and the days are getting shorter, but that shouldn't stop you from exploring Kelowna and area wineries. 
Kelowna is a great location to experience all four seasons, and fall definitely doesn't disappoint. The fall foliage can be seen around the city and up into the hillside, creating a beautiful atmosphere to enjoy our top-picked wineries.
While the grape harvesting activities begin to slow down at the wineries, the fun does not.
Continue reading to discover our favourite wines and any special events that you don't want to miss.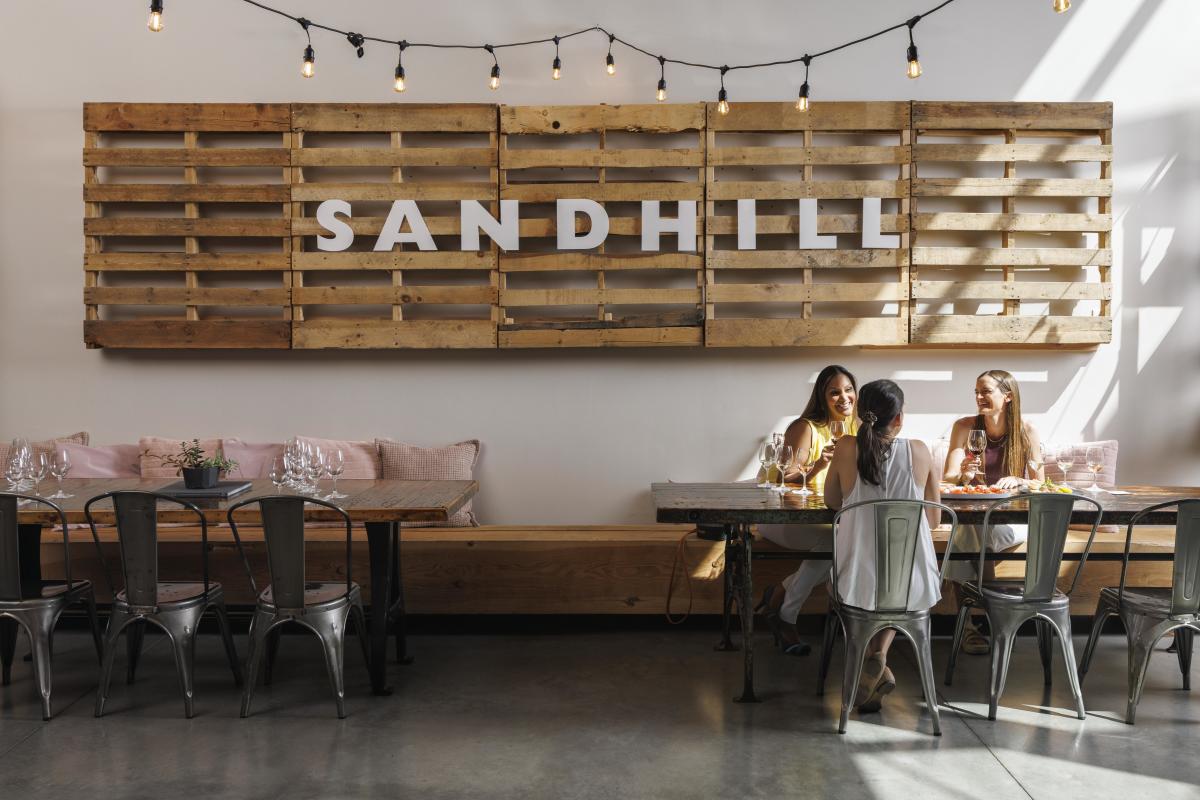 Right within the hustle and bustle of downtown Kelowna, Sandhill Wines offers a conveniently located tasting room to try award-winning single vineyard and Small Lot wines. Enjoy the open and light-filled interior of BC's oldest winery location while browsing their selection of exceptional wines.
You can taste the uniqueness of a Sandhill Small Lot wine with their 2021 Viognier. It's mildly dry, with yellow apple notes and a hint of white cranberry on the finish. Take a moment to appreciate the beauty of fall with a glass of this slightly rich, medium-bodied Viognier.
Stop by Sandhill during their daily happy hour from 3 PM to close and try a glass of their wine for yourself. The tasting room also boasts a curated selection of cookbooks, home decor, and local artisan treats- perfect for gift ideas! For even more local goodies, join Sandhill every Saturday from 11 a.m. to 3 p.m. until December 17th for their Fall into Winter market series with crafts, jewelry, clothing, and more from local vendors.
Located on the Lakeshore Wine Route, you'll find the stunning Tantalus Vineyards. With gorgeous views of Okanagan Lake and a gallery-style tasting room featuring art from Canadian artists, you'll enjoy every moment at this LEED-Certified winery.
After capturing the attention of wine critics, Tantalus Vineyards was added to the list of Canada's very best Riesling producers. On that note, I'd like to recommend a personal favourite- the 2020 Old Vines Riesling. Made exclusively with grapes from a single block of their 1978 Riesling plantings, this wine is elegant and balanced. The block of grapes is bordered by a pine forest, offering dappled light exposure, leading the grapes to slowly ripen in late summer and early fall. This wine brings fresh flavours and forward notes of key lime pie, mandarin, and white peach.
If you're looking to experience a fun day this fall, gather up some friends and book a tasting experience with one of their knowledgeable staff members to learn and appreciate the history, philosophies, and wine of Tantalus Vineyards.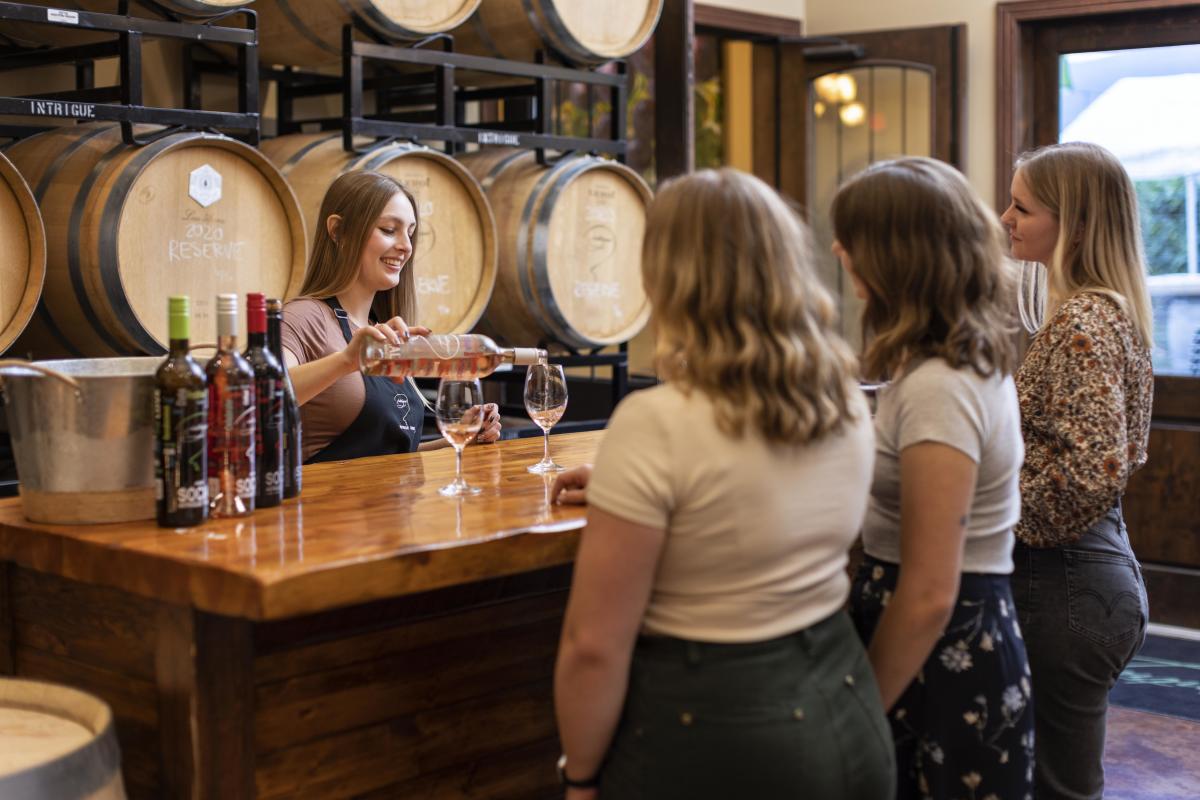 If you're on Lake Country's Scenic Sip Trail, then stopping at the boutique-style Intrigue Wines estate is a must. Established in 2008, Intrigue incorporates their core values into each day- family, connection, and creating last memories. It doesn't matter if you're a self-proclaimed wine expert or brand new to the world of wine, Intrigue will spark your interest and curiosity.
Have a celebration coming up this fall? You can't go wrong with bringing a bottle of Intrigue's Social Rose 2022 wine. It's a delightful blend of Riesling, Gewurztraminer, Rotberger, Merlot, Chardonnay, Cabernet Franc, and Pinot Noir. It will for sure be a crowd-pleaser!
Start your Sunday off right and attend the Yinosa Morning Yoga class on November 5th at Intrigue Wines barrel room. If yoga's not your thing, then stop by for a tasting. The staff at Intrigue can introduce you to a new wine that will keep you intrigued about the winery.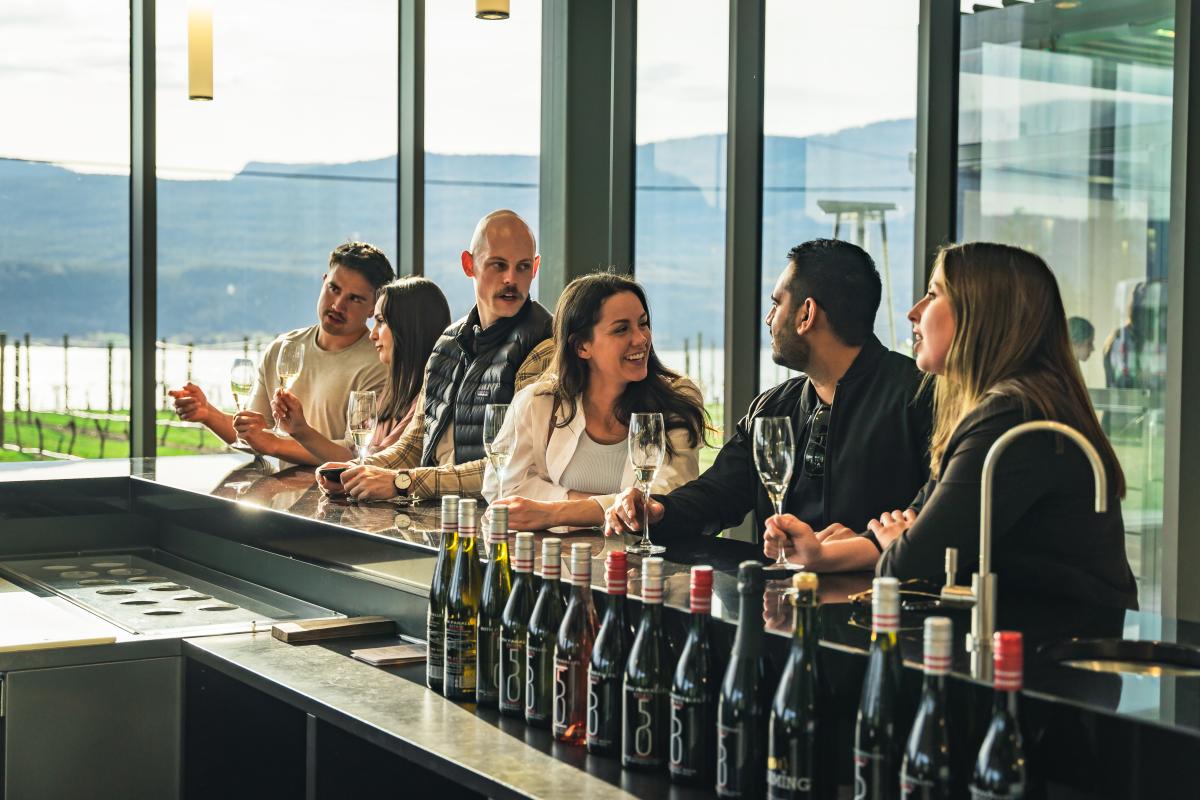 Another winery you can't miss on Lake Country's Scenic Sip Trail is 50th Parallel Estate Winery. Take in the beauty of this majestic winery, with 61 acres sloping towards Okanagan Lake. The rare geographical properties of this location provide red granite and soil, and long bright days from the reflection of the lake.
Pinot Noir makes up nearly 40% of the vineyard, so you know they have put energy, time, and focus into perfecting this wine. Their flagship wine is the 2021 Estate Pinot Noir. The dark ruby red hues bring forward aromas of cherry, clove, and hazelnut. The flavours of dark cocoa leave a rich, silky finish in the mouth. This wine is the perfect red to cozy up with on a chilly fall evening.
On November 4th, consider attending the 50th Parallel Estate Fall Harvest Winemaker's Dinner. This experience features a 5-course wine paired dinner at the estate's BLOCK ONE Restaurant alongside the story of how the winery was established and has become one of the most recognized wineries in the Okanagan.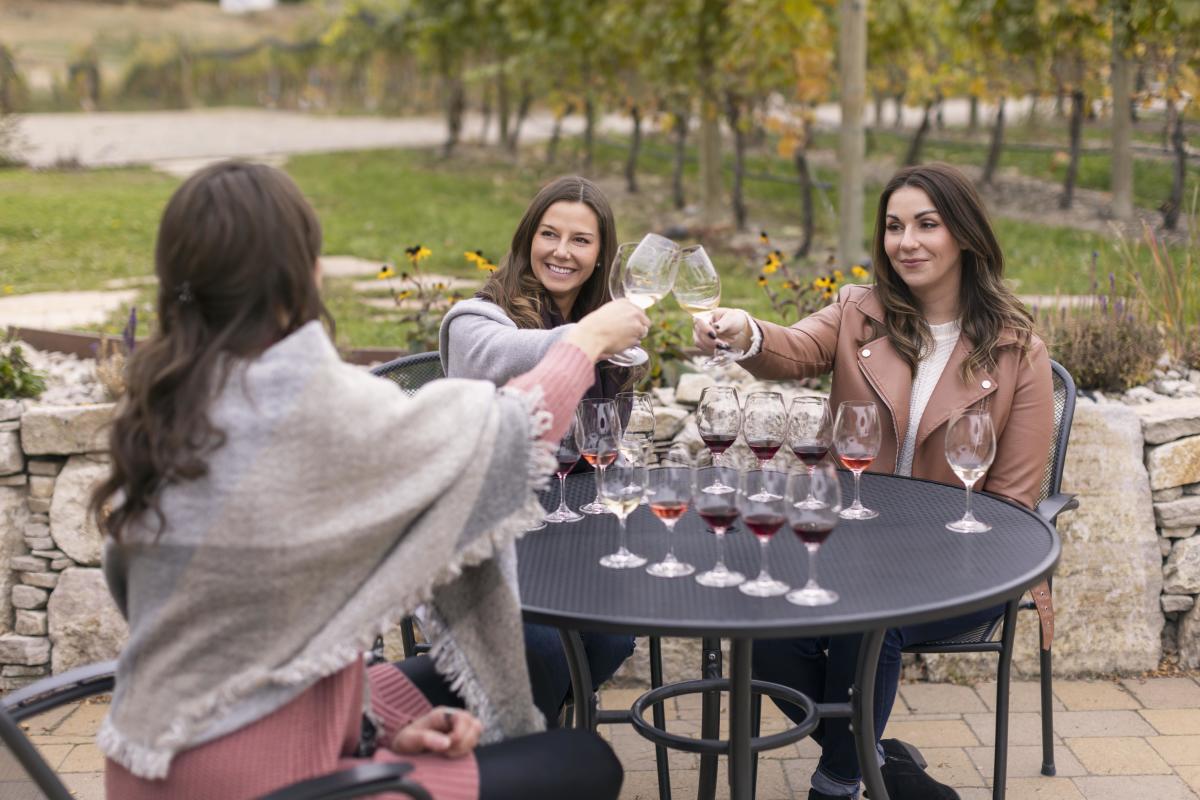 SpearHead Winery, located on the benchlands of South East Kelowna, is just 10 minutes from downtown. They focus on producing premium quality small-batch wines, focusing on Pinot Noir, Chardonnay, and aromatic whites.
When you take a sip of their 2022 Chardonnay Clone 95, you'll notice flavours of fresh pineapple and poached pear. There are also subtle notes of vanilla, giving it a creamy texture. The golden hue matches the autumn leaves, making it ideal for slowing down with a glass and embracing the season's richness, warmth, and beauty.
If you're heading out to visit a corn maze or pumpkin patch, adding a visit to SpearHead to your itinerary will make the day even more fun. You can reserve a tasting at their wine shop daily from 11 a.m. to 5:30 p.m. Be prepared to taste and learn about the vast portfolio of wines they have to offer!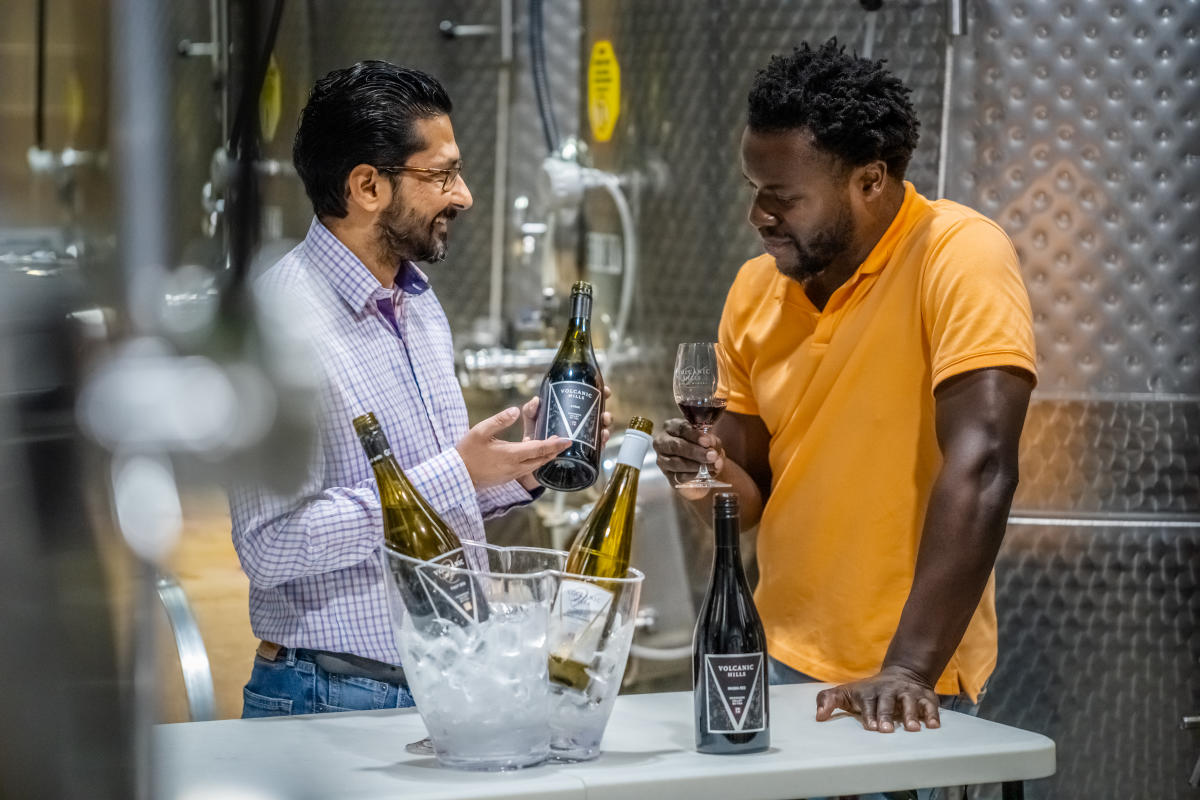 A visit to the Westside Wine Trail isn't complete without a stop at Volcanic Hills Estate Winery! 60 million years ago, where the winery is now located, was once the base of an active volcano. Now, Volcanic Hills grows their grapes in the rich volcanic soils, leading to the creation of delicious wines that are erupting in flavour.
Volcanic Hill's signature wine is the 2016 Eruption. This is a full-bodied red wine with flavours and aromas of dark cherries, figs, cocoa, sweet tobacco, and sage, just to name a few. Savour the warmth of toasted oak with each sip of this ruby red wine. It tastes even better when you pair it with aged cheddar, steak, or lamb. Bring this wine to your next family gathering and you'll be sure to impress!
If you want a memorable time at Volcanic Hills, you can choose between their variety of tasting and tour experiences. From their Antipasti & Wine Tasting Experience to their Proprietor's Tour, you'll be sure to have an eventful and wine-filled day!