Our Brittany spaniel learned how to swim in the Okanagan Valley. Nine years ago, when she was about six months old, we were road-tripping through the region and discovered a dog beach in Kalamalka Lake Provincial Park. It only took a few nudges into the water before she was paddling out to fetch sticks and ferry them back to shore.
Now, as residents of Kelowna, she gets to swim thanks to the many dog beaches that dot the shoreline on both sides of Okanagan Lake. Not only that, the city has dog parks, miles of hiking trails, and patios where she's welcome to drink a bowl of water while my husband and I rehydrate with something a little stronger. 
With all of these perks, it's no wonder more dog parents are bringing their fur babies with them on vacation to Kelowna. Here are some ideas for where to spend time with your four-legged companion.

Dog Beaches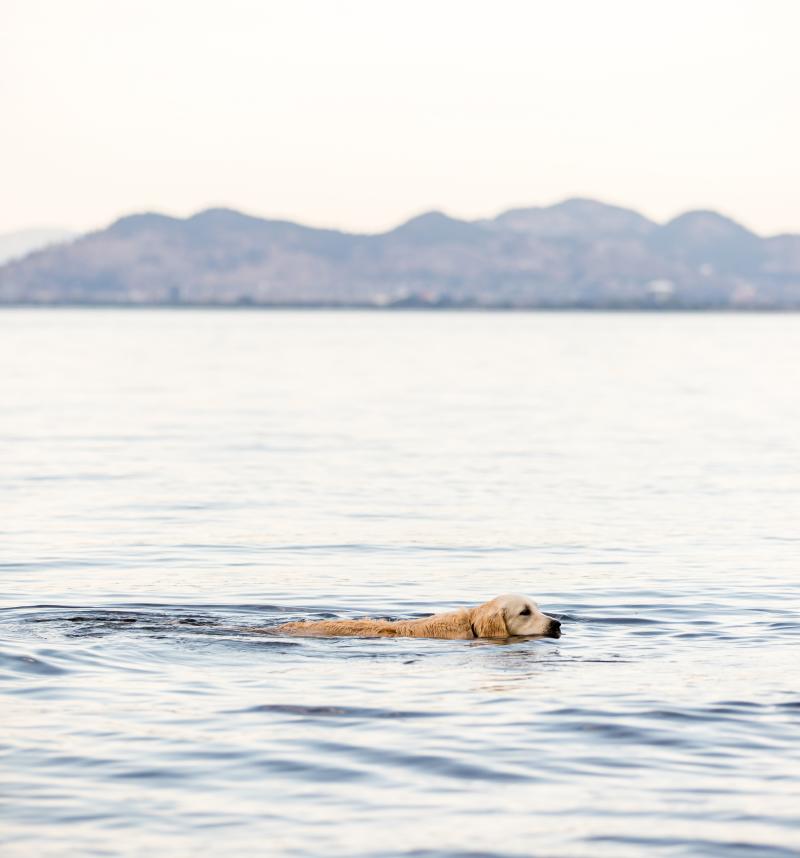 Cedar Creek Park. Photo by: One Peak Creative
Many city beaches expect dogs to be on leash, but there are some stretches of sand that let them run free and cool off. One of our favourite spots in south Kelowna is Cedar Creek Park, which has a large off-leash field overlooking the lake, plus a dog beach down below with numerous picnic tables. Closer to town, there's Lake Avenue Dog Off-Leash Beach, as well as the Downtown Sails, which posts seasonal off-leash hours for doggie paddlers.
Across the lake in West Kelowna, our go-to is the dog beach at Kalamoir Regional Park. We like that you can combine a nice hike with lake views on the park's trails, with a refreshing swim at the end. Gellatly Dog Beach, adjacent to the nut farm, is also a nice spot for pooch to splash around.

Dog Parks
Many of the city's off-leash parks are on the small side, but they are often located next to a walking path or trail system so you can let your dog burn off energy in the park before you leash her for an extended walk or hike. 
For example, Mission Dog Park is adjacent to the Mission Creek Greenway, a wide, flat, gravel-packed trail that extends all the way to Mission Creek Regional Park. Likewise, Knox Mountain Dog Park, located at the base of Knox Mountain Park, is a great starting point for a morning hike up Apex Trail to the top of Knox Mountain, an extinct volcano. Last, off-leash Enterprise Park is smack in the middle of Mill Creek Linear Park, part of the shaded Mill Creek pathway.

Dog Hikes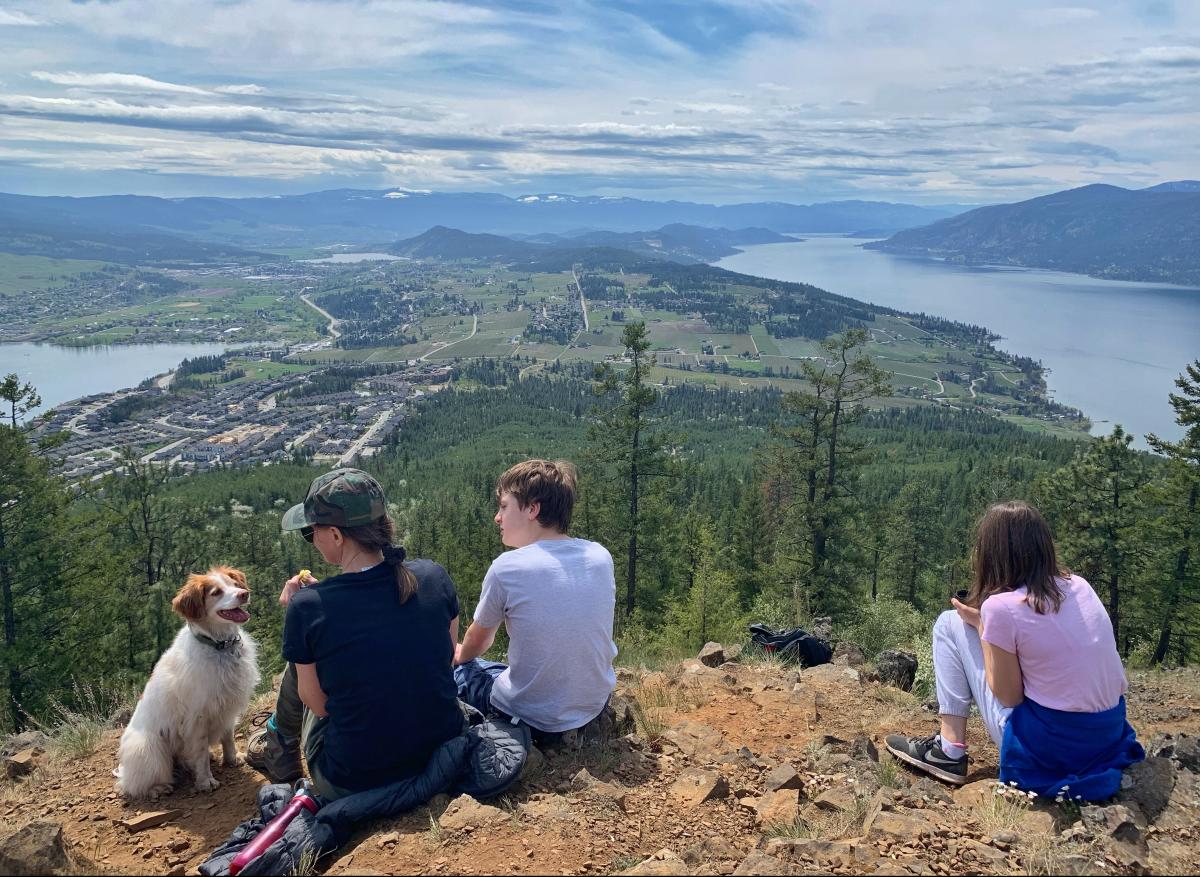 Spion Kop Hiking Trails, Lake Country
You and your dog can hike any trail in Kelowna, including those in Myra-Bellevue Provincial Park, so long as your companion is on-leash. Since our girl really hates being reined in, we try to choose hikes where there will be a reward at the end, such as a lake or creek where she can wade in and cool off with a drink of water. 
One of our favourites is Angel Springs. From the trailhead on McCulloch Road, the shady path follows KLO Creek as it winds deep into a canyon popular among rock climbers. You can keep going all the way up to the Kettle Valley Rail Trail, but we like to turn around when we get to the washed out bridge with the graffiti. In Myra-Bellevue a good bet is the hike to Lost Lake with great views of Kelowna and Okanagan Lake, plus a nice spot for a snack and drink at the destination.

Dog-Friendly Food & Drink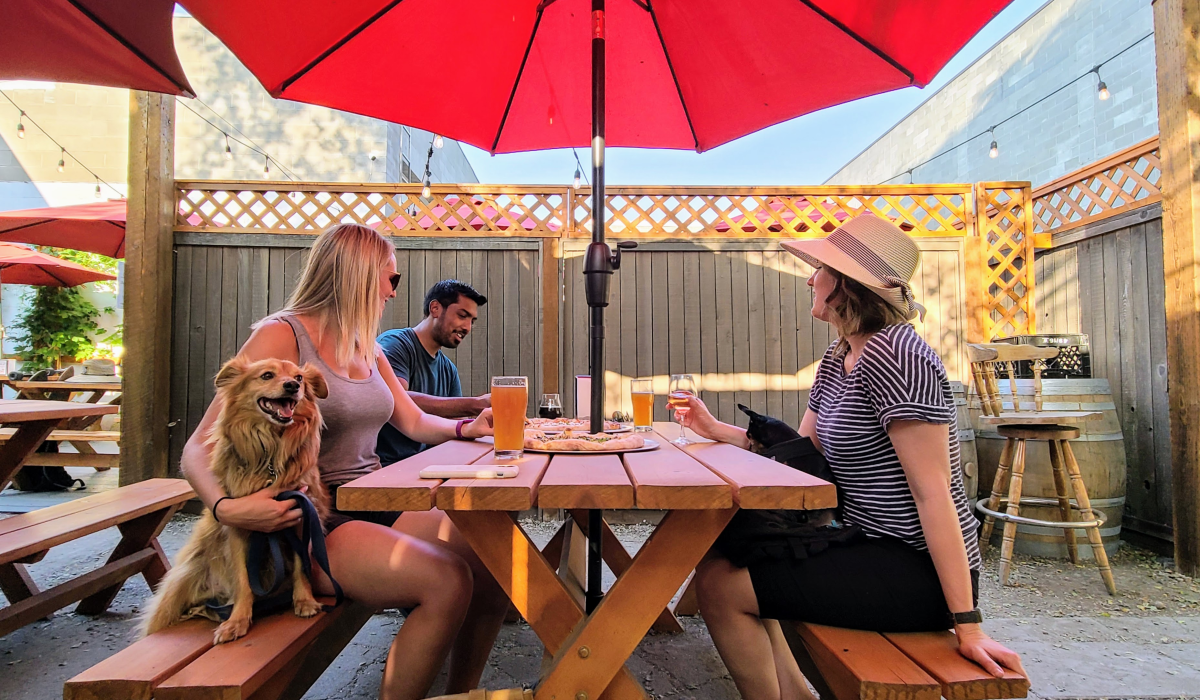 Jackknife Brewery 
Post-adventure, many watering holes and eateries around town welcome dogs on their patios. A must-visit is Unleashed, a new craft brewery that features dog beds and bowls for four-legged friends, and serves its flights of beer in a dog bowl (so cute, plus their beer names are inspired by dogs!). Quite a few wineries also welcome dogs—even in their tasting rooms—including Kitsch and the Hatch. For food, there's BNA Brewing, Krafty Kitchen, and Frankie We Salute You!, which all welcome pups on their patios (and serve amazing human food, too). There isn't enough room to list them all here, but Tourism Kelowna has already done that!

Dog-Friendly Accommodations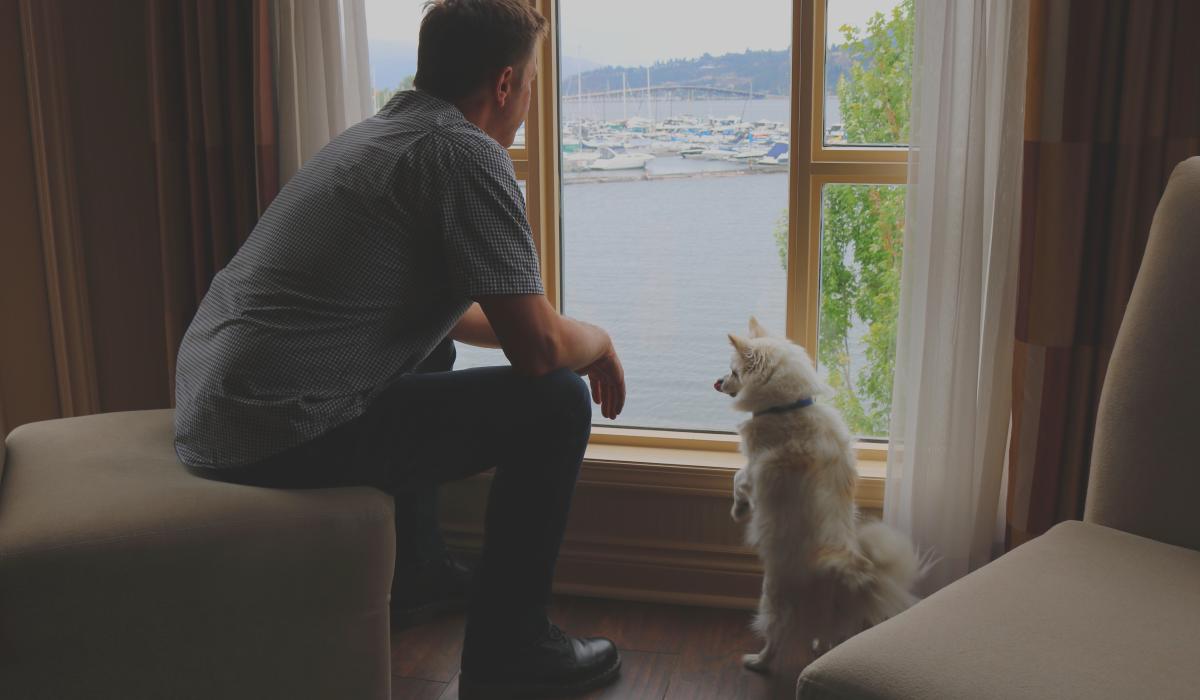 Delta Hotels by Marriott Grand Okanagan Resort. Photo by Wesla Wong
Many hotels allow dogs for an additional nightly fee; however, pet-friendly rooms may be in limited supply so book ahead. Centrally-located Hotel Zed is motel style, which makes it easy to leave the room and walk to a dog beach, along the Waterfront Walk, or over to the trails at Knox Mountain Park. And in West Kelowna, The Cove Lakeside Resort, within walking distance of Gellatly Dog Beach, has a number of 'Pampered Pup Rooms' that come with dog amenities such as a welcome treat. 
Since you can bring your dog almost anywhere on your Kelowna holiday—including onto a paddleboard—you're almost guaranteed a 'pawsitively' awesome vacation.