As part of our ongoing series, Discovering Kelowna's Sustainable Side, we're highlighting ways that you can explore one of Kelowna's most famed natural attractions, Okanagan Lake, responsibly and sustainably. 
Kelowna is nestled along the shores of Okanagan Lake, which stretches 135 km (84 miles) from Vernon in the North Okanagan to Penticton in the South Okanagan. The long, deep lake—known as kɬúsx̌nítkw in the local Indigenous language, nsyilxcən—formed through glacial activity some 10,000 years ago. Today, the lake remains vital to the region's natural ecosystem, area residents, including Indigenous community members, and the tourism industry.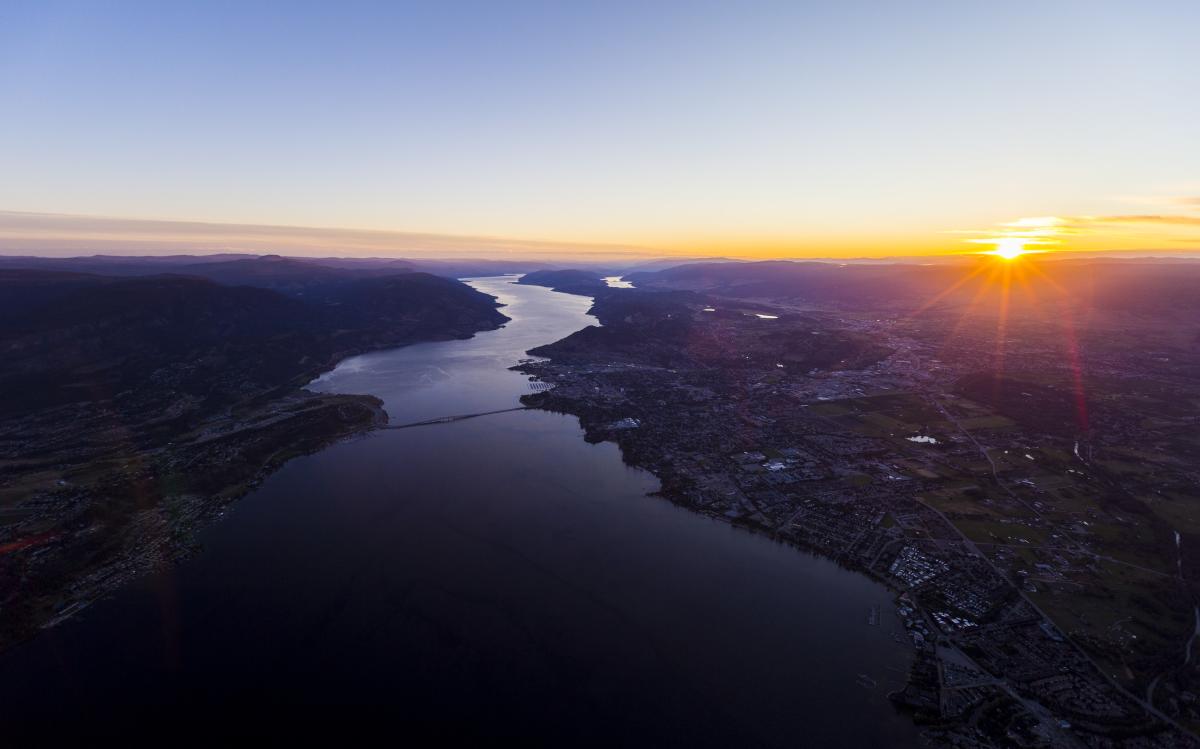 View of Okanagan Lake at sunrise, looking north. Photo credit: Callum Snape
Swimming is, of course, one of the most sustainable lake activities, and the plentiful choice of beaches along Okanagan Lake makes it easy to do in and around Kelowna. Downtown, choose from Kelowna's largest beach, Hot Sands Beach in City Park, or the smaller Tugboat Bay Beach at the north end of the city centre. A short drive or bike ride south from downtown will have you in Pandosy, where you can access Kelowna's newest waterfront park, located at the corner of Abbott Street and Cedar Avenue, which has a public pier, floating dock, and an accessible kayak launch. Other popular beaches along Lakeshore Drive in Pandosy include Boyce-Gyro Beach, Rotary Beach, and Sarson's Beach.
There are also small beach access points for Okanagan Lake throughout the city and swimming spots further from the city centre, like Bertram Creek Regional Park, as well as Pebble Beach and Gellatly Bay Park in West Kelowna, and the lengthy beachfront in Peachland.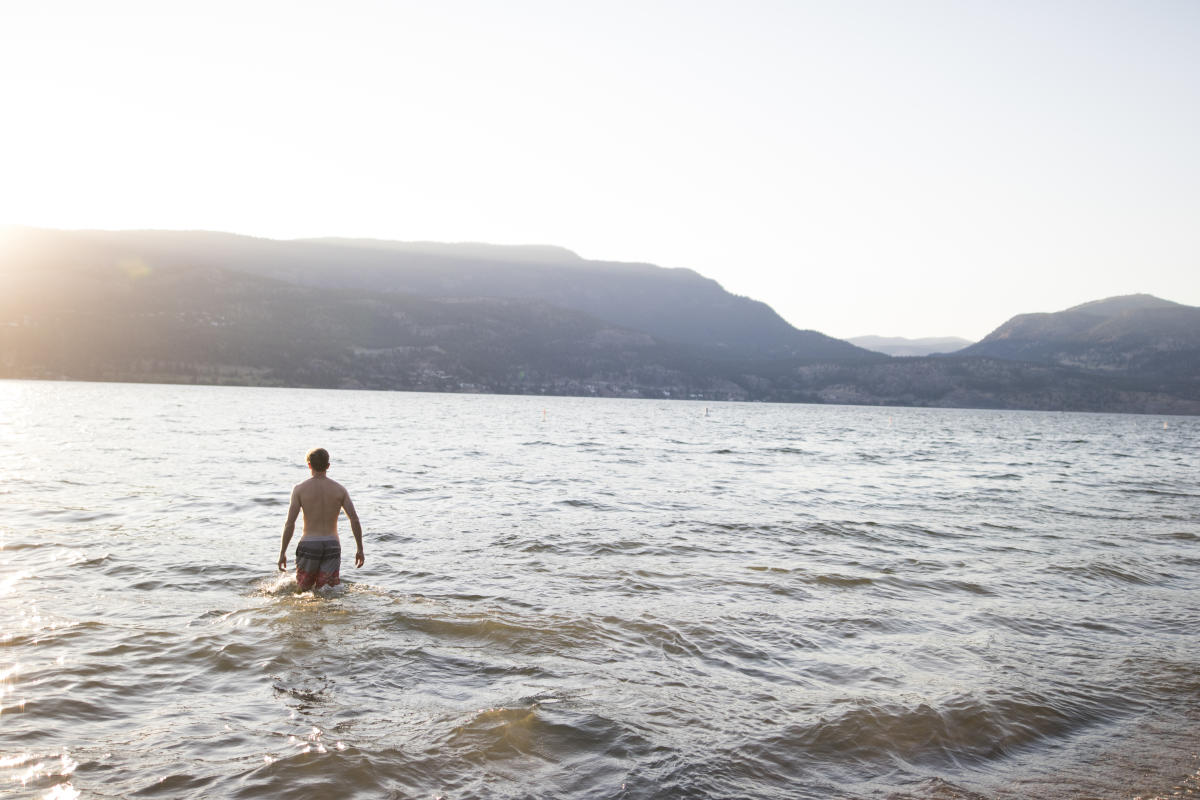 Photo credit: Meghan Reading
You can continue your sustainable adventures and physical activity by hopping on any number of non-motorized small vessels, including stand-up paddleboards (SUP), kayaks, and more. The Kelowna Paddle Trail runs 27 km (17 mi) along Okanagan Lake's shoreline, with buoys to help guide you. As you paddle along the trail, which starts at McKinley Beach and ends at Bertram Creek Regional Park, you'll pass over 20 beaches and parks, two bird sanctuaries, and numerous beautiful views.  
Rentals can be found through several businesses, including:
Downtown Marina offers kayaks and SUPs, and Eldorado Marina has SUPs and kayaks for adults and kids, as well as tandem kayaks.
Okanagan Beach Rentals, with locations at Tugboat Bay, Gyro Beach, Rotary Beach, and Bear Creek Provincial Park, offers an assortment of non-motorized water equipment, including SUPs, kayaks, canoes, pedal boats, and water trikes. 
Community Recreational Initiatives Society (CRIS) Adaptive offers adaptive kayaks, stand-up paddleboards, and varying levels of assistance depending on the adventurer's needs. 
Prefer to go on a guided adventure? Grizzly Kayaking offers morning and sunset tours on Okanagan Lake.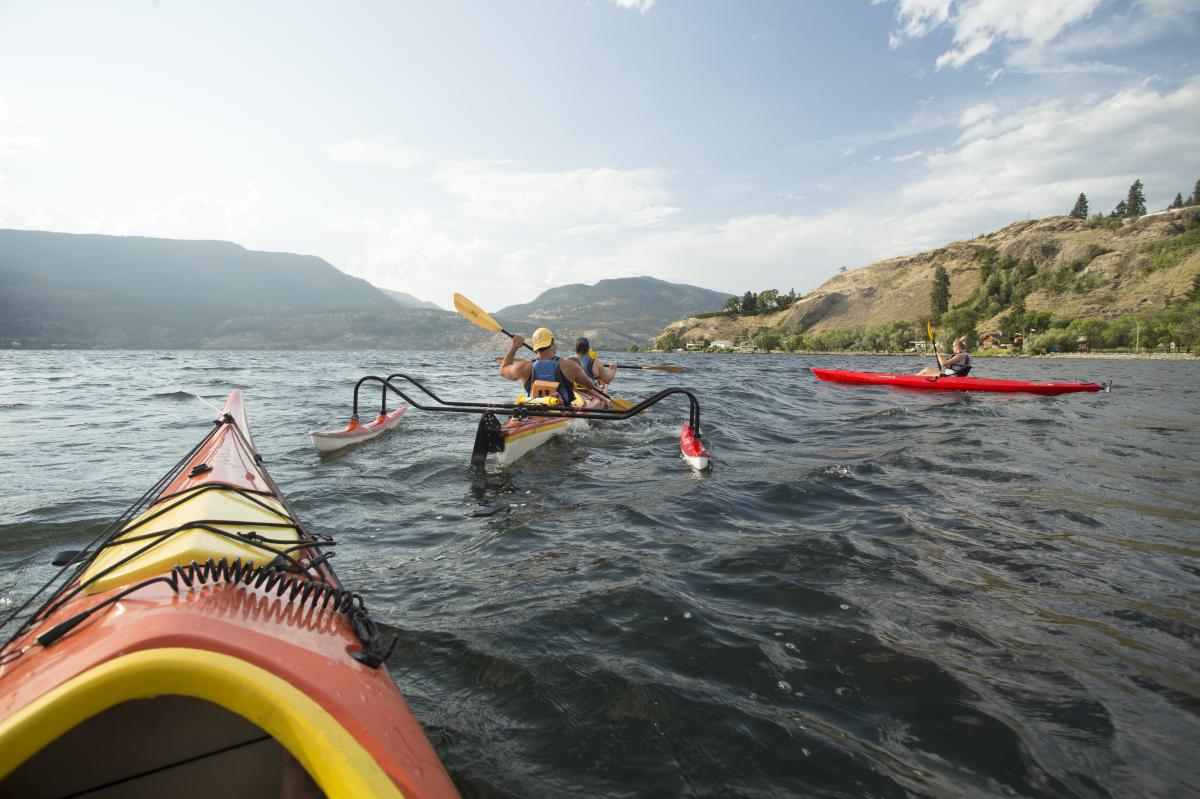 Kayaking with CRIS Adaptive. Photo Credit: Matt Ferguson Photography
Although most locals and visitors flock to the lake during the summer and early fall, when it is warmest, many enjoy the lake year-round. At the start of each year, Kelowna's annual polar bear dip participants brave the cold and plunge into the frigid Okanagan Lake waters at Tugboat Bay Beach. Due to Kelowna's typically mild climate and the fact that Okanagan Lake rarely freezes beyond the shoreline, many people will continue to paddleboard and kayak through the late fall, winter, and early spring.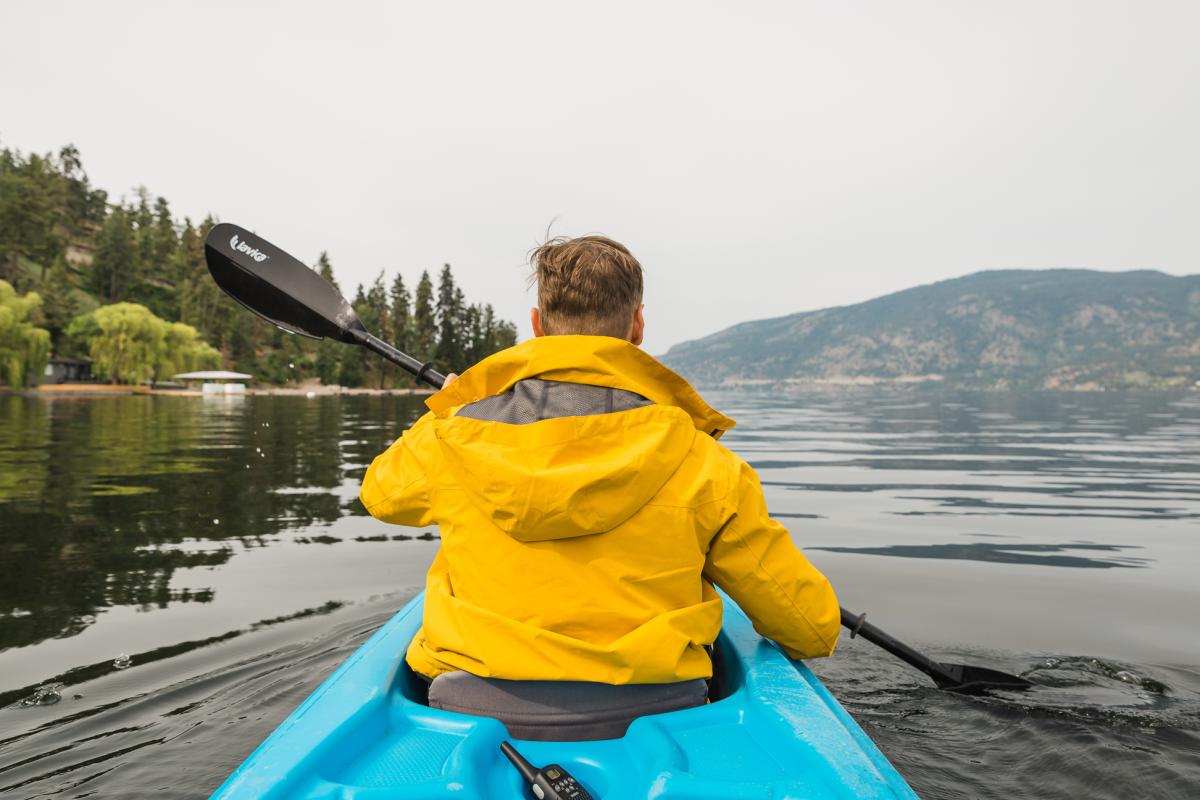 Photo credit: Scott Bakken
In addition to Okanagan Lake, most of these sustainable activities can be enjoyed on the many other lakes in and around Kelowna. While enjoying time at the lake, it's important to keep safety top of mind—stay aware of your surroundings, pay attention to weather changes, and be aware of the risks when in cold water. By law, every person onboard a watercraft, including human-powered small vessels, must have a Canadian-approved lifejacket or personal flotation device (PFD) on board. Keep in mind that paddleboard leashes are not allowed in place of lifejackets and PFDs. Low-profile vests and waist-pack inflatables make good options for paddleboarders. For more information, visit our Lake & Boating Safety page. 
As a final friendly reminder, rental options in the area are limited outside of the late spring, summer, and early fall.