As tourism is back in full force around the world, treating the destinations you travel to with the same care and respect as you would your own home is more important than ever. Responsible tourism is a team effort, with locals, including those operating tourism-related businesses, and visitors working together to make tourism more sustainable. In the coming months, we'll highlight ways that you can discover Kelowna's sustainable side as you travel responsibly.
Kelowna Eats and Sips
Eating sustainably as a traveller encompasses a variety of things—eating with the seasons, supporting local farmers, dining at restaurants that source locally, reducing food and packaging waste, introducing more plant-based meals…the list goes on. While you may not be able to cover all these things at each spot you dine, the hardworking farmers, dedicated chefs, and innovative business owners in and around Kelowna make it easy to focus on sustainability while you explore the region.

Savoury Eats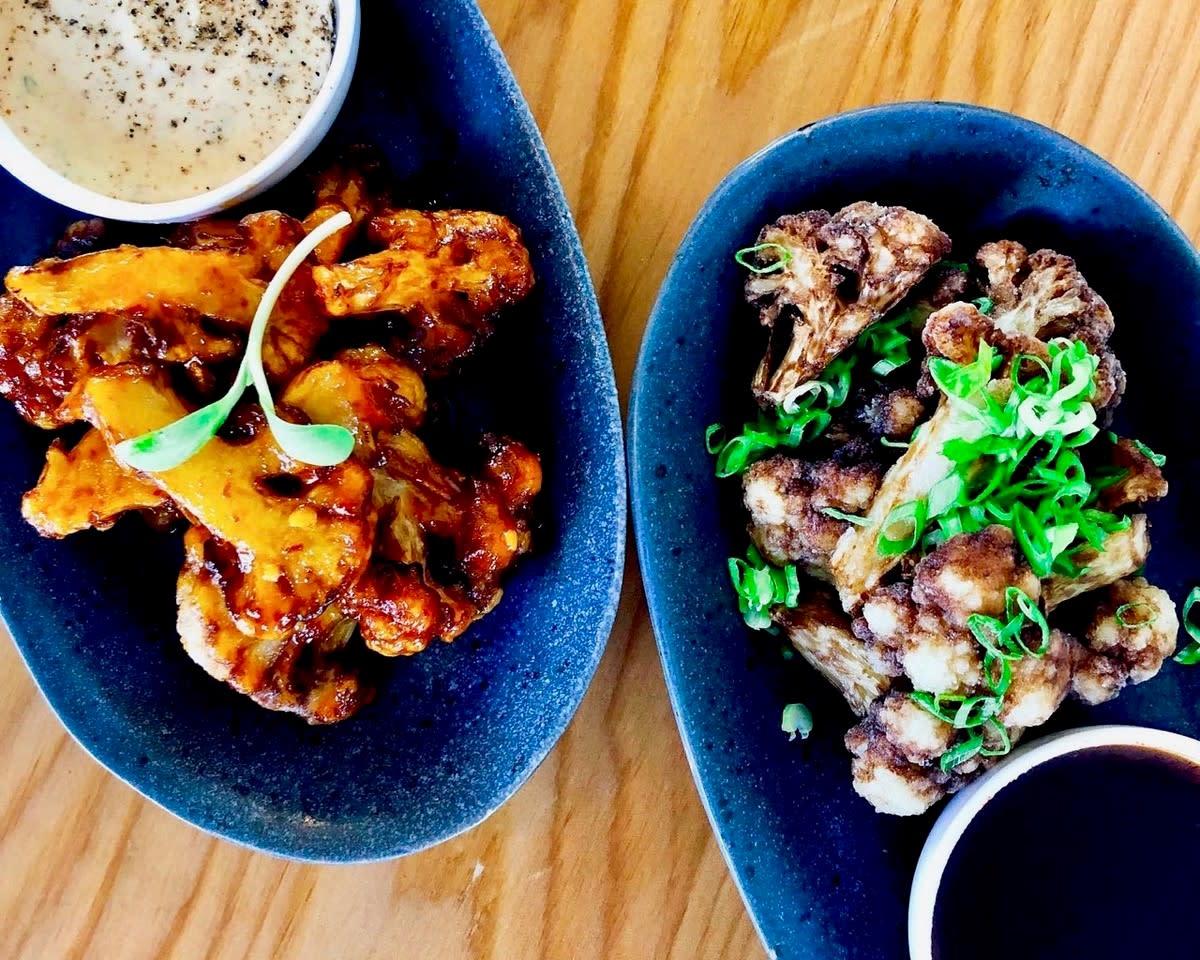 Cauliflower wings from Frankie We Salute You!
There are dozens of restaurants and cafes to choose from when looking for vegetarian or vegan options. One of Kelowna's newest spots, Habibi Tapas Grill, has an abundance of vegetarian and vegan options, including dips, tabbouleh, lentil soup, breads, falafel, and vegetarian shawarma—the smoked baba ghanoush and Habibi fries are a must! The tapas-style dishes are meant for sharing, allowing you to cut down on waste by ordering for the group as you go.
Nearby, Frankie We Salute You!, launched in 2019 by acclaimed Chef Brian Skinner and his business-partner wife, Christina, celebrates all things local with its plant-based menu. While much of the menu is available year-round, seasonal offerings are added to take advantage of what their network of local growers and farmers has available. You can pair your meal with BC wines, beers, and ciders, or try their made-from-scratch lemonades or sugar-free sodas sweetened with house-made monkfruit syrup.
In downtown Kelowna, Naked Café, which opened its doors in 2015, serves up its fully vegan menu for brunch, lunch, and dinner, seven days a week. They've recently reopened after completing an expansion and renovation and are ready to serve! Whether you're craving something light, like soup and salad, or comfort food, like pasta or plant-based burgers and fries, they've got you covered. The Pink Fog tea latte, hot or iced, is a personal favourite from their unique drink menu.
Numerous cuisines from around the world—think Mediterranean, Indian, Middle Eastern, Thai, Vietnamese, and so much more—have always had a focus on more vegetables and less meat, making them inherently sustainable. In addition to Habibi's mentioned earlier, here are a handful of other spots to add to your list: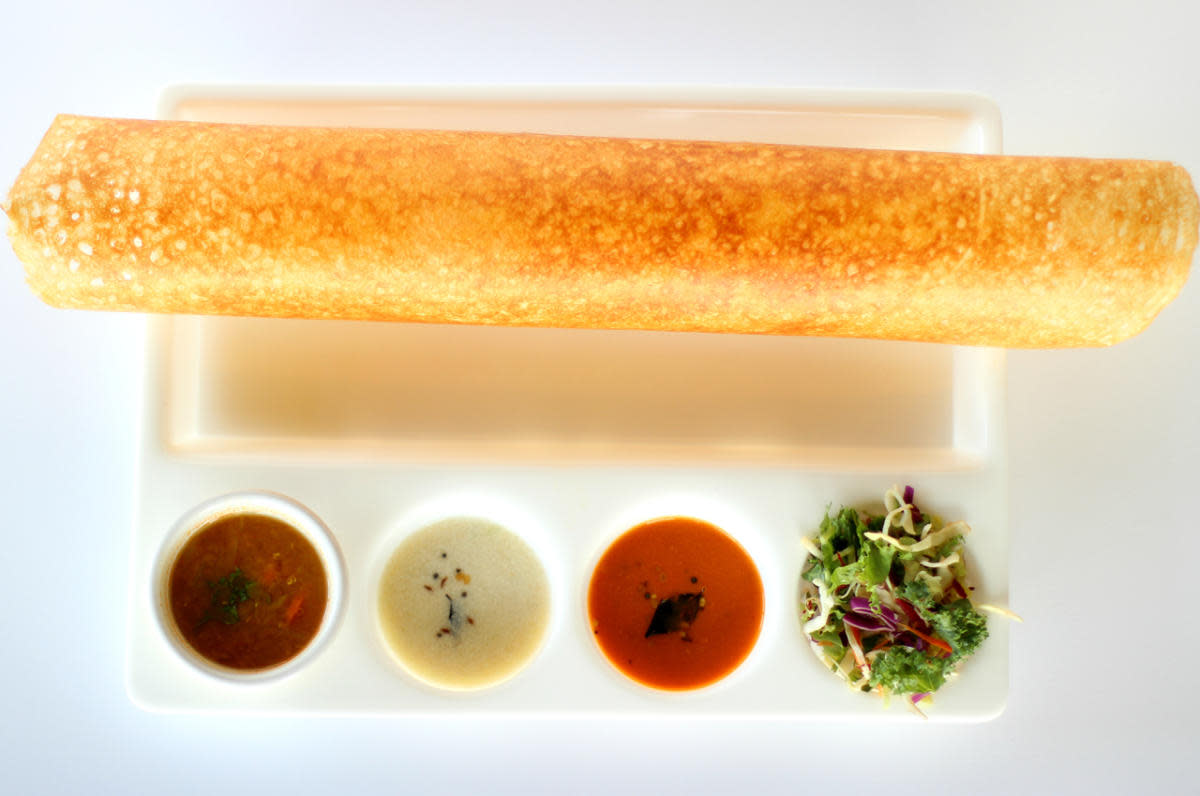 Vegan and gluten-free dosa at Dosa Crepe Cafe
Along with takeout from any of these restaurants, there are also lots of grab-and-go options that you can enjoy in your hotel room or while exploring outdoors including:
If you're travelling to Kelowna in November, you'll have an extra reason to visit some of these spots as it is World Vegan Month.

Sensational Sips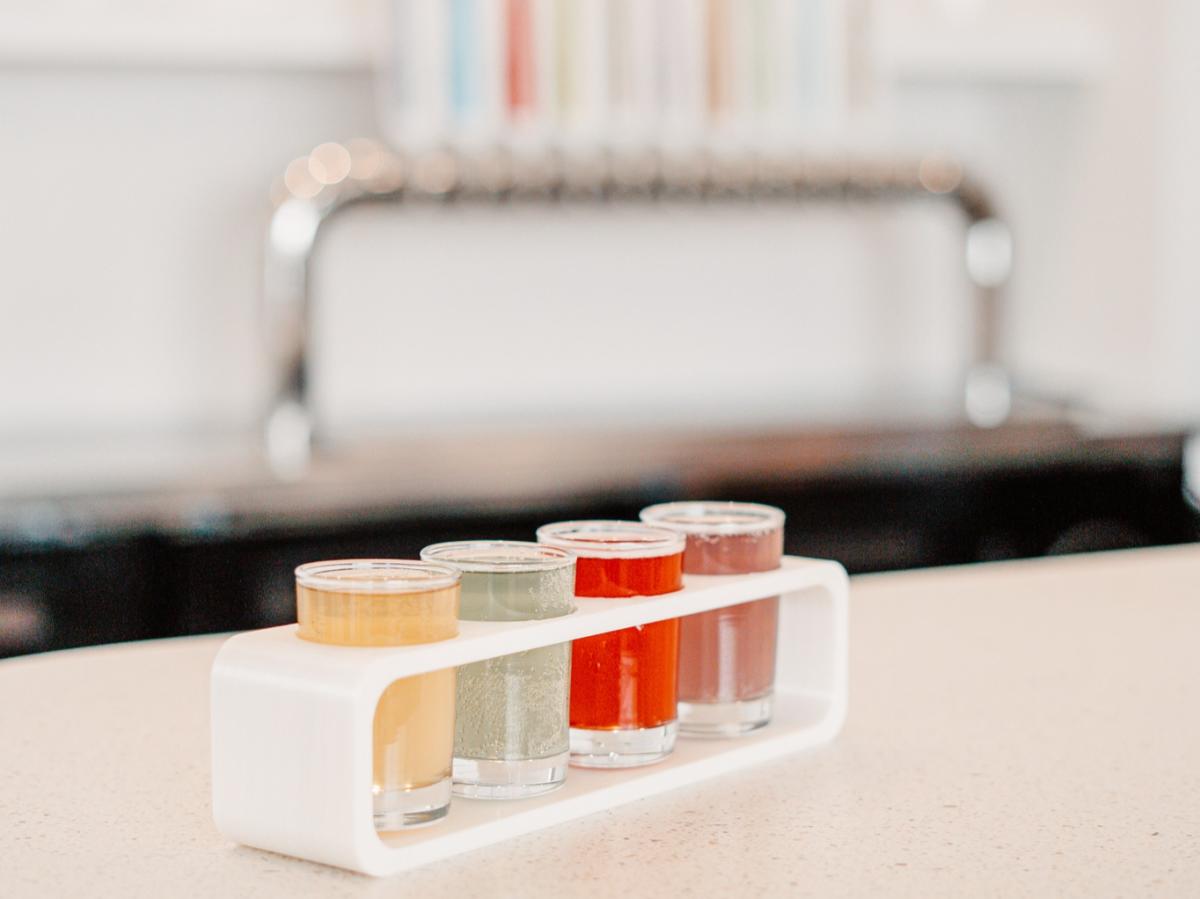 Flight at MotherLove Ferments kombucha and water kefir tasting bar.
While Kelowna is the birthplace of BC's wine industry, it is also home to an array of unique beverage producers who are crafting up some delicious boozy and non-alcoholic sips.
In southeast Kelowna, you'll find Meadow Vista Honey Wines, which is a finalist for the 2022 Environmental Impact Award in the Kelowna Chamber's Business Excellence Awards and whose products were recently featured in a segment on The Social. All of Meadow Vista's products, which include a variety of mead (a.k.a honey wine), are made in-house with ingredients sourced locally, including right from the farm. They have about 100 - 120 hives in total, some of which are set up at wineries and other locations in Kelowna. Meadow Vista's newest venture is a line of canned sparkling mead, Stinger—the Spiced Apple Jack and Peach Bellini varieties are made using fruit from the Okanagan.
Not far from Meadow Vista is Farming Karma Fruit Co., a family-run business launched in 2019, which builds on the Gill family's reputation as successful orchardists. At Farming Karma's vibrant tasting room you can sample their lineup of refreshing craft sodas, which are made at their on-site production facility. The alcohol-free sodas, made with fruit that the Okanagan is so well known for like apples, cherries, and peaches, have no added sugar and are not made from concentrate. Their Pear Soda, which is one of my favourites, recently took home Silver in the Product of the Year category at the 2022 BC Food & Beverage Awards. You can also purchase their newest product, Farming Karma Spirit, a vodka soda beverage, at the tasting room.
For another unique tasting bar experience, head to MotherLove Ferments in downtown Kelowna, one of the newest additions to the city's north-end brewery district. You can sip on their light and refreshing locally-brewed kombucha and water kefir, which is made with all organic ingredients and contains no artificial additives or preservatives. On tap, you'll find their regular assortment of kombucha, including Just Ginger, Lavender Lemonade, and Holy Hibiscus, as well as a rotating seasonal flavour. The Flamingo Room, located in the mezzanine of the tasting bar, is available to rent for meetings and events and they have a small menu of food items if you need something to nibble on. 
Discover more of Kelowna's craft beverage producers here (we'll be sure to fill you in on wineries in a future iteration of this blog series). 

Helpful Extras
One way to be an extra-responsible foodie while travelling is to create your own zero-waste travel kit with items like reusable cutlery and napkins, a reusable water bottle, and cloth bags for produce and snacks—find all the recommendations you'll need on how to put your kit together here. 
If you're adventuring outdoors or camping, collect all the items you'd normally compost at home and take advantage of Chickpeace Zero Waste's compost program; each 10L bag or pail will only cost you $1 to drop off and they will handle the rest. They also carry a variety of foodstuffs that can be put into reusable containers for camping or to use if your accommodation has a kitchen or kitchenette.
Visit the Green Okanagan Shop Local Directory for more low-waste options related to food and drink, and be sure to stay tuned to Tourism Kelowna's #exploreKelowna Blog for the next part of this series.