Summer in Kelowna means it's time for outdoor activities, beach days, and hot, sunny weather. While many visitors will be familiar with Hot Sands Beach, Knox Mountain Park, and Myra Canyon Trestles, there are actually more than 200 parks, beaches, and green spaces in Kelowna—not to mention those located in surrounding communities like Lake Country, West Kelowna, Westbank First Nation, and Peachland—which offer endless opportunities to explore the region's outdoor playground and soak up the sun at some of its hidden gems.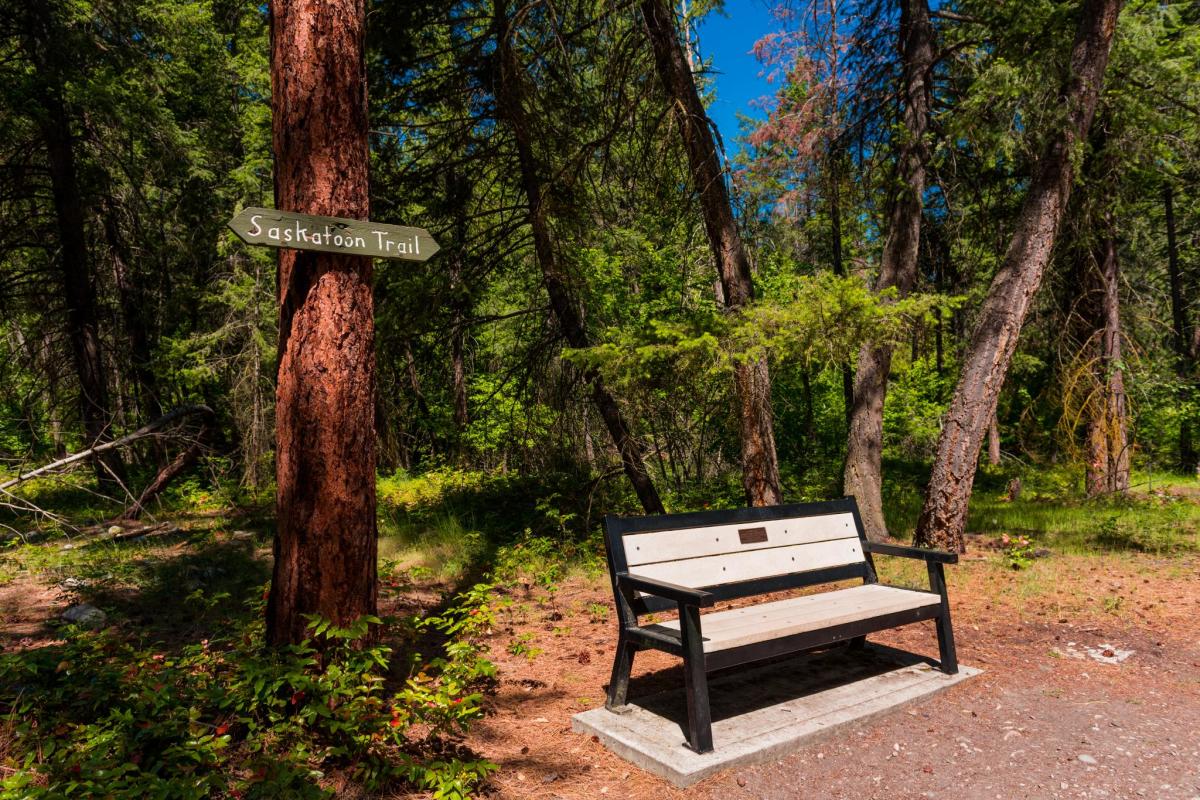 Woodhaven Nature Conservancy Regional Park, ©RDCO & Michael Hintringer
Head in most directions from downtown Kelowna and you will find yourself at a park or beach. In Lower Mission, for instance, you'll find Woodhaven Nature Conservancy Regional Park, a wooded park with an extensive trail system where you'll find Black Cottonwood, Douglas-fir, Ponderosa Pine, and Western Red Cedar. While there is plenty of sun on your hike, you'll also find ample shade thanks to all the beautiful, and tall, trees.
Driving 20 minutes east from Woodhaven through the rolling hills of south Kelowna, you'll end up at KLO Creek Regional Park, a shady park where you can walk along the creek and cool down if you need a break from the sun. The park also contains gneiss rock, making it a popular (and shady) spot for climbing. On August 18, join a guide from the Regional District of the Central Okanagan (RDCO) for a free park tour to discover more about its history and unique characteristics.
For those who want to push even further, you can continue hiking from KLO Creek to Angel Springs—this route does have some elevation gain, several unbridged creek crossings, and a steep ascent for the last kilometre, so make sure you're prepared with the skills and equipment (and lots of water) needed to make it out and back. Keep in mind that these are not hot springs—they are generally lukewarm in the summer—and this route is not recommended in the springtime due to high water levels.
In August, RDCO will also be hosting its Wonders of the Night Sky guided tours. The two-hour hikes will start at 9 p.m., as the sun is setting, so participants can marvel at the night sky and enjoy the peacefulness of their surroundings. The final hike will take place August 26 at Black Mountain - sntsk'il'ntən Regional Park, which is located about 21 km (13 mi) from downtown Kelowna.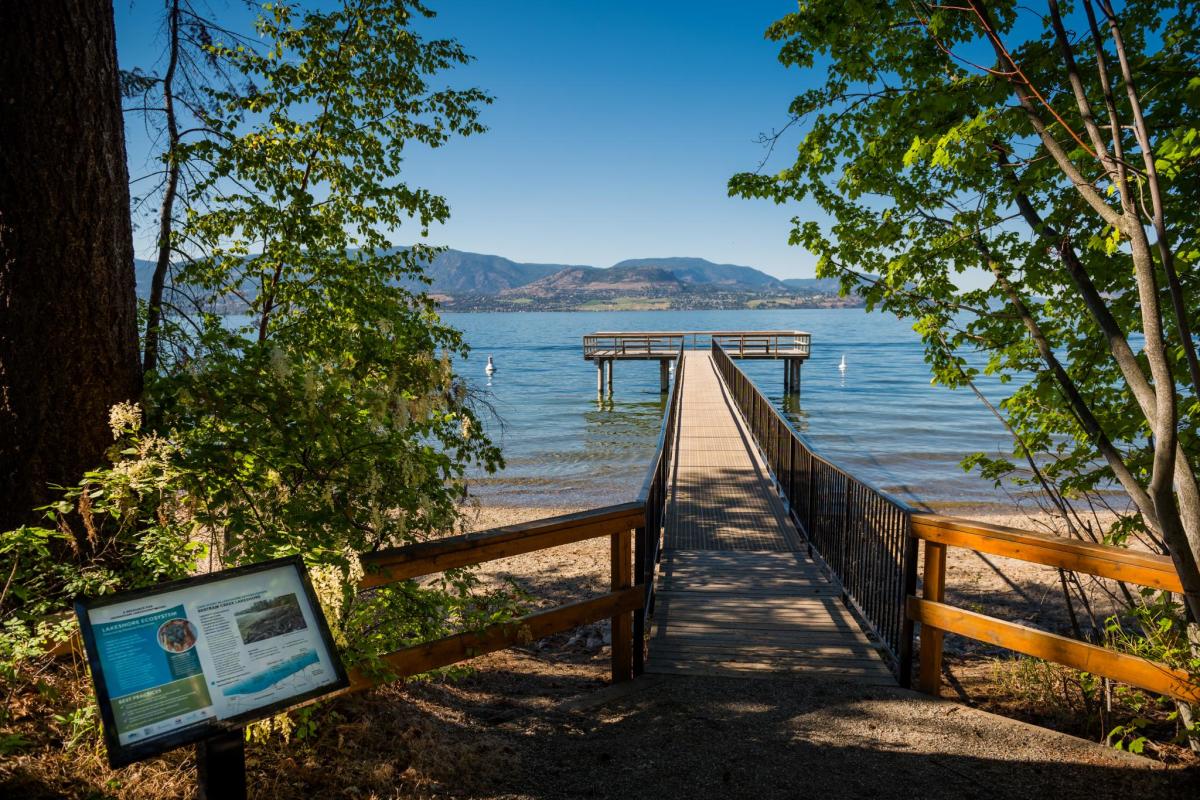 Bertram Creek Regional Park, ©RDCO & Michael Hintringer
While it can be harder to find secluded beaches on Okanagan Lake in the summertime, there are plenty of options along the shoreline. Head south from downtown Kelowna on Abbott Street and Lakeshore Drive and you'll find beach access points and smaller beaches like Kinsmen Park, BlueBird Beach, Hobson Road Beach Park, and Sarsons Beach Park. Parking can be tough to find at some of these smaller beaches so consider taking public transportation or renting a bike or scooter to make your way down. Venture a bit further out and you can explore Cedar Creek Park (which is a dog-friendly beach) or Bertram Creek Regional Park.
North of downtown, off Lochview Road, you'll find the Lochview Trail, which offers a small beach access point at the bottom of the trail and a vigorous climb back up afterwards. Carry on driving north to Okanagan Centre Road and Carrs Landing Road in Lake Country for more beaches to enjoy—Kopje Regional Park and Coral Beach Park are two standouts. Ready to venture even further off the beaten path? Outside of Lake Country, you'll find several smaller lakes like Oyama Lake, Beaver Lake, Postill Lake, and more. If you're heading west from Kelowna, add Traders Cove Regional Park to your list for a relaxing picnic lunch and a swim.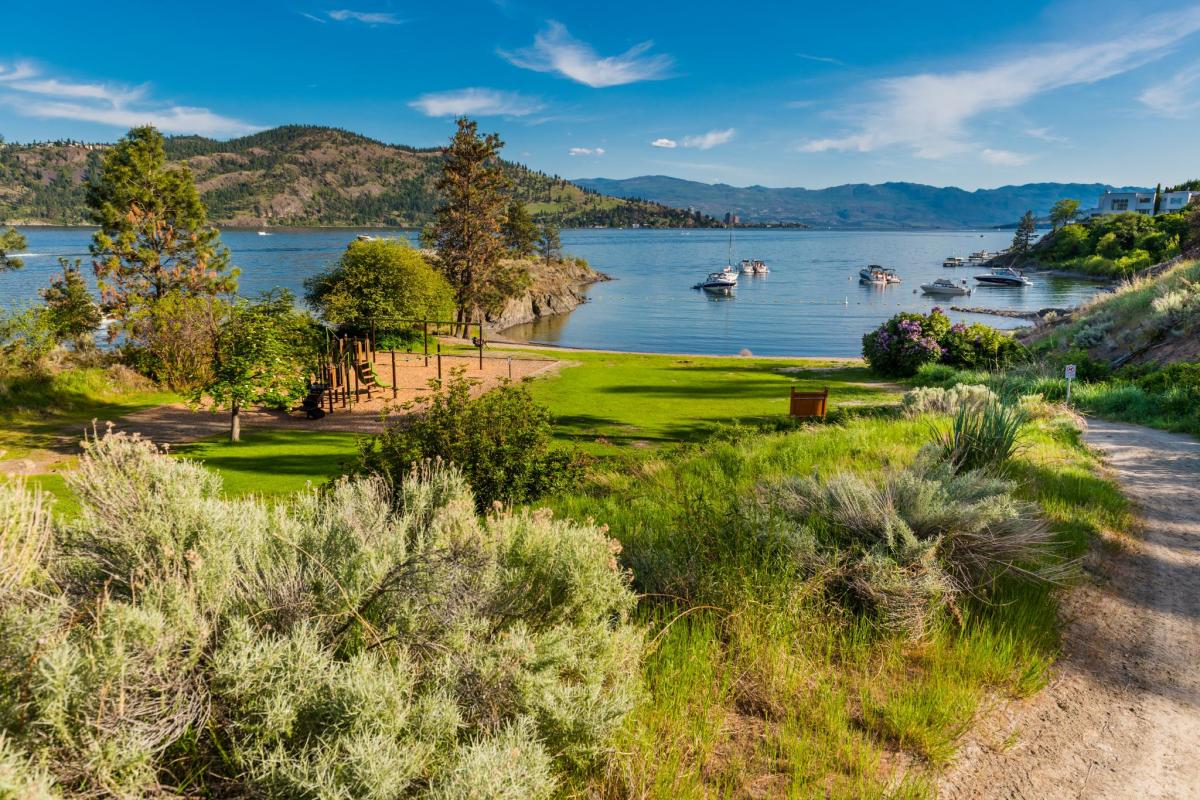 Traders Cove Regional Park, ©RDCO & Michael Hintringer
PRO TIP: If you can travel to Kelowna during the week in the summertime, as opposed to on the weekends, there may be fewer people at area activities and attractions, particularly at hidden gems like those listed above. Accommodation options may also be more plentiful, with rates being slightly less than on weekends when demand is typically at its highest. There are even some summer packages and promotions you can take advantage of. 
A friendly reminder to practice the three Ts—trip planning, training, and taking the essentials—and follow the seven principles of Leave no Trace when heading out to explore. With rising temperatures, make sure everyone has fun and stays safe by being prepared for the hot weather and keeping wildfire prevention top of mind. Find more information here.