The annual Dine Around culinary experience is happening February 5 - March 7, 2021 and Kelowna and area restaurants have some fantastic menus on offer for amazing price points!It's a great opportunity to try new menu items and new restaurants – from pub fare to fine dining and from winery restaurants to cafés. Prices for the three-course menus range from $15 to $55, and depending on the venue, drink pairings are also recommended. 
Dine Around may look a little different this year but rest assured that restaurants are open for dine-in for your household or core bubble. Also, new this year, some restaurants will be offering the option to take-out their Dine Around menu, so you can enjoy your meal at home.
If you are looking to dine in, make sure to plan out the restaurants you want to visit and make reservations in advance. Dine Around also makes for the perfect time to gift a local restaurant experience to someone you love or to friends and family who you may not be able to celebrate special occasions with right now as social gatherings are on pause. 

Here is a sampling of six Dine Around menus from local restaurants to entice your appetite:
$35, $45, and $55 menus - wine pairings suggestions available.
$45 Menu includes:
First Course: Vintage Salad or Wonton Soup or Classic Caesar Salad
Second Course: Prawn & Scallop Embrace or Cabernet Braised Short Ribs or Pan Roasted Chicken or Flat Iron Steak or Blacken Chicken
Third Course: Cold Set Cheesecake or Chocolate Ganache 
View the full 19 Okanagan Grill & Bar Dine Around menu.
$55 menu (or $85 with a culinary video demonstration)
First Course: Quattro Formaggi Ravioli
Second Course: Braised Elk Osso Bucco
Third Course: Crêpes Suzette
View the full Lakeside Dining Dine Around menu.
$25 menu - beer pairing suggestions available.
First Course: Dirty Caesar Salad or Potato and Leek Chowder 
Second Course: Buttermilk Fried Chicken or The Burger 
Third Course: Cookies and Cream 
View the full Provisions Dine Around menu.
$35 menu - drink pairing suggestions available.
First Course: Dynamite Roll or Little Cowboy Salad or Thai Chicken Soup
Second Course: Butter Chicken Curry or Potato Crusted Cod Bowl or Steak & Pasta or Butcher's Block Burger 
Third Course: Little Warm Double Chocolate Brownie or Oreo Jar 
View the full Browns Social House Dine Around menu.
$35 and $45 menus - wine pairing suggestions available.
$35 menu includes: 
First Course: Central's Mixed Greens or Thai Coconut Carrot Soup 
Second Course: My Boy Blue Burger or Central's Pad Thai or Italian Stallion Pizza
Third Course: Central Churros 
View the full Central Kitchen & Bar Dine Around menu.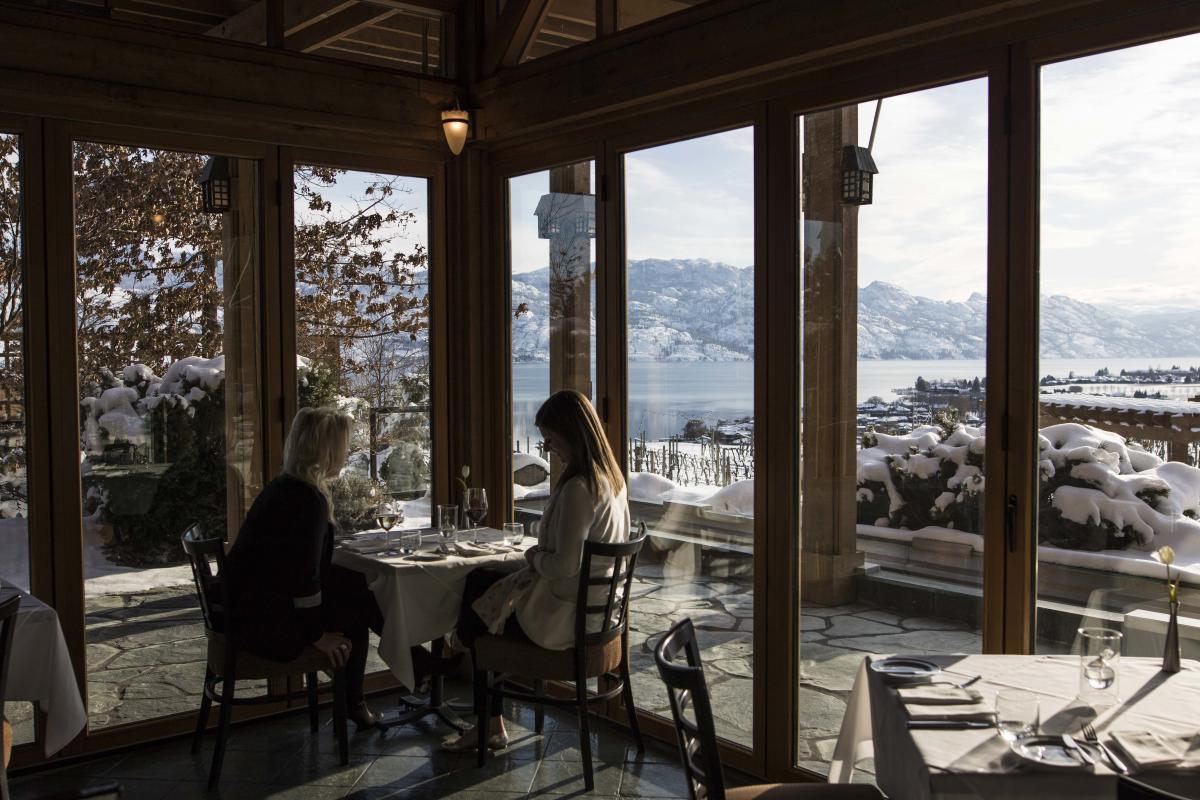 $35 lunch menu and $55 dinner menu.
$35 lunch menu includes: 
First Course: Daily Featured Soup or Cabbage Salad or Grilled Farmer's Carrots
Second Course: Linguini Nero Vonogole or Roasted Pork Loin or Truffled Corn Risotto 
Third Course: Peach Cheesecake 
View the full Old Vines Dine Around menu.

To see all the restaurants (and their menus) participating in Dine Around 2021, please visit: dinearound.com/restaurants