While smartphones have allowed us to stay connected and engaged with our loved ones near and far, particularly during the pandemic, they can also be a distraction from getting out and enjoying the world around us. As spring is a time of renewal, it makes sense to also commit to a digital detox at this time of year—think of it as a reset for your digital life, where you can alleviate stress, refresh, and recharge your own battery. And what better place to commit to a digital detox than Kelowna, where its ample outdoor space and local activities offer you numerous ways to recharge as you unplug from your devices and the online world.

Catch the Sunrise or Sunset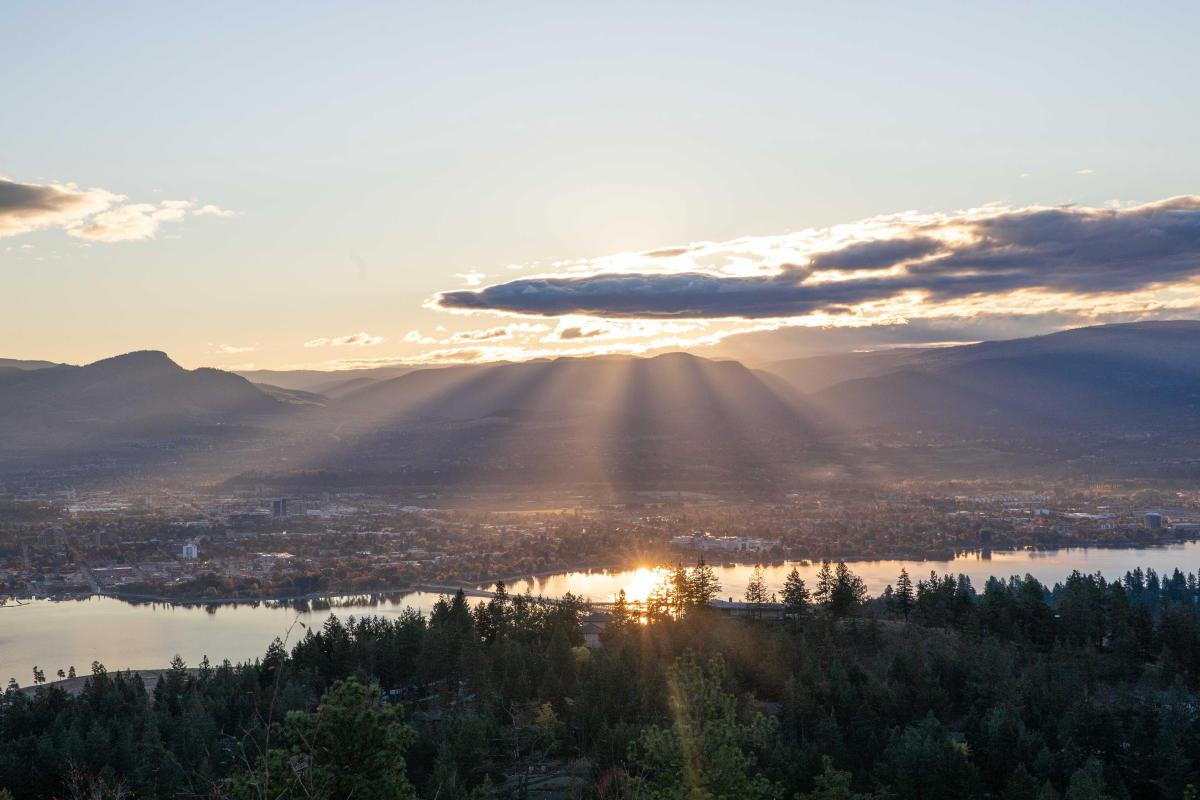 View from Rose Valley Regional Park. Photo by: Scott Bakken Productions 
For those who are more experienced hikers, Kelowna and the area offer some great options to catch the sun make its entrance for the day. Both Mount Boucherie and Rose Valley Regional Park in West Kelowna overlook Okanagan Lake and Kelowna, with the sun seemingly rising from behind the city. At this time of year, sunrise is usually shortly before 6 a.m., so be sure to give yourself enough time to get up the mountain if you want to admire the view from the summit.
If you prefer an easier climb (or no climb at all), then end your day admiring the setting sun from along the waterfront boardwalk, at one of Kelowna's many lakefront parks and beaches, or from the lookouts at Knox Mountain, which is an easier hike on the edge of downtown. While you'll certainly want to take photos of the stunning views, maybe try going photo free and simply take in the beauty of the moment and your surroundings.

Appreciate the Sights and Sounds of Nature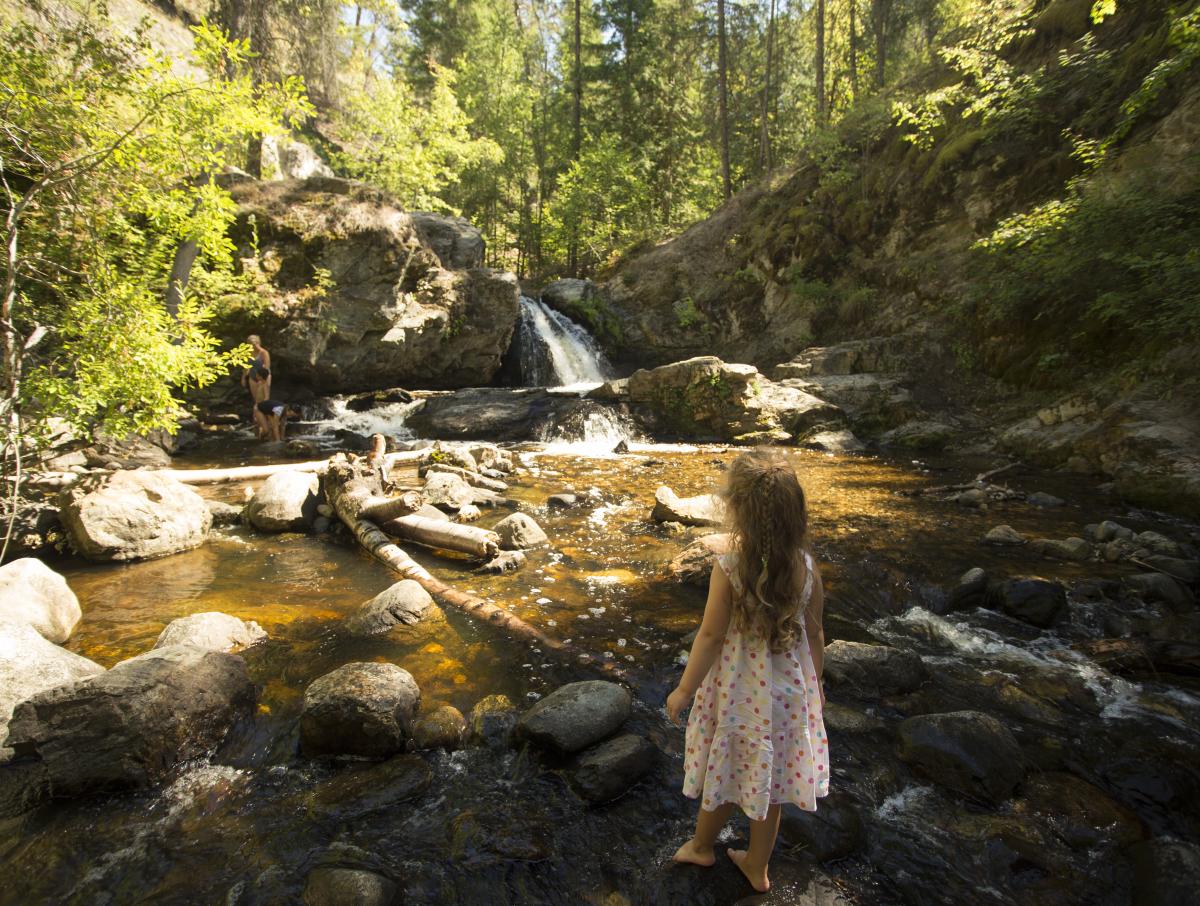 Mill Creek Regional Park. Photo by: Matt Ferguson Photography
From chirping birds and running water to blooming flowers and unique views, there are so many sights and sounds to take in when you explore Kelowna. While it's tempting to put on your headphones to listen to your favourite playlist while you walk or hike, make the choice to turn off your phone and simply connect with the sounds around you.
A short drive from downtown Kelowna will have you immersed in nature with abundant sights and sounds. Many of the area's regional parks, including Mission Creek, Scenic Canyon, and Mill Creek, will envelop you with trees and have you walking alongside creeks in the area, which can be quite high during the spring due to runoff from the mountains. As you explore, notice the Arrowleaf Balsamroot, Kelowna's official flower, and other plants blooming alongside the trails. Run your hand along the bark of the trees or the smooth surface of a rockface. Try and spot the birds that are creating the soundtrack of your adventure. You'll be sure to feel relaxed, refreshed, and centered when you explore mindfully and phone-free.

Get Centred and Savour the Best of Kelowna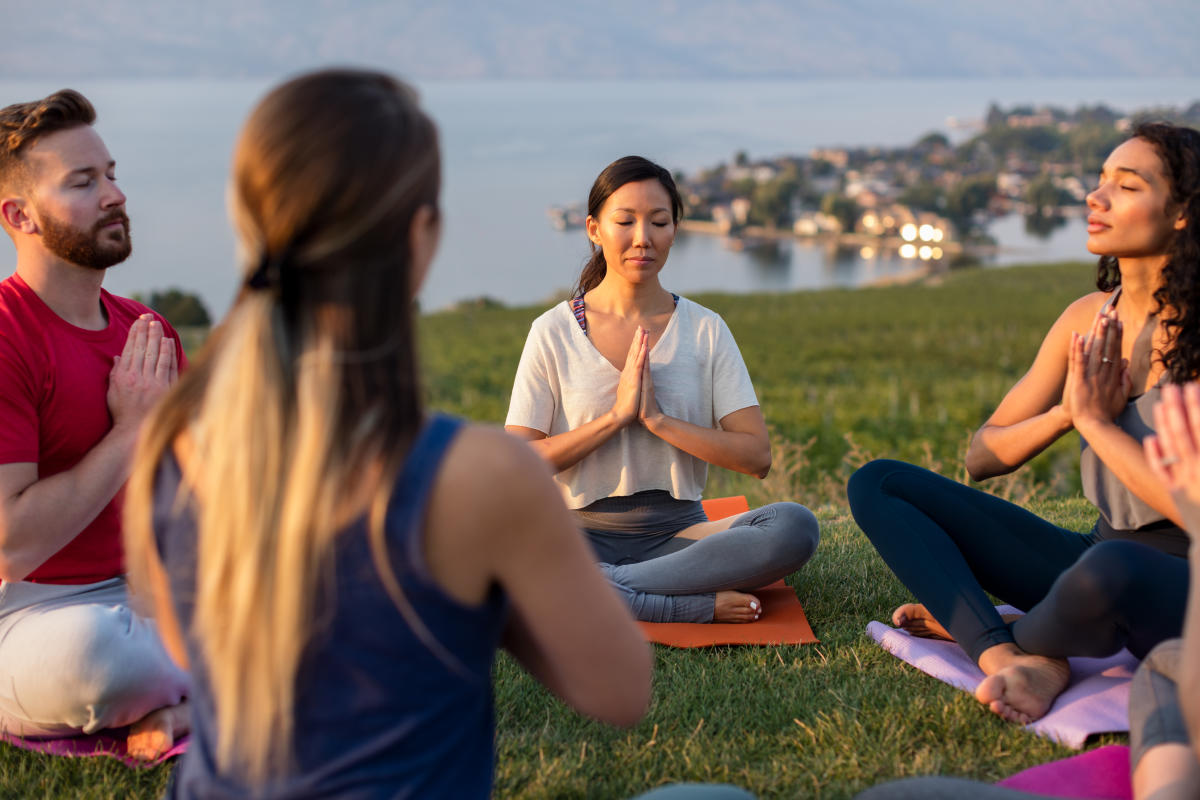 Photo by: Shawn Talbot Photography
Yoga is a fantastic way to destress and reconnect with your body IRL (short for 'in real life' for those unfamiliar with the term). In Kelowna, you can get centered in a guided yoga class and then sip or taste the best of the Okanagan.
Until the end of June, Gray Monk Estate Winery is hosting a weekly Yoga and Brunch event. Held every Sunday at 10:30 a.m., the event includes a 45-minute outdoor yoga class, where you can take in the expansive views of Okanagan Lake as you complete your practice, followed by a two-course brunch at the Lookout Restaurant.
Reconnect with your mom for Mother's Day by unplugging and attending the Yoga Nature Retreat at Kitsch Wines on May 7 from 10:30 a.m. to 2 p.m. Hosted by Happy Day Yoga, the event includes two yoga classes as well as a scrumptious vegetarian lunch prepared by well-known local Chef, Ross Derrick, and a wine tasting. You'll feel even more centered when you end the day with a guided meditation.  
Buddha Beats Yoga also has several upcoming yoga classes at The View Winery and Sperling Vineyards, which combine yoga classes with wine and cider tastings, local chocolate, brunch, and more.

Discover Arts and Culture Without Distractions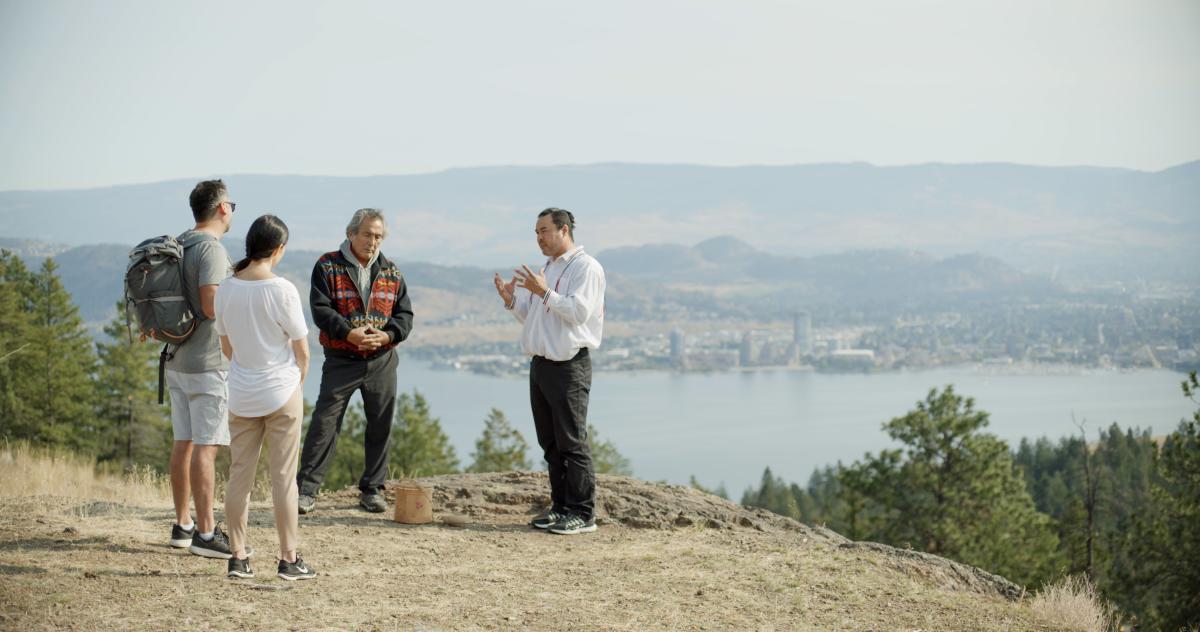 Guided tour with Moccasin Trails
While you're out discovering all that Kelowna has to offer, switch off that phone or turn it on airplane mode to limit your distractions.
Head to the Kelowna Art Gallery or one of the area's smaller galleries to see exhibits and art pieces from local, national, and international artists. Until May 8, visit the Kelowna Art Gallery to take in A Story in Three Parts: Ashevak, Pootoogook, Isuma, which explores the "past and present of Inuit creative expression."
A visit to local museums, including the Okanagan Heritage Museum and Sncewips Heritage Museum, will offer you the opportunity to learn about and connect with the region's Indigenous culture, that of the Syilx / Okanagan people. You can also unplug and reconnect with the land by taking part in an authentic Indigenous experience with Moccasin Trails' cultural plant, food, and educational tour.

These are just some of the ways you can unplug and reconnect in and around Kelowna. For those local to the area, comment below with other suggestions of ways to unplug.