Whenever it's possible I stop at local farms and orchards to grab my ingredients. Nothing is as delicious as eating fresh, local produce. One of the great places to pick up fresh local produce is the Kelowna Farmers Winter Market where you can usually purchase delicious local root vegetables such as beets.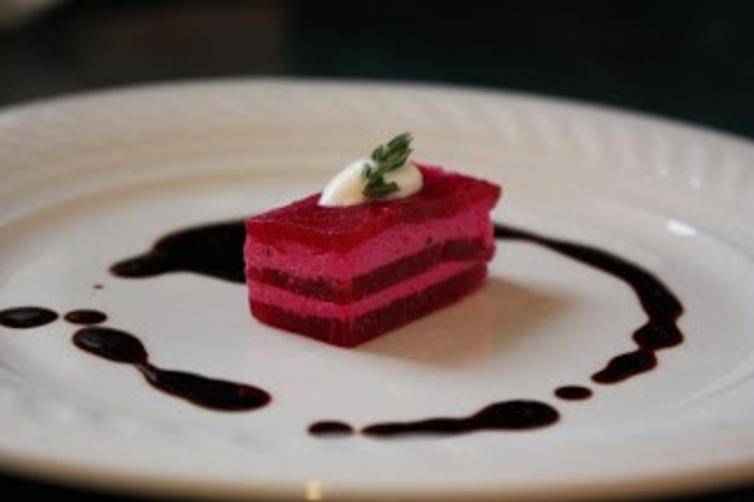 Recipe:
Goat Cheese & Roasted Beet Amuse Bouche ingredients:
3 beets
olive oil
salt
pepper
1 4 oz log of goat cheese (Carmelis Goat Cheese)
sour cream or crème fraiche
sprigs of fresh thyme
Balsamic Reduction ingredients:

Directions:
Roast the beets: Preheat the oven about 350 F. Wash the beets very well, with a pastry brush, coat them with olive oil and give them a sprinkling of fresh cracked pepper and a grinding of sea salt. Place the beets on a large sheet of aluminum foil and close it up into a packet. Place the packet in a roasting pan and roast for about an hour until you can slide a knife point in the beet easily.
Once the beets cool, slide off the peels and cut into thin 1/4-inch slices.
Assemble the stacks: Spread goat cheese on one beet slice, then stack another slice on top of that, spread some goat cheese on that one and top with one more beet slice. Wrap tightly with some plastic wrap and refrigerate until ready to assemble - a few hours to overnight the longer you wait, the better it will be.
Make the balsamic reduction: Bring 1/2 cup of balsamic vinegar to a boil over medium heat, and then reduce the heat to low and let the vinegar reduce down by about half to a thick syrup. Stir occasionally. Take it off the heat and add a tablespoon of butter and whisk until melted and incorporated.
When you're ready to plate them, unwrap the stacks and cut into a neat square, then cut in half.

So, 1 beet and goat cheese stack using 3 layers of beet and 2 layers of goat cheese will yield 2 portions for an amuse bouche.
Place a dollop of crème fraiche or sour cream on the top of the stack and garnish with a tiny sprig of thyme. Drizzle a bit of the balsamic reduction around the plate and serve
Enjoy!
---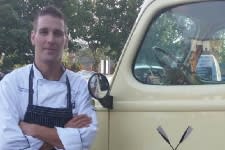 Chef Vince Van Wieringen is a red seal endorsed Chef, with creative culinary skills, extensive food and beverage experience and a passion for food. Vince's menus focus on Farm to Table and seasonal dishes with ingredients that feature local farmers, orchards, meats, and sustainable BC seafood. He is Executive Chef at Hotel Eldorado and the current President of the Vernon and District Metis Association.