When you're planning a trip to the Kelowna area, save a day or two to enjoy Peachland! A quaint community of around 5,500 residents, Peachland is a beautiful lakeside town that is less than a 30-minute drive from downtown Kelowna.

Centennial Way
The Centennial Way boardwalk is a great place for a relaxing stroll and bike ride. Running along Beach Avenue from 5th Street to 13th Street, this is a paved trail with a continuous smooth surface that is 3 metres wide making it accessible for everyone. If you are traveling with your furry friend, there is also a dog beach that is accessible from the trail. 
Feeling hungry or thirsty? There are several bars and restaurants along the waterfront. Grab a seat on the patio - these are also prime spots during Happy Hour! One of our favourite spots is the Gasthaus On The Lake Pub and Restaurant, a rustic German eatery with ample outdoor seating. On the north end of the trail, stop in for a coffee at Bliss Bakery and pair it with one of their homemade pastries.

ZipZone Adventure Park
If you're feeling adventurous, make sure you check out ZipZone Adventure Park. Home to Canada's highest freestyle zipline, soar over the scenic Deep Creek Valley at 116m or 381ft. There are also activities for those who prefer to stay on the ground, including a climbing wall that moves with your body weight, testing not only your scaling skills but also your strength and agility.

Fitzpatrick Family Vineyard
A visit to the Okanagan isn't complete without stopping in at a local winery. Just south of Peachland is Fitzpatrick Family Vineyard, a beautiful vineyard with breathtaking views. The wine shop is open daily for tastings from 11 am - 6 pm. There is also the 19 Bistro restaurant on site that is proud to make their dishes with locally sourced ingredients.

Pincushion Hike
If you don't take a photo at the top of Pincushion Mountain under the Canada flag, did you even go to Peachland? One of the most popular posts of Peachland on social media is the view from the summit of the Pincushion Mountain Trail. With breathtaking vistas of the Okanagan Valley, this 1.8 km trail gains about 250m in elevation from the trailhead to the peak. 
To get to the parking lot, head to Ponderosa Drive from Hwy 97 and continue until the end of the road. Parking can be limited, so consider going during non-peak hours. For the first few minutes of the trail, you will be climbing stairs but within ten minutes, you will get to a wider path. Turn right and after a minute or two, look for the trail sign to your left to continue on your way.

Hardy Falls Regional Park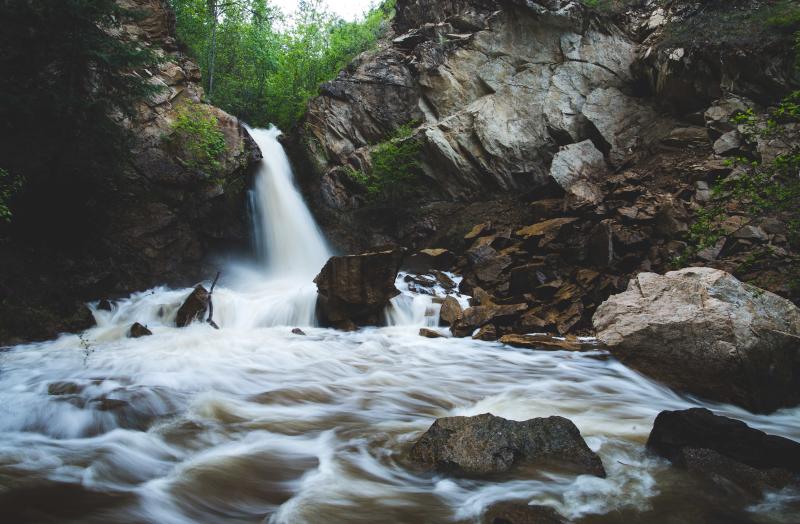 Photo by: Eric Van Ryswyk
For those of you who may prefer a shorter hike, Hardy Falls is an easy flat walk along a wide pathway that crosses several bridges. Bring the kids - the trek is only about 20 minutes through the trees before you reach the falls. There is a small parking lot on Hardy Street just off Highway 97, along with a full-service bathroom.
Enjoy the fresh air and experience nature without having to venture too far off the main road. If you are here in September, you may get to watch the salmon spawning in the water!

Arriving to Peachland by Boat
Ahoy, Matey! If you are spending the day boating on the lake but need to make a pitstop for snacks or other supplies, there is free boat parking in downtown Peachland across from several restaurants and shops at the Peachland Day Use Wharf. No overnight moorage is allowed here, but this is a great option if you need some temporary shelter from the wind.