Through our five senses, we experience the world around us—we can discover delicious tastes, stunning sights, pleasing scents, new textures, and wondrous sounds. When traveling to Kelowna, it's easy to explore mindfully and with purpose by engaging your five senses.

See
Regardless of what time of year you visit, Kelowna's natural beauty is one of its defining characteristics. From atop the mountains that surround the city and nearby communities, you can start or end your day by admiring the rising and setting of the sun—a scroll through our Instagram page (@tourismkelowna) will give you an idea of the colours and views you can see.
And while it's easy to snap near-perfect photographs with our smartphones now, incorporating a mindfulness lens to your Kelowna adventures and photography can help make the moments that much more meaningful. Local artist, Alison Beaumont, will help you slow down and pay attention to your surroundings in her upcoming mindful photography workshop.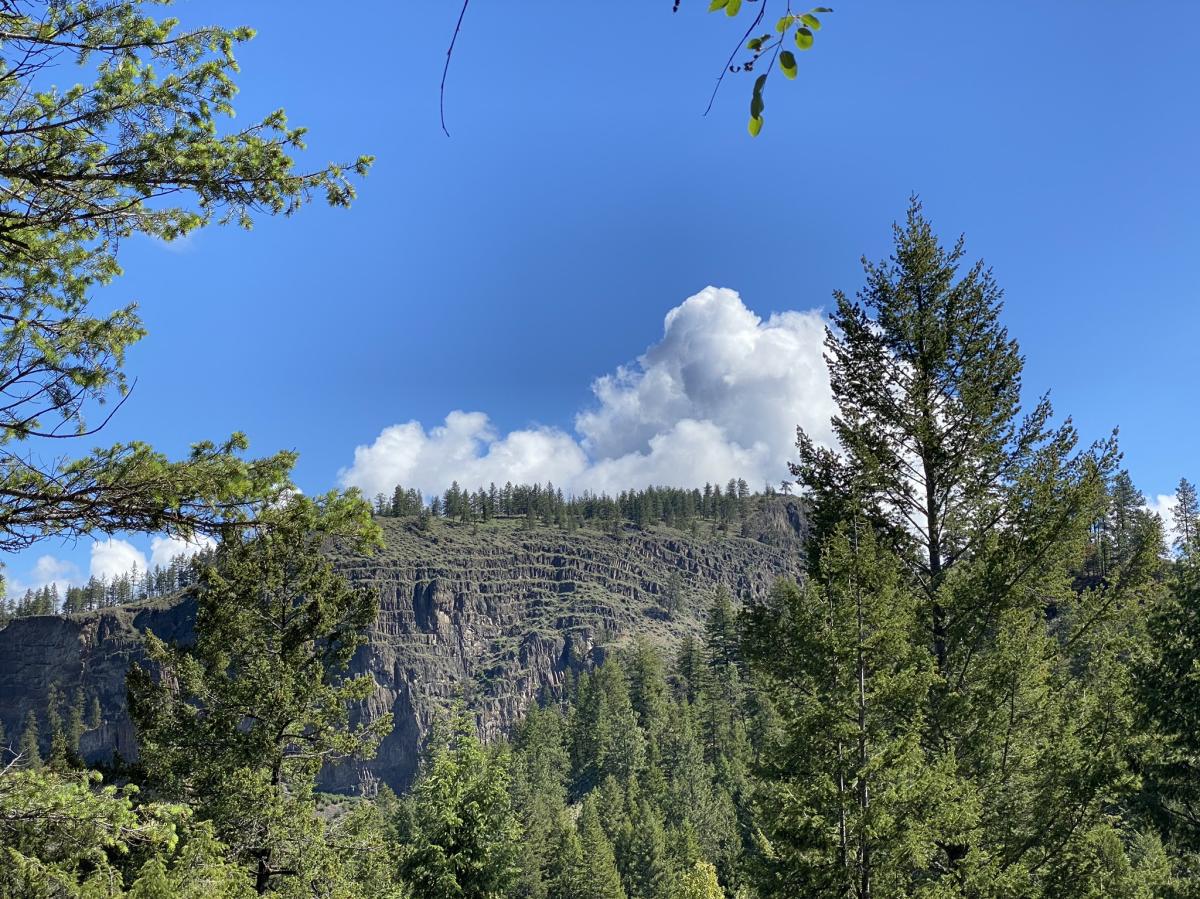 Layer Cake Mountain (Photo Credit: Melissa McCluskey, May 2020)
The session is taking place at Scenic Canyon Regional Park on Saturday, March 26, as part of the Regional District of the Central Okanagan's (RDCO) nature programs. Scenic Canyon has an array of natural wonders to discover, including Layer Cake Mountain, which is one of the only geological formations of its kind anywhere in the world. Alison will offer tips and tricks for phone photography all while keeping mindfulness top of mind. The workshop will take place from 10 a.m. – 11:30 a.m. PDT; registration is $15 per person and can be completed through the RDCO website.

Taste
Nature's bounty is abundant in Kelowna, where a thriving agricultural sector leads to numerous sustainable dining experiences. Innovative chefs, like Salt & Brick's James Holmes, are always collaborating with other local businesses to showcase the region's freshest eats through creative experiences. This month, for example, local company, Pela—recently ranked as the top Clean Technology company in Canada in Deloitte's 2021 Technology Fast 50 program—will be hosting a "carbon-conscious plant-based dinner in the dark" at Salt & Brick in celebration of Earth Hour. The event, which will take place on March 26, will also include acoustic music from local musicians, Josh & Bex, and door prizes from other sustainably conscious local brands. Seating for the event is limited—tickets are available through Eventbrite.
And while Kelowna chefs are serving up the best of the Okanagan, you can also discover tasty morsels by exploring and foraging in the wild yourself (which will also engage your other senses). Early spring brings with it wild asparagus, which most often grows in orchards, ditches or near streams, where the soil is quite damp. Foraging throughout the region will offer up numerous edible delights including earthy, sought-after morel mushrooms, as well as different types of herbs and greens, berries, and more.  
Foraging is a fun way to not only taste the region but to engage your other senses, too. There is a lot of knowledge required to forage, though, so be sure you're up to speed on what is edible and what is not. Kelowna Forager, Scott Moran, is a great resource to guide your adventures and sells foraged goods (as they are available) at the Kelowna Farmers' and Crafters' Market, for those who may not have the time to take in the experience themselves. You can learn more about Scott and foraging in the Okanagan here.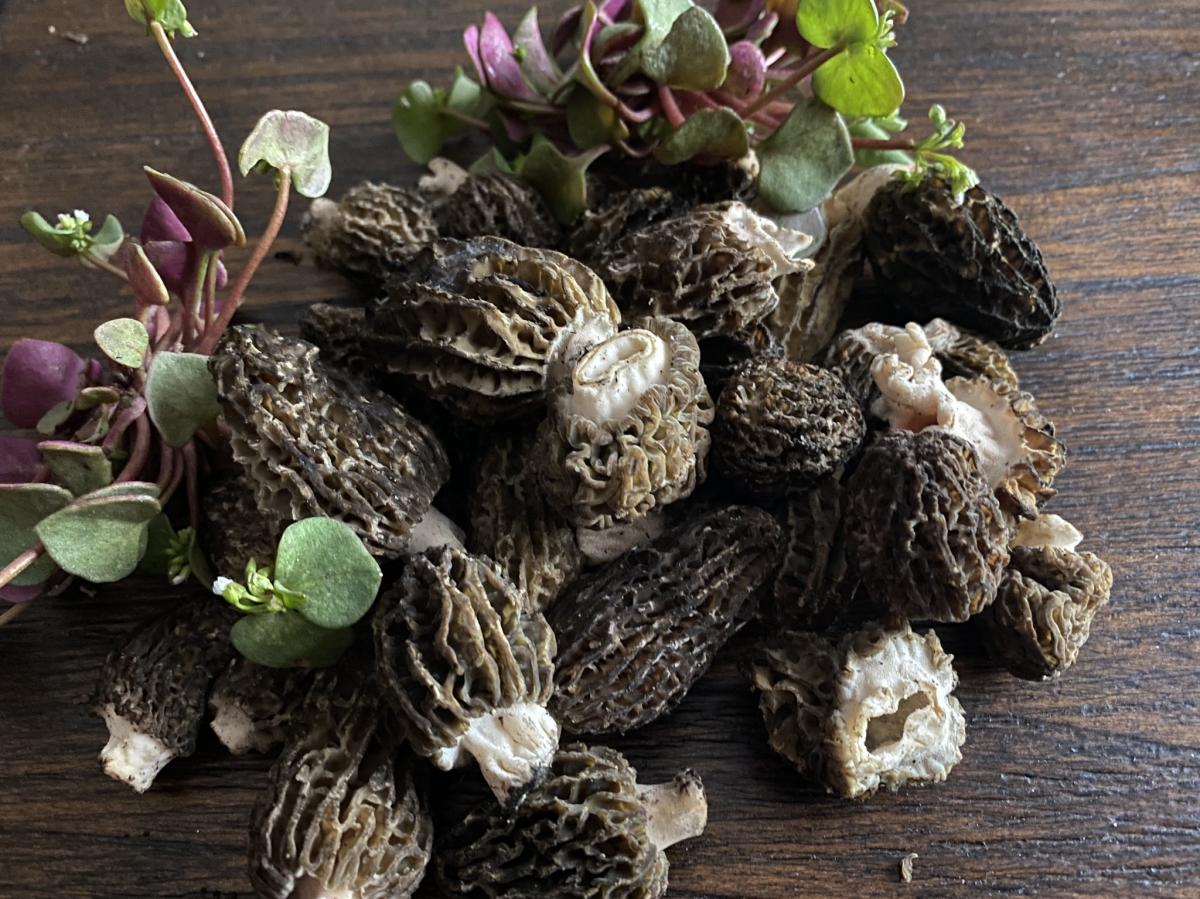 Local morel mushrooms and claytonia foraged by Scott Moran (Photo Credit: Melissa McCluskey, May 2020)

Touch
Connecting to the earth through touch can bring a welcome sense of calm and peacefulness. Whether it's walking along the waterfront barefoot, dipping your toes into the cool, refreshing waters of Okanagan Lake, or feeling the breeze on your skin while you explore Kelowna's many parks, you're sure to find many ways to feel the world around you, mindfully.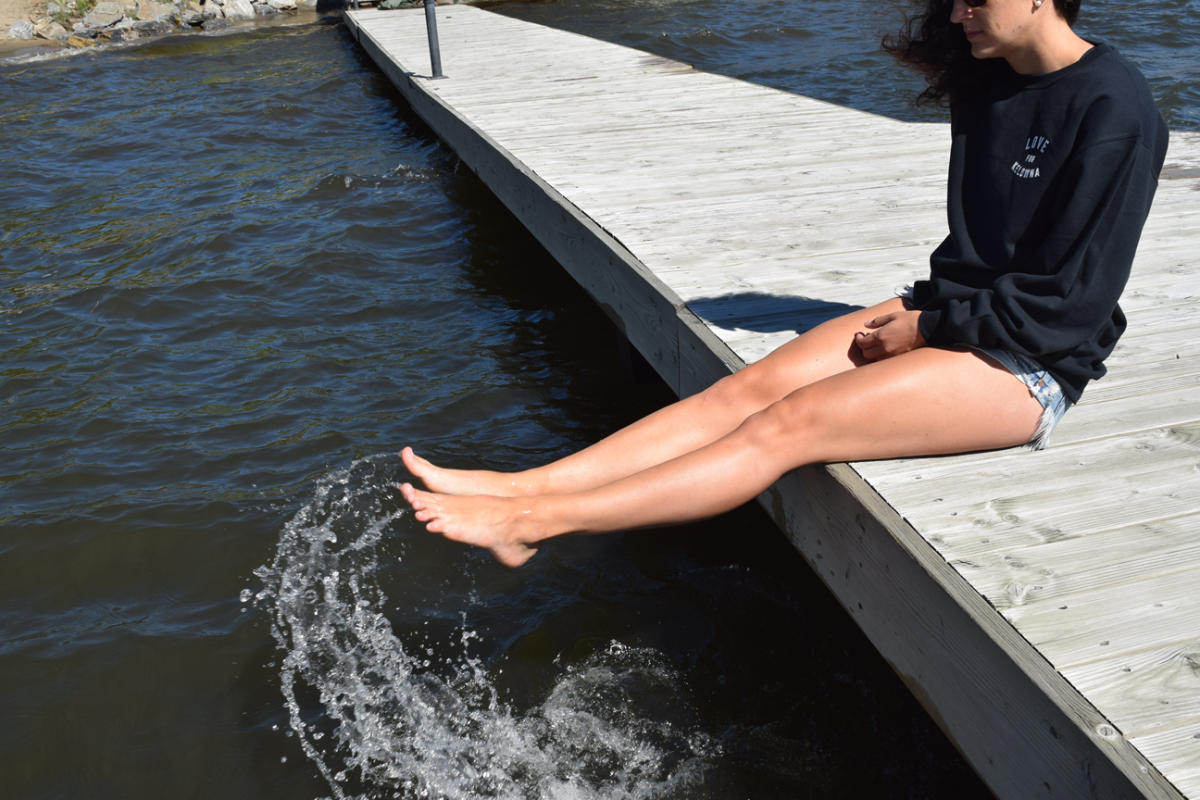 Photo Credit: Chloe Popove
In addition to exploring the vast outdoor spaces in the region, you can also use your sense of touch to discover syilx culture at the Okanagan Heritage Museum. Each Sunday afternoon, from March 20 to April 3, you can join Indigenous Programming Intern, Alana, to learn more about hide tanning, a traditional syilx practice. The experience is hands-on, so you'll have lots of opportunities to engage your sense of touch while learning more about Indigenous traditions. The family-friendly event runs from 12 p.m. and 3 p.m. PDT and admission is by donation.

Smell
Spring is a time of renewal and growth, bringing with it an array of comforting scents including blossoming fruit trees. From early April to late May, Kelowna and its surrounding communities are filled with beautiful buds and fragrant smells, making your adventures even more enjoyable.
You can also let your nose guide you to support numerous local businesses, shopping purposefully to support the local economy. What are some of the smells that will entice you? High-quality, locally roasted coffee being brewed at Bright Jenny. Authentic Neapolitan pizza baking at Antico Pizza Napoletana. Freshly baked pastries at Karat Chocolate + Pastry, Sandrine French Pastry & Chocolate, or Bliss Bakery & Bistro. The list could go on, and on, and on. Seriously. There are so many delicious eats and sips that will engage your sense of smell before your sense of taste, so take your time and explore them all.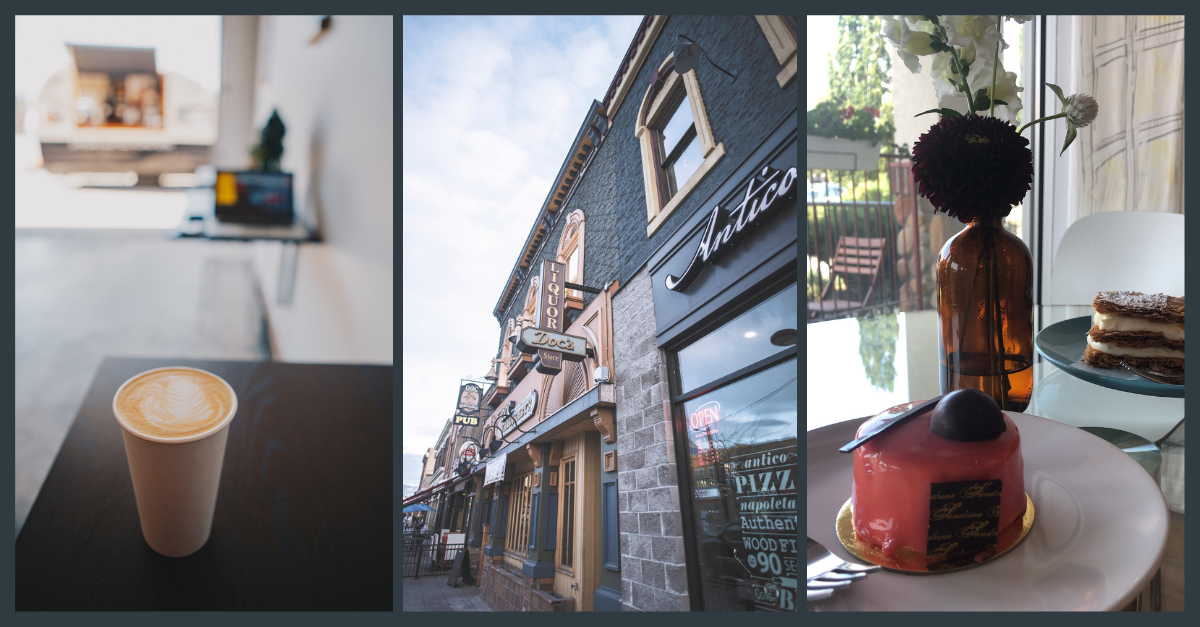 Photo Credit (left to right): Brandon Boot; Eric Saukarookoff; Melissa McCluskey

Hear
Like many of you, having limited opportunities to enjoy live music in person over the past couple of years has been taxing. For me, there's nothing quite like the feeling of uplifting music and lyrics hitting my ears, allowing me to tune out the noise of everyday life and focus my attention on the auditory goodness. Now that live music is ramping back up, there are numerous opportunities to get those eardrums working.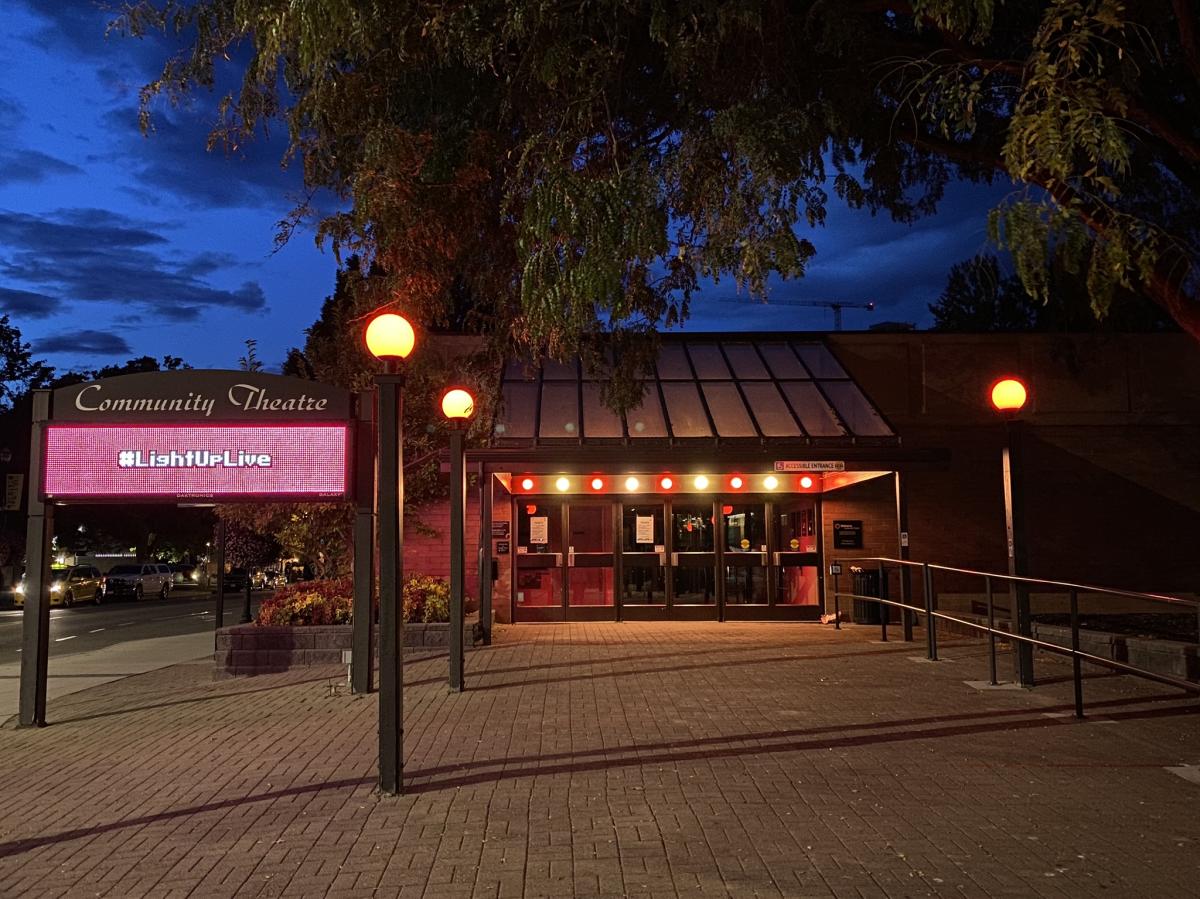 Kelowna Community Theatre (Photo Credit: Melissa McCluskey, September 2020)
On April 1, for instance, the Okanagan Symphony Orchestra and Latin Grammy and JUNO winner, Alex Cuba, will be taking the stage at the Kelowna Community Theatre to dazzle your ears with an evening of live music, which will also be streamed through Unicorns.LIVE for those who can't make it in person. I've been fortunate to see Alex Cuba perform live several times and can confirm that the description of his music as "getting a coat of sunshine applied to your eardrums" checks out. This is one show you won't want to miss! Tickets range from $35-$70 and can be purchased online.
And once you've absorbed the metaphorical sunshine, you can head out into the actual sunshine and take in the sounds of birds throughout the region, which offers some of the best urban birding experiences in BC. There are numerous sanctuaries throughout Kelowna, as well as ponds and parks where you can listen to the chirps and songs of area birds. Find out more about birdwatching in Kelowna here.
As you set out to discover Kelowna mindfully and with purpose through your five senses, be sure to share your adventures—use #exploreKelowna and tag Tourism Kelowna on social media.