As business events have ramped up again, professionals in various industries are discovering (or rediscovering) the destinations they are travelling to. If your next meeting, conference, or business event finds you visiting Kelowna, why not incorporate some paid time off to come early or stay longer? There are endless activities and experiences to enjoy as you take a few extra days (or more) to explore the best of the Okanagan outside of your official agenda.

Indulge in the Region's Best Food and Wine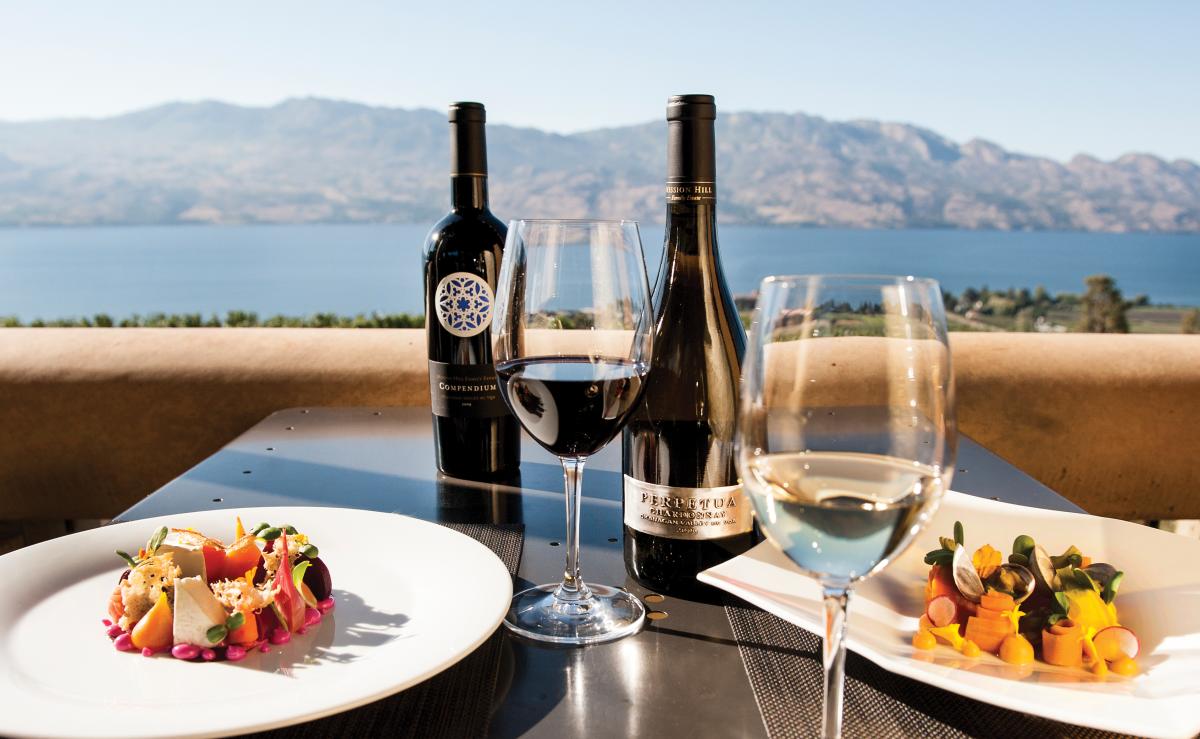 The view at The Terrace Restaurant at Mission Hill Family Estate. Photo Credit: Colin Jewall Photo Studios Inc.
Savouring the tastes of the Okanagan is a year-round endeavour; however, those visiting through the summer and fall can look forward to fresh fruit and the bounty of harvest season. With many restaurants focused on local, farm-to-table dining and more than 40 wineries in and around Kelowna, you'll have your pick of experiences when you come early or stay beyond your event. 
The Terrace Restaurant, Mission Hill Family Estate's seasonal outdoor restaurant, focuses on four elements when crafting its mouth-watering cuisine: locality, seasonality, simplicity, and resourcefulness. The high-quality ingredients on your plate will be sourced as close to the winery as possible—sometimes from the gardens right on-site—and will change with the seasons. You can even book yourself for one of their guided tastings or wine & food experiences—the sweeping lake views will be the icing on the cake of your visit. 
On the opposite side of Okanagan Lake, you'll find CedarCreek Estate Winery, where you can discover Chef Neil Taylor's locally-inspired creations at Home Block Restaurant. The winery offers a few experiences to savour both food and wine, including a two-course wine-paired lunch, three-course wine-paired dinner, or the five-course Platinum Library Experience—each dish is expertly prepared to showcase the wine and the finest ingredients sourced as close to the kitchen as possible. 
For a fantastic waterfront dining experience, a visit to Lakeside Dining at Eldorado Resort is a must (request patio seating if possible to have the best views and closest access to the water). The restaurant has an extensive wine list featuring over 150 labels; however, if wine isn't your thing, you can book a private Scotch or Bourbon tasting in The Whisky Room, which includes a flight of five Whiskies and a charcuterie or dessert board. 
There are so many more fantastic food and wine experiences waiting for you—book a food tour with Okanagan Foodie Tours or A Taste of Kelowna Food Tours, or browse the Food & Drink section of the #exploreKelowna blog for more ideas and recommendations from locals. 

Destress and Find Your Centre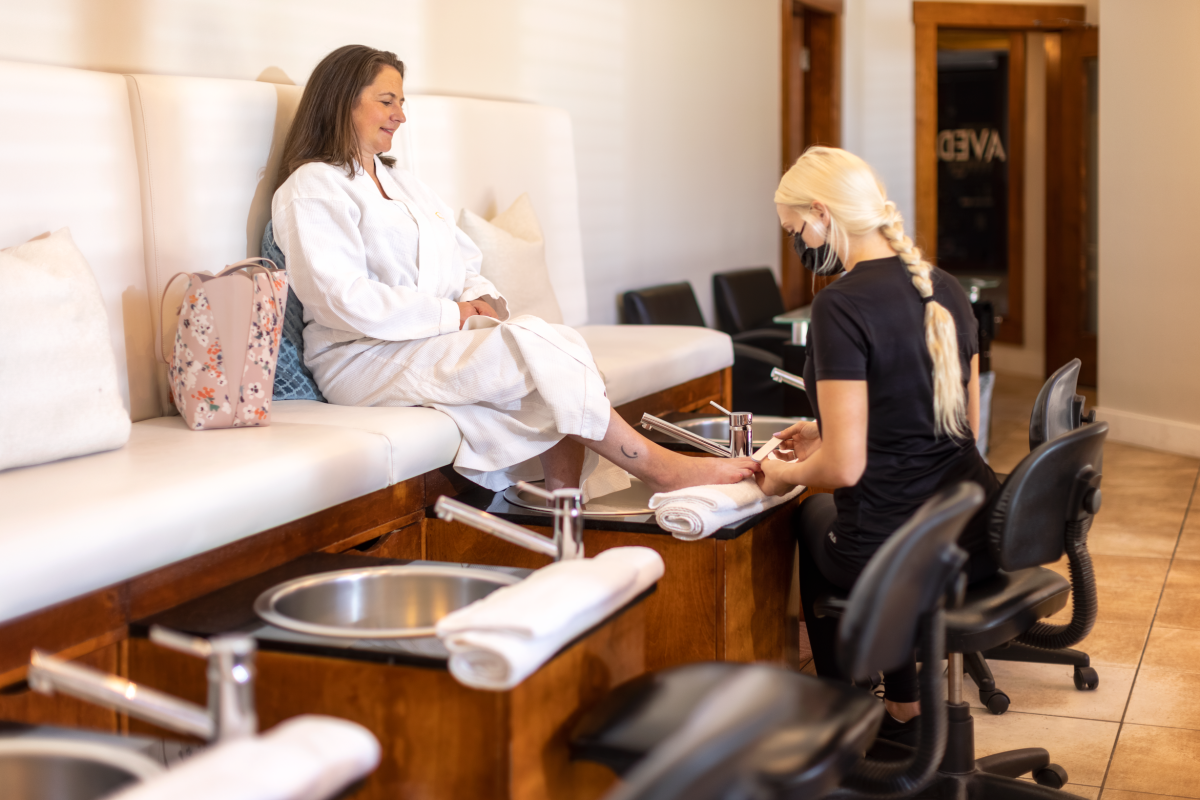 The Spa at The Cove Lakeside Resort. Photo Credit: Shawn Talbot Photography
There's no doubt that the past few years have been anything but ordinary, so getting back into the swing of things while attending a large conference or event can be an adjustment. That's why it's important to take advantage of your paid time off to decompress and carve out some time for yourself either before or after your event.
If a visit to the spa is right up your alley, there are several to choose from in the area. Beyond Wrapture Day Spa, centrally located in the Coast Capri Hotel, has numerous services to pick from, including packages that range from 5 to 7 hours in length—you're guaranteed to be relaxed after a full day of pampering! They also offer a Red or White Wine Vinotherapy Massage (Beyond Wrapture was the first spa in Western Canada to offer this type of treatment). 
At the Delta Hotels by Marriott Grand Okanagan Resort, Kelowna's largest waterfront resort, you'll find Damara Day Spa. Bask in the tranquillity as you treat yourself to one of the massage services, body treatments, or spa packages they offer. If you're travelling with the family, the little ones can even get in on the relaxation as Damara's kids' services cater to children aged 4 to 10. 
In West Kelowna, venture to the Spa at The Cove, which is an official Aveda spa. The almost 5-hour Cove Destressor will surely melt away your worries as you enjoy a hydrotreatment, massage, pedicure, manicure, and facial. There is also the Gentlemen's Retreat, which includes a massage, facial, pedicure, and manicure in the 3.5-hour time slot. The peaceful atmosphere will have you relaxed in no time!
Other spots to check out in the area include The Recovery Spa, Float Space, and Room + Pillar Salt Cave & Wellness Spa. 

Make Time for Outdoor Experiences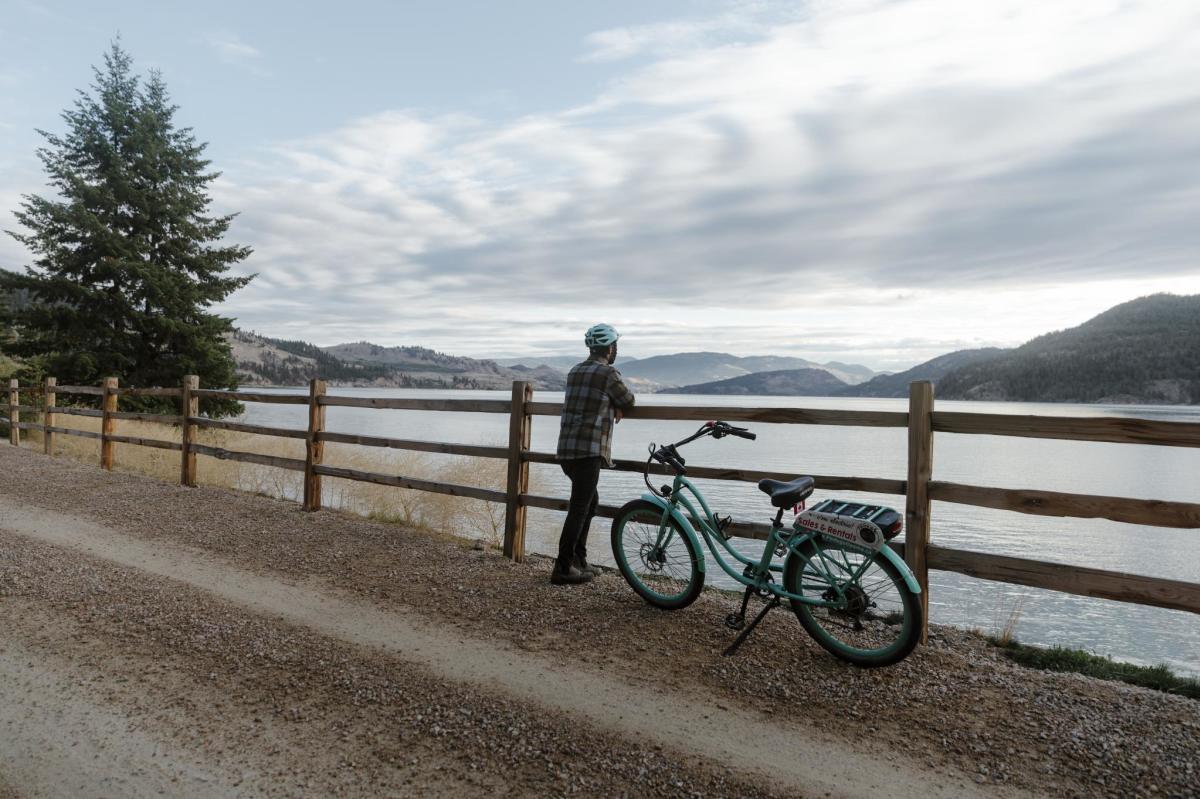 Fall view along the Okanagan Rail Trail, with a bike rental from Pedego Oyama. Photo Credit: Mirae Campbell (@miraecampbell)
Kelowna's wide-open spaces, fresh air, and year-round outdoor playground will provide you with numerous opportunities to find your centre and relax, no matter what time of year you visit.
Once fully completed, the Okanagan Rail Trail will run all the way from downtown Kelowna to Vernon, in the North Okanagan. The section of the trail in Lake Country, just north of Kelowna, is particularly beautiful as it runs alongside Wood Lake and Kalamalka Lake, which you may know for the vibrant turquoise colour of its water during the summer. Walk along the path or head to nearby Pedego Oyama to rent an electric bike so you can cruise the trail and decompress. 
If you visit in the late spring or beyond, you can book a once-in-a-lifetime heli-yoga experience with Ikon Adventures helicopters. Find your zen at the top of a mountain, where you'll be guided through a private yoga class, complete with wine and cheese afterwards. Those who really want to indulge can even add on a massage. 
Click here to learn more about Kelowna's four-season outdoor playground and to find the outdoor activity that best suits your interest. 

These Kelowna experiences will leave you feeling relaxed and ready for whatever is next, whether it's the start of your event or the trip home. If your event brings you to Kelowna in the late spring, summer, or early fall, we recommend booking as early as possible to avoid disappointment, as activities, experiences, and dining reservations can book up quickly during peak season. 
Prefer to leave the planning to the experts? Connect with Kelowna Concierge, the Okanagan's only full-service vacation planning company, for a stress-free experience.