There are many reasons to love travel: meeting new people, trying authentic cuisine, learning about different cultures and traditions...the adventures are endless. Being a traveller allows you to discover and explore, but it also provides an opportunity to set a positive example for being a responsible tourist or mindful visitor.
If you are an avid traveller, building a zero-waste travel kit is a simple way you can minimize your environmental impact whilst on-the-go.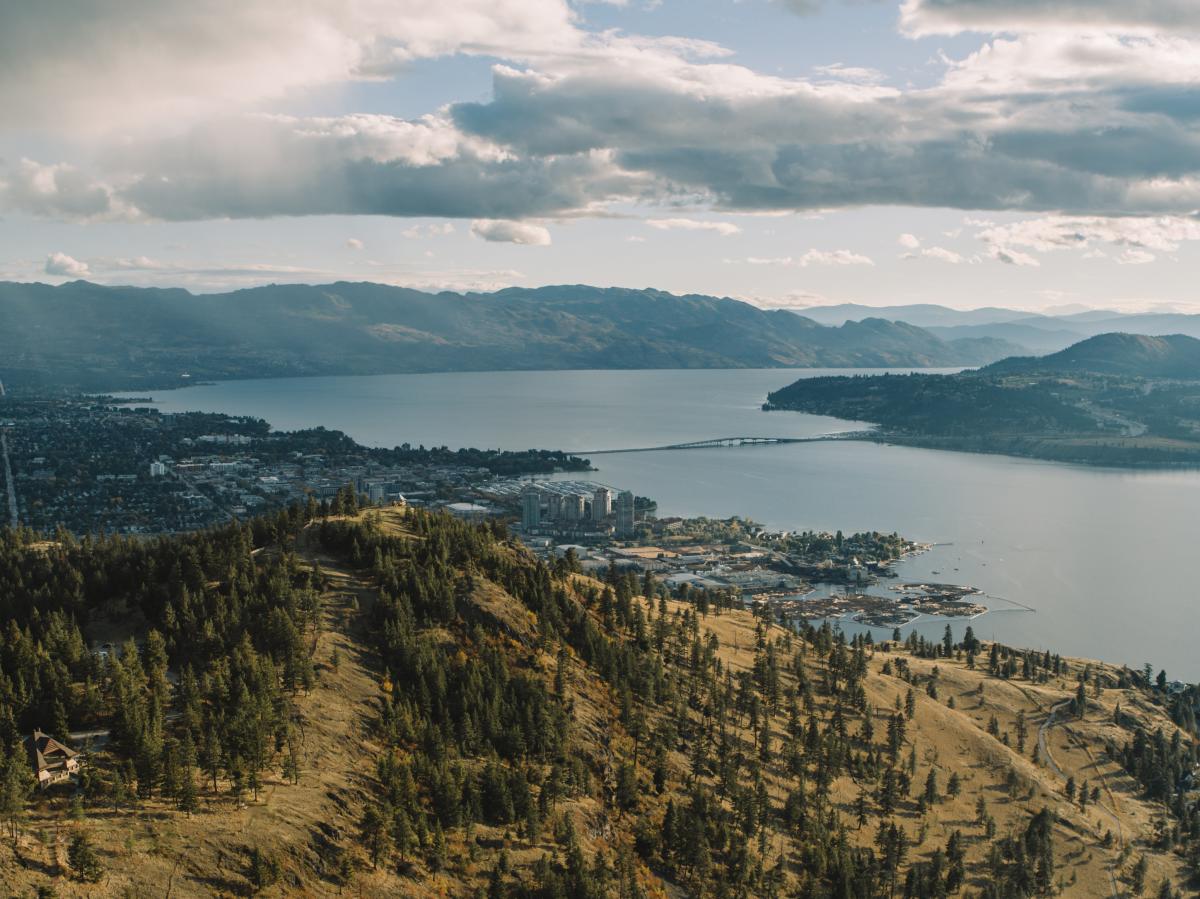 Photo by: Nic Collar Film 
What Should I Pack in my Zero-Waste Travel Kit?
Here are some of our kit must-haves to help make you a greener globetrotter!
Backpack: Having a backpack may seem obvious, but it is also a great way to lower your waste when you are out and about. It allows you to carry your zero-waste kit, store any local crafts you buy along your travels, and keep other essentials safe and dry. On top of this, it allows you to say "no" to packaging and plastic bags.
Water Bottle or Bladder: Travelling typically consists of long days, so keeping yourself hydrated is essential. Carrying your own reusable option or a bladder allows you to eliminate the need to buy bottles, single-use plastic, and unnecessary waste. Don't have a water bottle or you forgot yours at home? You can purchase your own Kelowna water bottle at the Kelowna Visitor Centre. 
Spork: A spork or "spoon fork" is a travel must, or at least bring your own spoon and fork. Having your own cutlery means you don't need disposable utensils, which are used only once and then thrown away. Sporks are great tools to have as they act as more than one piece of cutlery, and they keep you in the clear when entering museums, galleries, or other travel hotspots that forbid knives. This is a common theme when travelling abroad as safety takes priority. Source a spork to reduce your waste and avoid the mishap!
Snack Bags: Keeping yourself energized for adventure is a huge part of travelling. Ensuring you have your own snack bags or containers packed allows you to keep yourself fuelled without filling the garbage. Cloth bags, for example, can be used to hold baked goods, sandwiches, dried fruit, and more.
Tip: Nuts and trail-mix are the perfect waste-free snack to buy in bulk and keep you energized!
Cloth Napkin: This one may surprise you, but take a moment to think about every time you've gone out somewhere to eat from a street vendor, on-the-go, or getting ice-cream—if they didn't provide you a napkin already, you probably grabbed one or two to keep yourself from spilling. Having a cloth napkin in your zero-waste travel kit will save you from using napkins only once and putting them in the garbage. They also serve as a great way to wrap treats if needed!
Tip: Old bandanas or solo napkins are easily found at Value Village or your local thrift shop. Give them a wash and they are ready to go!
The items listed above are some of our must-haves, but your kit should be tailored to suit you and your needs. If you are someone who likes to drink from a straw, be sure to include a reusable one in your kit. If you are an avid coffee drinker, pack a thermos! If you tend to browse a lot of local shops and markets, bring a tote bag. Your zero-waste travel kit should be reflective of you, your needs, and the kinds of activities you partake in. We recommend keeping it light as these are items you'll be carrying wherever your travels may take you.
How Should I Start Building My Kit?
Building this kit can be quite simple, as you probably have some of the items hiding in your house somewhere. Take a look at what you already own and see if it can be salvaged for your travels. For items you'd like to include but do not currently own, check out your local buy-and-sell pages or thrift shops to source second-hand. Sourcing pre-loved items minimizes your consumer impact by growing the circular economy and giving used goods a second life. If you can't find an item second-hand, try your best to source locally!
Tip: Check out the Green Okanagan Shop Local Directory for second-hand and local businesses in the Okanagan!
Still not sure where to start? The photo below is an example of what a zero-waste travel kit could look like—use this as inspiration to build your very own!
In this Kit: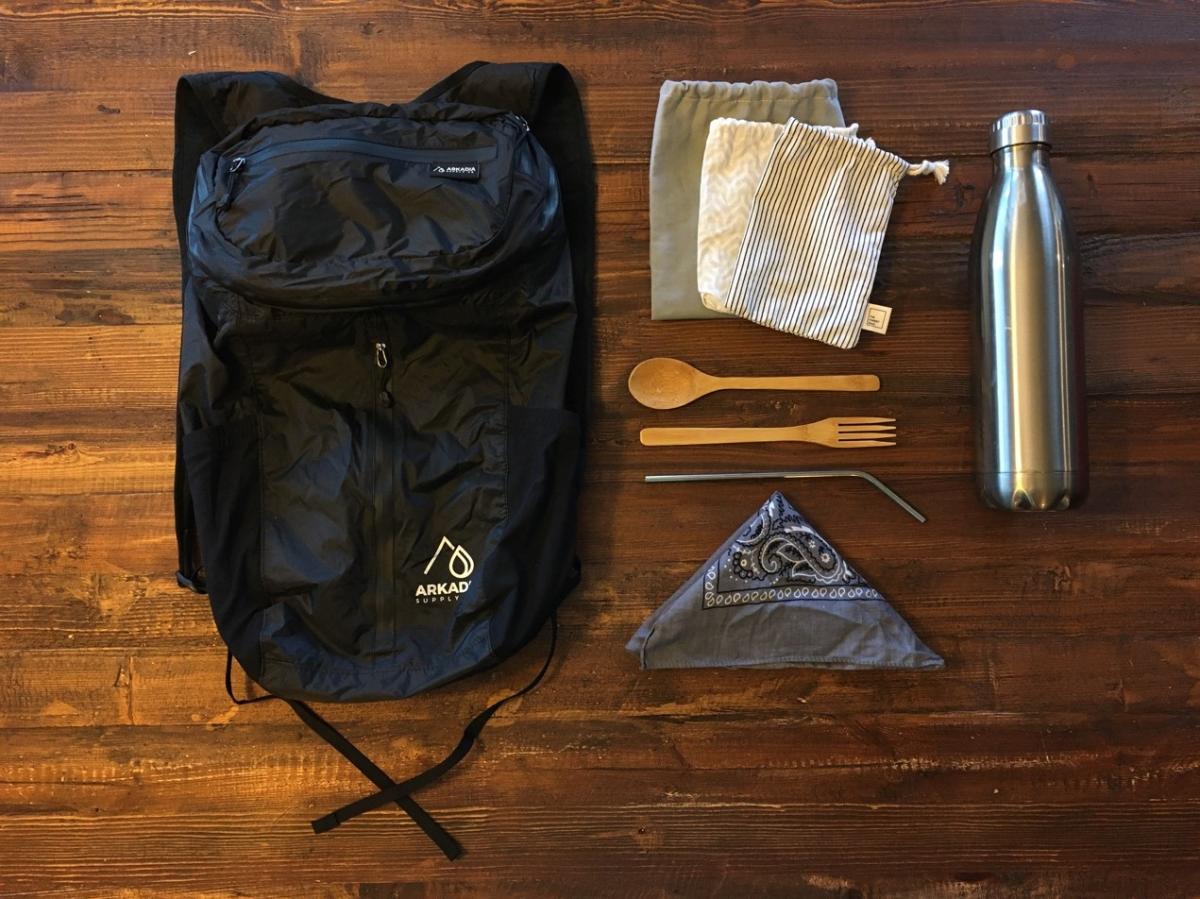 Backpack: the Alta21 from Arkadia: From a Vancouver-based company, the Alta 21 is a fully waterproof and packable backpack ready for any adventure. It is perfect for holding any of your travel needs and the top pocket even detaches into a wearable hip pack for the days you are looking to lighten your load.
Cloth Bags: Produce and snack bags from The Market Bags. Proudly from Kelowna, The Market Bags sources preloved and used cloths to create repurposed cloth bags. With various sizes to choose from and unique patterns, they are a green alternative for carrying your snacks waste-free when on the go.
Cutlery: Sourced second-hand, and the metal straw is available at many retailers
Water Bottle: Manna water bottle.
Napkin: This bandana was found preloved at a thrift store. Just wash, dry, and use!
Enjoy your travels mindfully and let us know how your kit turns out! What are your zero-waste must-haves for globetrotting?