Brunching is such a delight. Such a fun and luxurious treat to sleep in and then head out for a beautiful meal without touching your own kitchen pans. It's also a very modern way to socialize, as meeting for brunch is sometimes a lot easier than trying to manage an evening dinner. Kelowna has some wonderful places to relax into a long brunch—with or without brunch libations, we have you covered.
Here are 10 places to get your morning groove on:
One of the city's newest hits on the brewery scene offers a 'Reel Late Breaky" on Sundays only starting at 10 a.m. going all-day long. Choices include yums like Cinnamon Walnut Spent Grain French Toast or the Tiroler Skillet with Poached Eggs: Sauteed Fingerling Potatoes, Caramelized Onions and Brisket (goes well with beer, just sayin'). Communal tables make for ideal group brunching.
Housed in the Delta Hotels by Marriott Grand Okanagan Resort, OAK + CRU's menu serves everyone (especially wine lovers you may have guessed from the name). Breakfast ranges from bennies to pancakes, and smoothies. Super lovely in warmer days on the waterside patio.
Really one of our most stunning settings, dining lakeside at the charming El is pure heaven. On Sundays, they throw down an epic brunch spread that has everything from crab legs to omelettes, and then some (Due to COVID-19 Lakeside Dining's Sunday Brunch Buffet is currently not being offered). They also serve breakfast every day – fancy a Smoked Salmon Benny or Crispy Pork Belly Brunch Poutine? Great gluten-free options here, too.
Affectionately known by locals as The Boh, the Birker family has been drawing crowds since 1991, as you will gather by the lineups at this the local breakfast hub. The super cool room buzzes all day – note: it is only open for day shifts. During the week from 7:30 a.m. - 2:30 p.m. with breakfast and lunch and then breakfasts only on the weekends from 8 a.m. - 2 p.m (Closed Mondays - except for holidays and Tuesdays). I love the Popeye Omelette with loads of spinach and addictive hash browns! They have loads of other favourites like the Huevos Rancheros or Blueberry Oatmeal Pancakes – also get the house-made sausage (fun foodie fact: the Birker family were the original owners and founders of Granville Island's famous Oyama Sausage!).
Definitely the raddest place to have brunch on Sundays. Eat good in the hood at their Hip Hop Brunch. Full theme on with hip hop music to nosh by, order dishes like the Notorious P.I.G.: spicy pork belly, gooey cheese curd, chipotle, tomato, avocado, and two poached eggs or the Big Brunch Bowls, like the Got Chick or Fry Tryin': buttermilk fried chicken, blue cheese, hot sauce, hollandaise, 2 poached eggs – whaaaat?
Vegan choices here, too, like the Andre 3000 Is Vegan: Warm avocado, cashew tahini sauce, caramelized onion, roasted mushroom. Peace Out.
Breakie starts a 9 a.m. here with a special early bird menu – yas! They have the regular faves plus awesomeness like Shakshuka: Baked eggs in a tomato pepper stew (you have not lived until you have had Shakshuka, people) or Mushrooms on Toast (seriously, this food trend is so much more than it sounds like).
The hooch list includes traditional Baileys' Coffee or the Curious Caesar (comes with bacon y'all.) Treat yourself.
Pure elegance. With a too perfect view of Okanagan Lake overtop their sweep of vineyards, Quails' Gate Winery and its multi-award-winning restaurant, Old Vines, offer the quintessential Okanagan food and wine experience. The cuisine of Chef Roger Sleiman is impeccable. For brunch, how about Duck & Waffles: Confit duck, Liège waffle, poached egg, Tanto Latte ricotta, bourbon aged maple reduction – oh my and you must pair it with their stunning Pinot Noir. Or the classic Wine Country Breakfast with a classic Mimosa. After brunch save time for a wine tasting in their beautiful wine shop next door.
Brunch is served 9:30 a.m. to noon every weekday and until 2 p.m. on weekends! This beautiful historic building has transformed into a gastropub. Weekend brunches have gained a huge following for good reason. Lots to choose from and creative bennies like a Pakora Benny or Eggs Benny Schnitzel: crispy pork loin, medium poached eggs, grilled tomatoes, hollandaise, sriracha, green onions, GSP signature maple hash browns, and tomatoes.
Total old school diner décor here at this cozy space downtown. Brick building and all, Sunny's (named for RauDZ restaurant empire owners Rod Butters and Audrey Surrao's beloved dog) has breakfast all the livelong day. Hard to choose with this fab menu but a couple of favourites here are Chicks on a Raft (peanut butter and eggs baby!): Scrambled eggs, bacon, green onion & very sharp cheddar, peanut butter on toasted baguette, hashbrowns or the Big Dog Hash (described by one social media commenter as "the best breakfast of my life"): Braised brisket, chorizo, bacon, tomatoes, caramelized onions, cheddar cheese, hash, two fried eggs, hollandaise, toast. Grab a stool at the counter for a $2 Happy Hour coffee from 7:30 – 8:30 a.m. every weekday.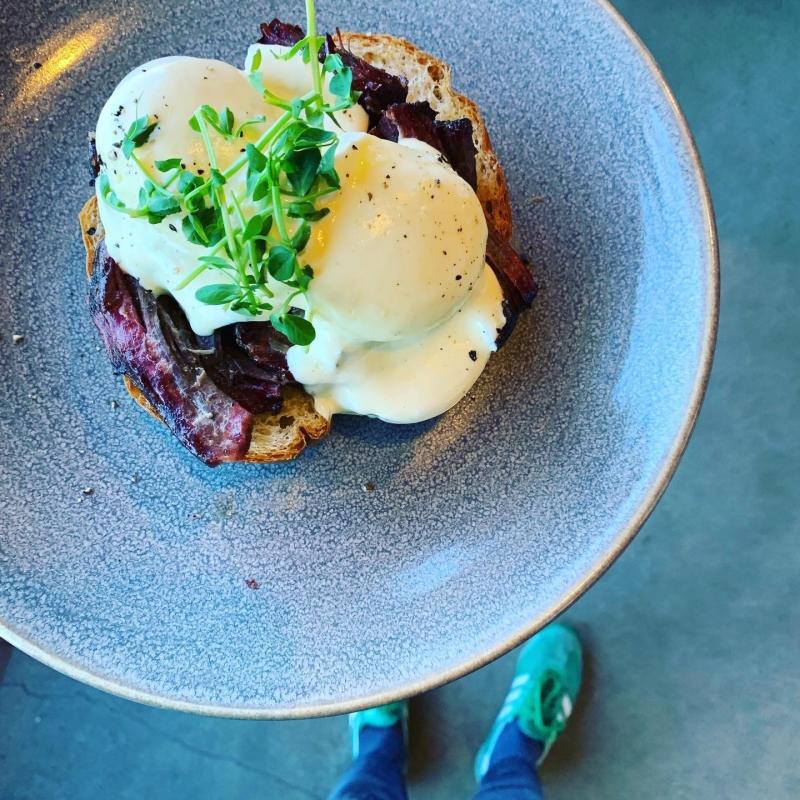 Photo by: Vice & Virtue Brewing
How do poached eggs on slow and low smoked short ribs on housemade brioche with hollandaise sauce sound? Um, hells ya! Vice & Virtue Brewing is doing the brunch thing so best get on it. Sundays, 11 a.m. - 5 p.m. Yes, pair with beer. 
Now go get your brunch on!