Strapping on the skates and heading out to the rink is a tradition for many Canadians. Grab your friends and family and get ready to glide right into the skating season!
With both outdoor and indoor rinks around town, here are some of our favourites:
Stuart Park Ice Rink
Open daily from 6 a.m. to 11 p.m. until late February, this lakeside outdoor ice rink is part of a stunning winter scene right in the heart of downtown Kelowna. What makes this rink even better is that it's free for everyone to enjoy, as long as you bring your own skates and helmets.
Need rentals? Skates and helmets are available for rent from 11 a.m. to 8 p.m. There are also skating bars on site to assist beginners. The skate shop only accepts cash, and if you have any questions about rentals you can call 250-215-4458.
Keep in mind that because this is an outdoor rink, weather can affect operations. There is also a rink maintenance schedule and live webcam available online here to help you plan around when the rink is closed for upkeep.
Canada's highest outdoor skating rink is at Big White! With an Olympic-size surface, there is enough room for visitors to skate leisurely or join a friendly hockey game.
Hours and dates of operation are based on weather and conditions, but the rink opens at 11 a.m. most days. The lights are turned on for night skating until sometime between 9 p.m. and 10 p.m., depending on the day.
Skates, helmets, and hockey sticks are available for rent and you can warm up with a hot beverage at the adjacent Happy Valley Day Lodge. Get cozy around the bonfire that is lit every day after 3 p.m.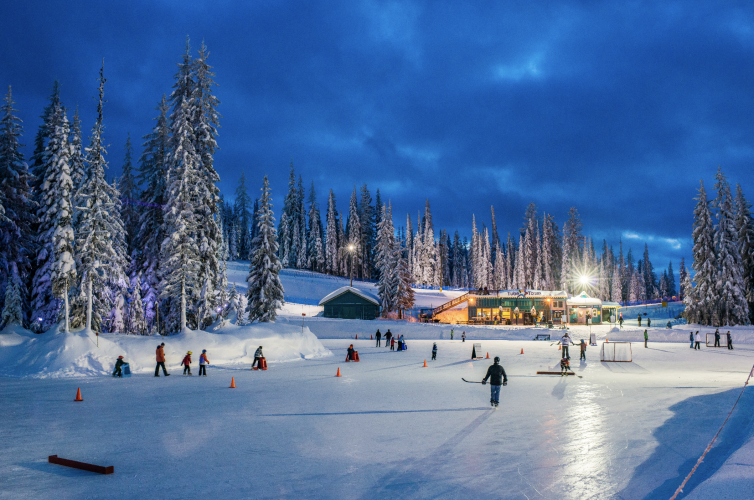 Experience the magic of skating around an island on a natural pond! Big enough for figure skaters and hockey enthusiasts, you can also warm up to the outdoor fire beside the rink.
There is an onsite rental shop with skates, helmets, hockey sticks, and pucks. Skate sharpening services are also available. Adjacent to the pond is Tube Town, where you can slide down the snow in an inner tube!
Weather can affect the hours of operation; for the most current information, click here.

Kelowna's Indoor Rinks
Choose to attend a public skate session at the Capital News Centre, the Rutland Arena or the Memorial Arena.
Rentals are available during public sessions at the Rutland Arena and the Capital News Centre; however, you will have to bring your own equipment if you're planning to skate at the Memorial Arena.
Fees are applicable for the indoor rinks: General admission is $4.75, children aged six to 13 tickets are $4, and preschoolers up to five years old are charged $3. You can also buy a family pass, for up to two adults and three kids, for $12.