How cool is it that Kelowna has its very own local bubbly to pop during the holidays to celebrate? This year, go locavore with your libations and pick up a few bottles of these sparkling beauties to ring in the New Year with style. Do buy extra to take as hostess gifts for all of your holiday parties.
Summerhill Organic Pyramid Winery not only makes beautiful, international award-winning sparkling wines, but it is certified organic, too! For the bubble geeks out there that want to indulge, the Cipes Ariel has been waiting for you for 15 years. Taste the rich glory of this rare, aged sparkling that will have you all singing like angels. Do note that any and all of the Cipes lineup of bubbles will thrill, from a sparkling rosé to Cipes Ice, which has a dosage of icewine. The classic Cipes Brut NV should be a staple in your fridge for every celebration. Tasting note: "Made in the traditional method from organic Riesling, Chardonnay, and Pinot Blanc. Aromas of apple, lime, pear, almonds, and grapefruit. On the palate, Cipes Brut exhibits crisp acidity, a soft, creamy mousse, and a long finish."
Indigenous World Winery is First Nations-owned and -operated in West Kelowna. This beautiful winery makes a beautiful rosé sparkling wine with a beautiful name! La'p Cheet is an Okanagan syilx word describing the light sparkling off the water on a river spillway.
This vintage of La'p Cheet is a Charmat-method sparkling rosé made from Cabernet Sauvignon. Tasting notes: "Leading with aromas of red licorice, black currant, and cherry followed by flavours of strawberry, raspberry, and cherry that dance over the palate like a sunset on the rippling water."
CedarCreek Estate Winery has a unique sparkler to perk up your holiday palates. Made with 100% Muscat Ottonel, their Home Block Sparkling Brut's pretty perfumed nose will lure you into a sip of pure pleasure. Perfectly balanced, this single-vineyard sparkling is clean and crisp on the palate making it perfect for toasting and pairing with food. The grapes come from their small Home Block vineyard. 
Tantalus has set a benchmark for Riesling excellence and has an exclusive bubbly to share. Only 100 cases were made of this Old Vines Riesling Brut crafted from a single block 1978 heritage plantings. Tasting notes: "Pale straw in colour and with a delicate bead and mousse, this wonderfully effervescent wine bursts with aromas of new season apricots, preserved lemons, celery salt, and sweet blood orange. A hint of white flowers and fresh-baked bread lingers in the background. The palate is lean and focused but is bolstered by great texture - a result of two years spent on secondary fermentation lees. Notes of limoncello, ginger-lime spiced tea, apple skin, and kiwi abound."
The View Winery & Vineyard in South Kelowna has loads of bubble options for you – even canned if you want to celebrate outdoors or in a ski cabin, you can pop the can pull the tab instead of a cork! Pearls is their traditional brut and has a theme perfect for your New Year's soiree. Tasting notes: "This elegant, dry, sparkling Riesling has notes of crisp green apple, citrus, and subtle minerality which dance on your palate with lively effervescence."
If you want to go au naturel like all the cool wine kids are, Sperling Vineyards is the place! This pioneering Kelowna farm family is again leading us into the future of progressive, biodynamic farming and natural winemaking. Their Organic Speritz Pet Nat (stands for pétillant naturel and means that the bubbles are created naturally), is made from their Perle of Csaba vines that were planted in 1934 (!), giving it a special taste of terroir and history.
Tasting notes: "Lightly effervescent and dry. Fermented in bottle, vegan-friendly, no added sulphites, wild ferment, certified organic, unfiltered, so slightly opaque with effervescence. Very pale straw core. Lemon, lime, mineral undertones on the nose. On the palate, medium acid, light body. Lime, minerality, floral notes."
P.S. It is super low alcohol meaning you can drink more! Only 8.3% alcohol.
Exhilarated is exactly what you want to be feeling come the chime of midnight on December 31 so what better than a glass of Exhilaration? The uber elegance of Mission Hill Family Estate Winery translates through this lovely sparkling. The bottle is a work of art itself, and a great conversation piece. Tasting notes: "Tremendously fresh with notes of crisp apple, white peach, and Anjou pear all highlighted by vibrant acidity and bright citrus on the finish."
Fitz rhymes with glitz and is all about the celebration. Fitzpatrick Family Vineyards is glamorously located lakeside in beautiful Peachland. The focus here is on sparkling wine, and they are making Fitz Brut as their signature cuvée and have three reserve tiers on offer: a Blanc de Blancs, a Blanc de Noir, and a Sparkling Rosé.
Tasting notes (Fitz Brut 2015): "A richer, riper fruitier style than any of our previous Fitz Bruts. Red apple nose with a plush approachable mouthfeel and upfront bubble. Almond brioche is present throughout with a nice lemon rind finish."
For something totally different, how about some pretty pink honey wine? Meadow Vista Honey Wines has three bubblies to choose from including the BLISS Sparkling Cherry. Tasting notes: "Dark, juicy Okanagan cherries were added to give BLISS a beautiful blush colour, notes of cherry, plum, and pinot noir. Delight in this bubbly with grilled foods such as seasonal veggies, meats, and fruit."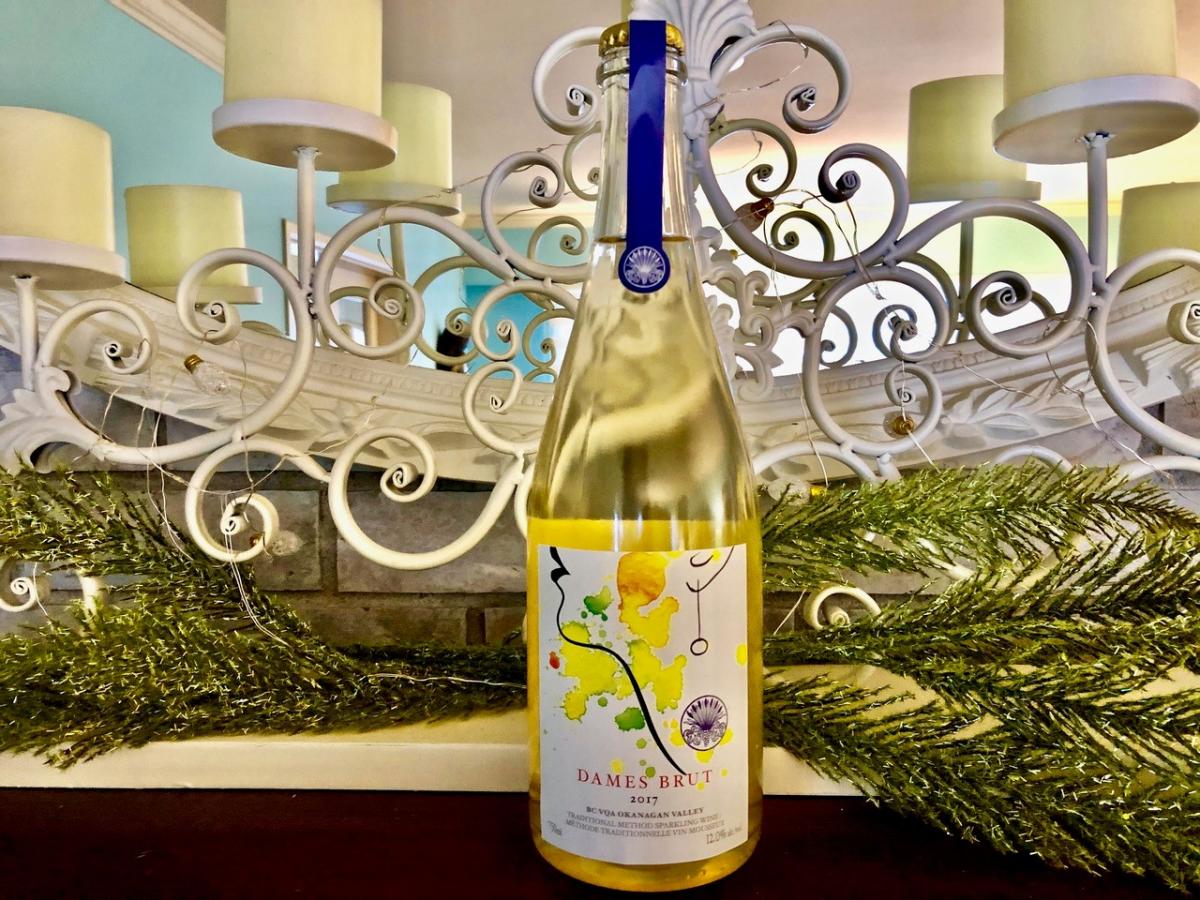 Drink for a cause! Raise your glass of bubbly to women in our local food and wine industry this season by purchasing a bottle of Dames Brut. Created by winemaker Mireille Sauvé, each bottle supports food and beverage education for women in B.C. For more information on this wonderful charity go to: dameswine.com
Tasting notes: "Fine bubbles introduce this Traditional Method Extra Brut sparkling wine. Bright citrus flavours include lime zest, grapefruit pith, and kumquat. Mouthfeel is rich and creamy with apples and a hint of brioche on the palate. Orange blossoms and bitter apricot linger with a dry finish."
Over to Lake Country and Intrigue Wines where you will find the most delightful wine shop loaded with wine and gift ideas. They have two choices of frizzante-style bubbly for you to choose from. The rosé "I DO" is obviously perfect if you have any weddings to celebrate although there are lots of "I do's" in life to celebrate i.e. I do love to celebrate! The Social Bubbly is for just that - being social. Tasting notes: "A frizzante style wine, clean, crisp with a succulent finish. A golden hue and fine bubbles make this wine a pairing to celebrate any occasion.
It is a little harder to find this niche, but micro-winery Niche from West Kelowna makes a wonderful sparkling called Hen House Bubbles and they are worth the hunt! Niche creates super small-lot wines – go to their website to find out how to get your hands on some! 
Ricco Bambino is Kelowna's fun urban winery downtown. They have two whimsical bubble labels to choose from: Kicked out of the Country Club and the Very Troubled Child Rosé.
organically and sustainably farmed hand-harvested blend of Pinot Blanc (72%) and Pinot Noir (28%) Tasting notes: "Always willing to walk on a fine line our Very Troubled Child will forever keep you on your feet. A mouthful of energy, this wine will remind you that the only love needed is the one from its child."