Nothing is as delicious as eating fresh, local produce - so whenever possible I stop at local farms and orchards to grab my ingredients. In the winter great one-stop shops are at our Kelowna Farmers' & Crafters' Market (open most Saturdays 9:00 am - 1:00 pm) and Quality Greens. Several of the needed ingredients can be picked up at these two spots.
Recipe:
Tartare Ingredients  
2 cup cooked beets (Fester's Farm grows some of my favourites)
2 tbsp olive oil from Olivia's Oil
2 shallots
4 tbsp capers
10 small dill pickles
1 small bunch tarragon
1 tbsp mayonnaise
1 tbsp wholegrain mustard
2 tbsp Yorkshire sauce
Crackers Okanagan Grocery
Directions
Toss the beets in olive oil and roast in the oven at 325 for 40 minutes or until a fork pierces through it easily. Allow beets to cool and peel off the skin. Dice beets about a ½ inch in thickness.
Dice the shallot and dill pickles in smaller pieces. Roughly chop the tarragon and mix all ingredients in a bowl.
Drizzle Balsamic Reduction on the plate, place tartare on top and serve with some multigrain crackers from Okanagan Grocery. 
Enjoy!
---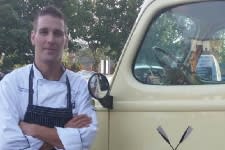 Chef Vince Van Wieringen is a red seal endorsed Chef, with creative culinary skills, extensive food and beverage experience, and a passion for food. Vince's menus focus on Farm to Table and seasonal dishes with ingredients that feature local farmers, orchards, meats, and sustainable BC seafood. He is Executive Chef at Hotel Eldorado and the current President of the Vernon and District Metis Association.