For those looking for something a little different, Kelowna has a variety of unique and experiential tours available that are sure to add some extra thrill to your day. While the many listed below are winery/brewery tour add-ons, there are a few exciting alcohol-free tours offered as well.
Beach Bum Tours pride themselves on creating a fun and relaxed way to learn about the many different wine, beer, and spirits made in the Okanagan Valley. They have four different Adventure Tours available:
Here they've partnered up with Lake Country's Pedego Electric Bikes. You'll spend three hours e-biking around Wood Lake or along the Rail Trail along Kalamalka Lake. You'll finish your ride at Gatzke's Farm Market where you can enjoy a pizza lunch at Pane Vino (or you can choose to have lunch at one of the winery bistros), and then you'll head off for a three hour tour of wineries that are a part of Lake Country's Scenic Sip Trail.
This tour is for those who not only love drinking wine, but thrifting as well! You'll start your day off by browsing the farmers market before heading off to do a variety of tastings (stops will include a winery, cidery, and brewery). You'll also make a lunch stop at Rustic Reel before visiting three different vintage consignment shops around Kelowna.
Have you ever wanted to go zip-lining and wine touring all in one day? Well now you can thanks to the Zip and Sip tour! Beach Bums have partnered with Oyama Zipline Adventure Park to bring you a fun and thrilling day. You'll start by spending two and a half hours zip-lining a seven station course over 70 acres, with no hiking in-between lines. Afterwards you'll have a delicious local lunch which will be followed by a wine or beer tour for the rest of the afternoon.
For this tour they've teamed up with Lilypad Paddle Boarding to offer you an action packed day out in the sun exploring either Kalamalka or Okanagan Lake. You'll spend two hours paddling out on the lake (lessons included if needed) before enjoying a delicious lunch at a local farm to table bistro. After that you'll head off for a three hour wine tour of either (depending on which lake you've chosen), the Scenic Sip or Westside Wine Trail.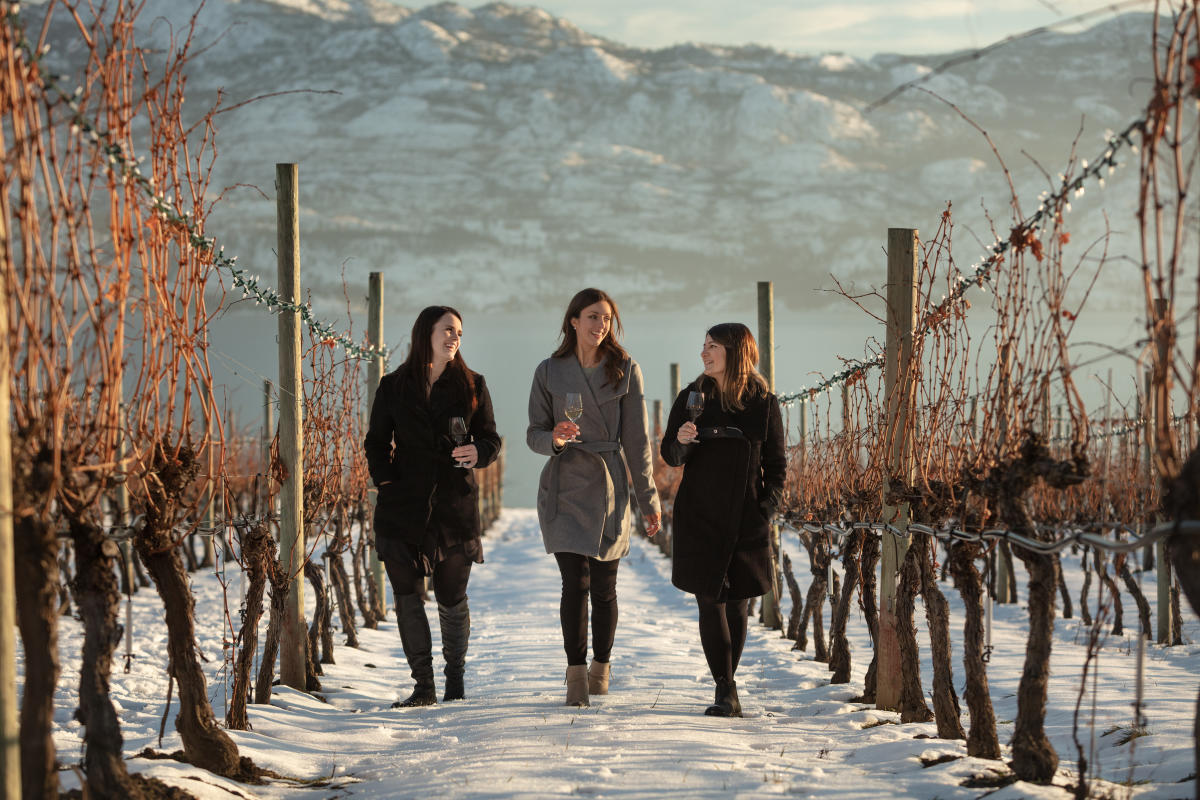 Photo by Shawn Talbot Photography
Roots & Vines Tour Co. is a family operated business who offer unique tours that highlight the beauty of the Okanagan. Here are a few options available that aren't quite like any others you'll find around Kelowna.
Spend your morning getting your adrenaline going by pelting your pals with paint balls at Safari Ridge on the Westside. Afterwards you'll head across the bridge to Memphis Blues in downtown Kelowna where you'll share a smoked-meat platter before venturing off to enjoy flights of local beer at three different breweries.
Hate having to wait for summer so you can wine tour with your friends? Wait no more! Roots & Vines have put together this special off-season adventure so you can tour all year long. They'll pick you up from your accommodations and take you to one of three ski-lodge locations to either ski or snowshoe. Spend the morning enjoying the winter scenery before having lunch and visiting three or four wineries before being dropped back off at your pickup location. 
Sagebrush Tours are an ecotourism company that offer not only wine tours, but nature tours and ski shuttle services as well. Their goal is to be the leading sustainable tour operator in the valley, and to educate people of all ages about the valley's environmental history and culture.
This unique tour runs from May to September and gives you the chance to see and hear hundreds of bats as they emerge from the Historic Peachland School House. The house has one of the largest known maternity colonies of Yuma and Little Brown bats in BC (as many as 2000!). You'll start by taking a short bat interpretive walk through town, and then at dusk you'll watch as the bats exit the schoolhouse and hear them echolocating with a provided bat detector. Binoculars are also available for a better viewing experience.
The Vaseux-Bighorn region is just over an hour south of Kelowna, and it has one of the highest species diversities in Canada (over 205!) You'll birdwatch from the boardwalk and viewing tower, and explore some of the ten red/listed ecological communities. This tour also features a surprise cultural stop! A snack is provided, or you can pre-arrange a boxed lunch for an additional charge. The best months for this tour are April, May, September and October.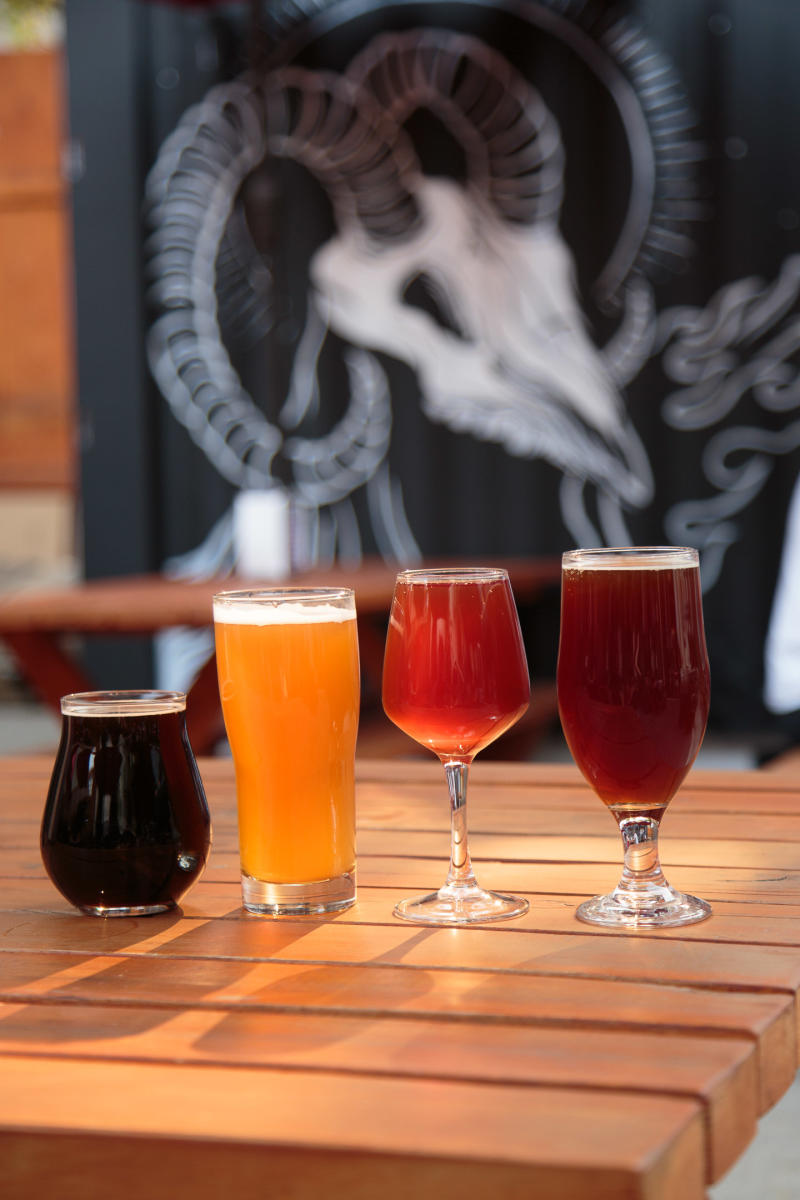 Photo Credit BC Ale Trail
Distinctly Kelowna Tours have been around since 2003 and are celebrating their 20th season this year. They pride themselves on taking care of all the little details, and they've received the TripAdvisor Certificate of Excellence for the last nine years. They have several tour options available, but if you're wanting something completely different then the Axes and Ales Tour listed below is the one for you.
Begin your morning at Axe Monkeys, Kelowna's only indoor axe throwing facility. You'll learn to throw axes with trainers before being left to have fun and practice on your own. Afterwards you'll visit three breweries/cideries for tastings, and you'll end your adventure off with a dinner stop in downtown Kelowna.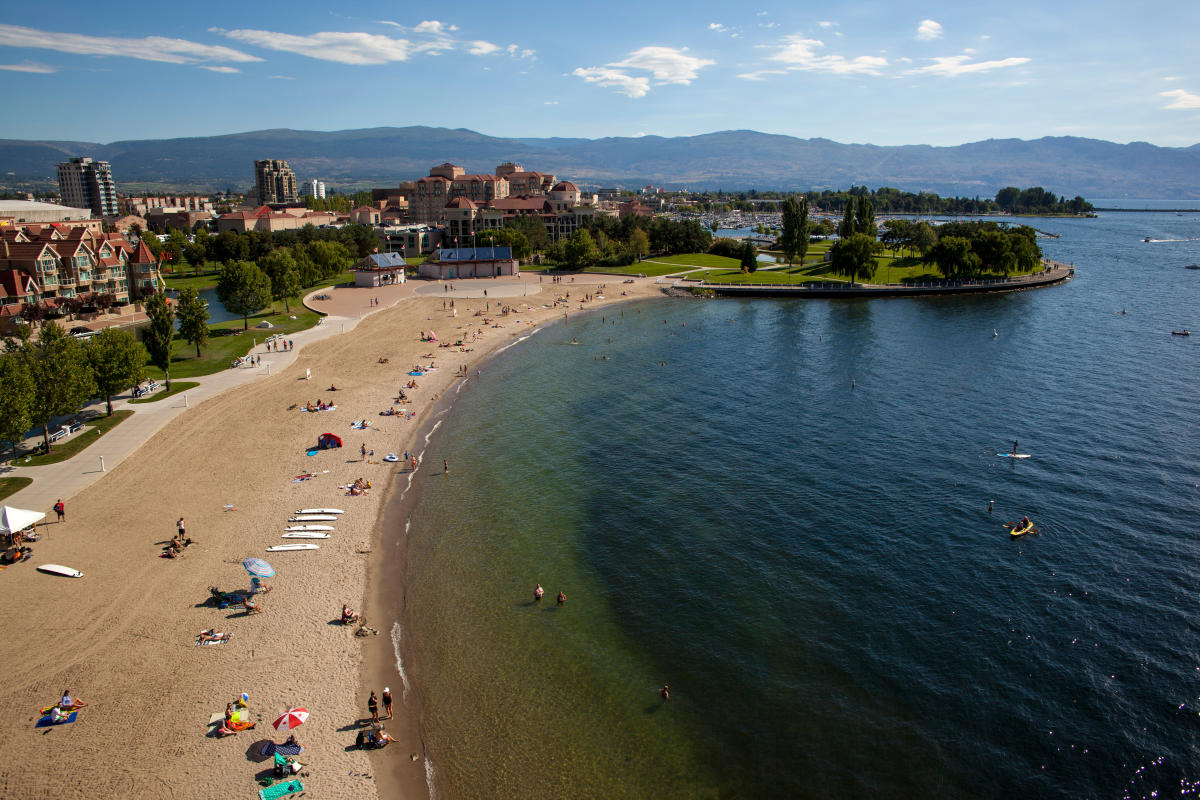 Photo by Shawn Talbot Photography
Sip Happens is a family owned and operated company with plenty of tour options available, but if you're looking to combine a wine tour with being out on the water then these tours should be right up your alley.
This is a full day (seven hours total) tour that's available from May 20th to October 15th. Your day will consist of visiting three wineries for tastings, a leisurely 1.5 hour lunch stop, and will end off with a two hour pontoon boat cruise on Okanagan Lake. Highly recommended if you're visiting the Okanagan!
This tour is more for those who just want to spend the day boating and swimming. Sip Happens will pick you up from the either the downtown Kelowna docks, The Eldorado, La Casa, or any private dock. It runs from May to October and features a large 22 foot long Pontoon boat. You'll cruise into private bays to swim or lounge, and you're free to bring your own lunch to enjoy. They have a cooler on board should you wish to bring refreshments, lifejackets, and pool noodles are available as well.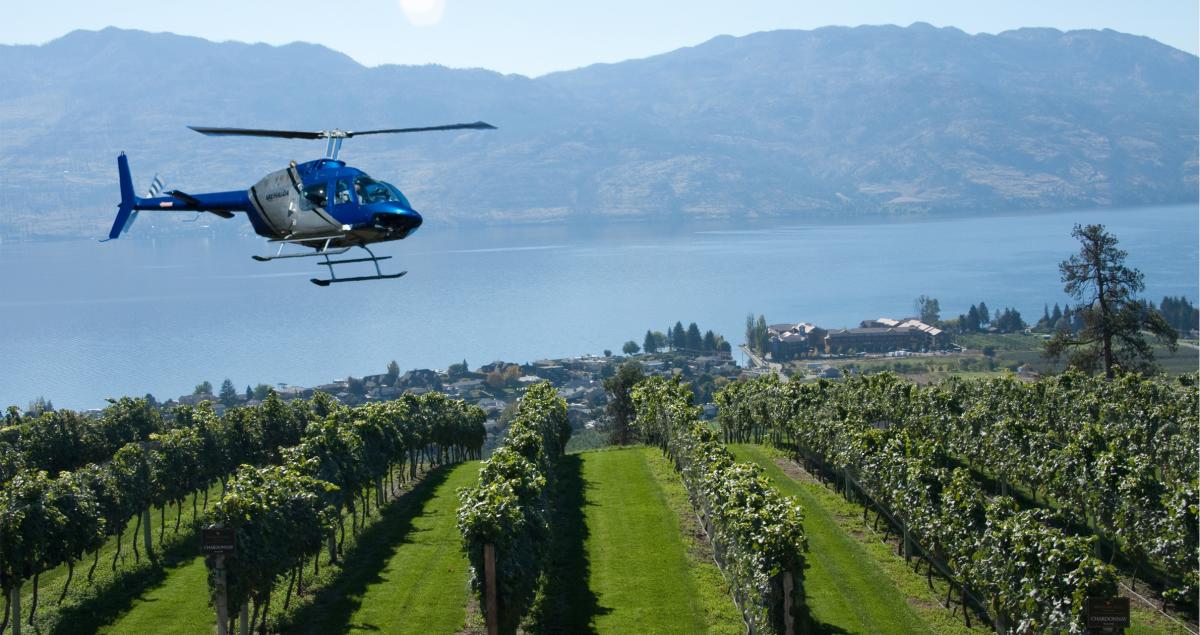 Photo by Valhalla Helicopters
Let's Go was founded in 2010 and has since expanded to offer a wide variety of adventure tours, with the goal in mind being to highlight the beauty and showcase the amazing wines of the Okanagan all at once.
Offered from May to October, The Jeep Wine Tour was added in 2018 to offer a unique wine touring experience. You'll ride in style in an open top jeep while you explore the incredible views of the Okanagan Valley. Options are Lakeshore Wine Route, Fab Five (East Kelowna), Westside Wine Trail, and Lake Country's Scenic Sip. The tour includes snacks and water, and should you choose to purchase wine, a cooler is available for use.
This is a one of a kind scenic tour that you'll never forget! They'll pick you up (from anywhere in Kelowna and West Kelowna) and you'll be taken to the Valhalla Heli Site. You'll hop into your ride and be whisked away on a beautiful 15 minute helicopter ride over beaches and vineyards on your way to Myra Canon and the KVR trestles. You'll land at Priest Creek winery for tasting where the jeep will be waiting to take you to another three wineries.