Kelowna may be known for being a four season playground, but if you use a mobility aid like my wife Cara (a t6 paraplegic), you'll quickly notice it's also one of the most accessible cities to visit in the province.
Not only is Kelowna full of wheelchair-accessible hotels, restaurants, and beaches; but also several outdoor "trails" to check out as well. Cara loves to stay active and so we're always looking for new and well-maintained areas to explore.
Here are five accessible pathways in and around Kelowna we would recommend checking out when you're visiting Kelowna.

Downtown Waterfront Boardwalk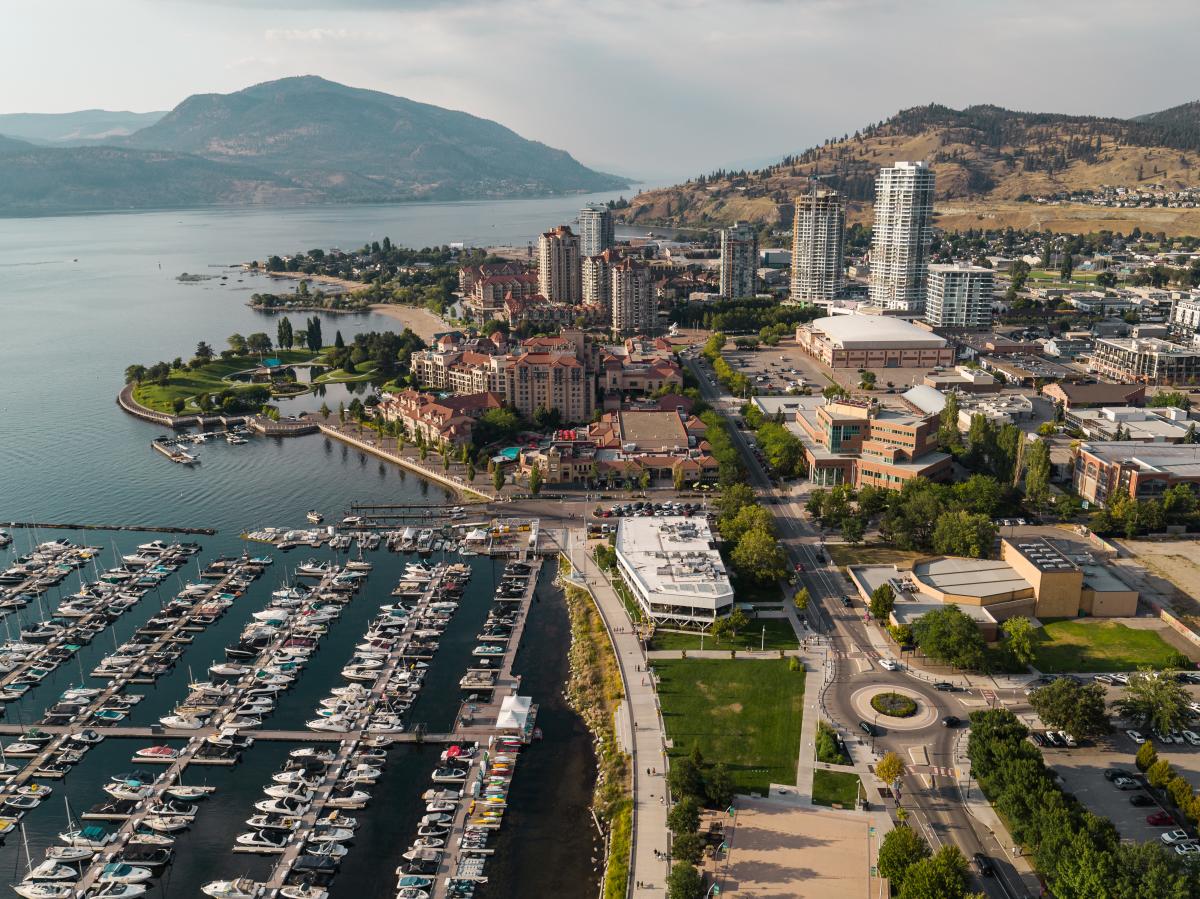 Downtown Kelowna waterfront. Photo by: Nic Collar Film. 
Leisurely strolling the Waterfront Boardwalk is one of our favourite ways to spend a day. We like to start from the bridge and head towards the Rotary Marsh Bird Sanctuary. The path is smooth the entire way and shows-off Kelowna's stunning lake views. In City Park, there are many different free-to-use sports courts near the path, and a playground and waterpark for the kids! We like to pack lunch and enjoy it on one of the many picnic tables you'll find throughout the boardwalk. On-leashed dogs are also welcome here, and there are several accessible bathrooms along the way.
Once you get to the end you can stroll through the Bird Sanctuary and if you're lucky enough you'll see turtles, beavers, and of course many different species of birds. Just be aware that the paved pathway ends here and the Sanctuary path is mainly hard-packed gravel.

The Rail Trail (Downtown to Kelowna Airport)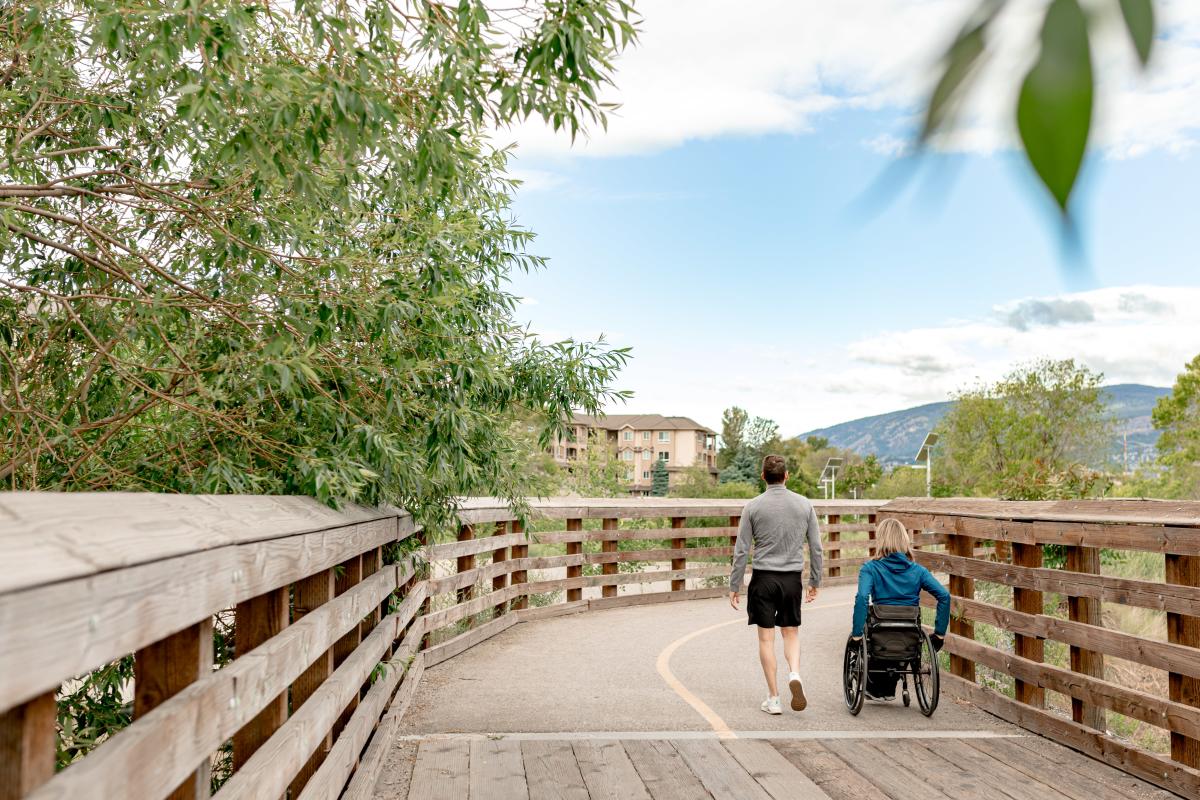 Okanagan Rail Trail, Kelowna. Photo created in partnership with the Okanagan Rail Trail and Thompson Okanagan Tourism Association. 
Originally built to transport Okanagan produce and lumber across the country, the Okanagan Rail Trail is now used for recreation by people of all ages and disabilities. The trail starts at the north end of Kalamalka Lake and ends in downtown Kelowna, and once completed (a seven-kilometre section beginning north of the Kelowna International Airport to Lake Country is currently closed for construction) it will span nearly 50km. We love that the path is away from roads and traffic, and over 24km of the trail runs parallel to lakes. The surface is well-maintained and almost near-level, and the section from the Kelowna Airport to downtown Kelowna is completely paved for those who can't navigate hard-packed gravel.
Throughout the length of the trail, you'll find interpretive sites, heritage markers, artwork,  as well as other reading material for those who want to learn a little more.

Peachland Waterfront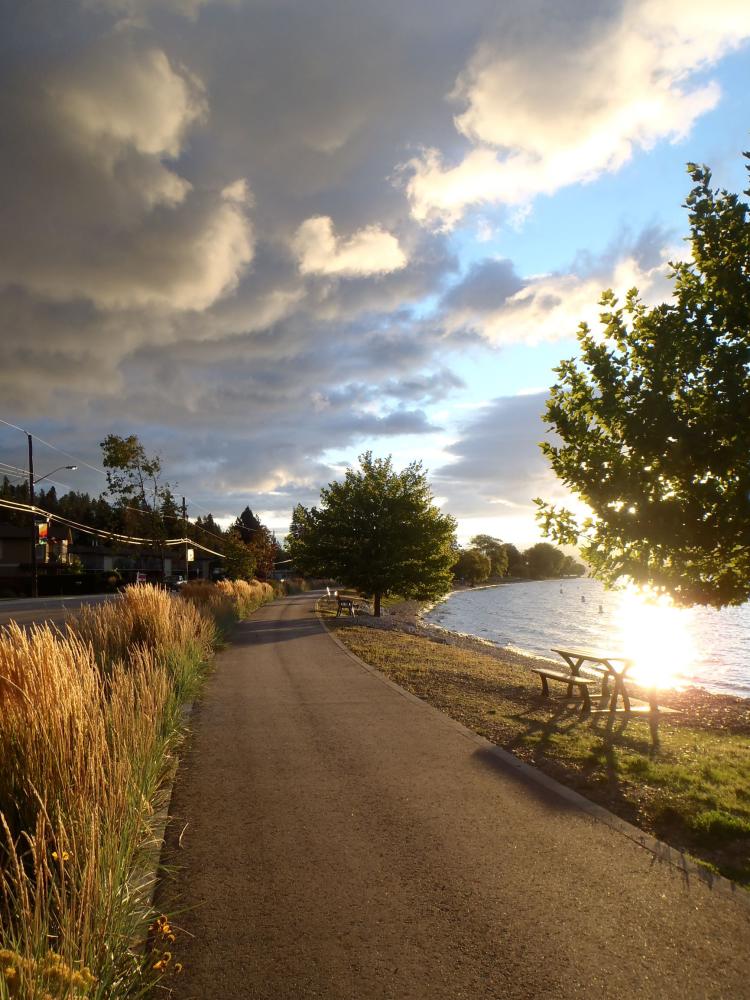 Photo credit: District of Peachland
The Beach Avenue Walk in Peachland (also known as Centennial Way) never disappoints! The eight-kilometre paved pathway is a great way to see what Peachland has to offer and it can be enjoyed any time of the year. The path runs along Okanagan Lake and has restaurants and other local businesses on one side of the street, and parks and beaches on the other. Once you reach Bliss Bakery (highly recommended!) the path continues along the lake but away from the busier parts of the street. It's less travelled which is great for people who want a bit more of a peaceful stroll, as it does tend to get quite busy in the summer months.
In 2019 the Ray Kandola Heritage Pier was opened on the south end of the walk. The 120-metre pier is fully accessible for anyone with a disability and is a first of its kind on Okanagan Lake. It adds accessibility to an area of the waterfront that was previously unusable. The pier is also known to be a great fishing spot, with several breakout areas along the way.

Gellatly Nut Farm/The Cove West Kelowna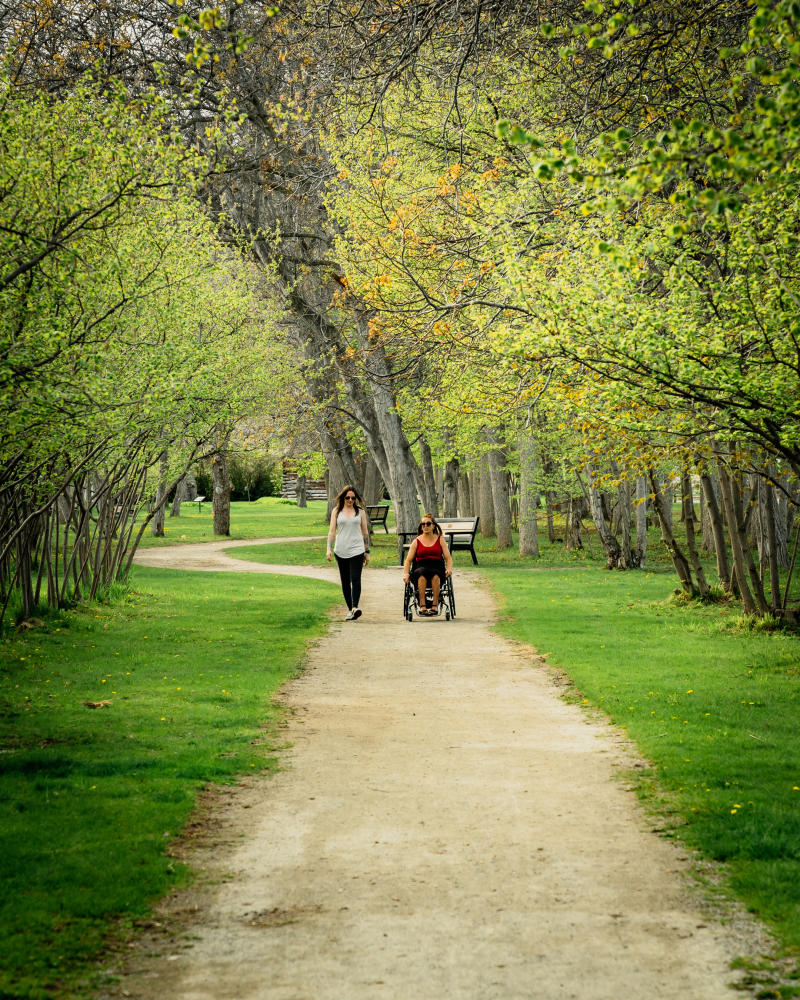 Gellatly Nut Farm Regional Park. Photo by: Ken Hagen
The Gellatly Nut Farm Regional Park is located on the Westside of Okanagan Lake and is a beautiful easy walk through the shady trees and offers plenty of benches for resting and snack stops! Keep an eye out for tree markers for those who are curious as to the different types of nuts that are grown at the farm. This pathway consists of hard-packed gravel, but you can continue on towards The Cove Lakeside Resort which is completely paved if you're needing a more accessible surface. As with most of our favourite pathways, this one runs parallel to the lake and the views will not disappoint! You'll also find the LakeSurf Okanagan marina on your walk, where you can rent a variety of fun water toys should you be looking to spend a day on the water.

Abbott Street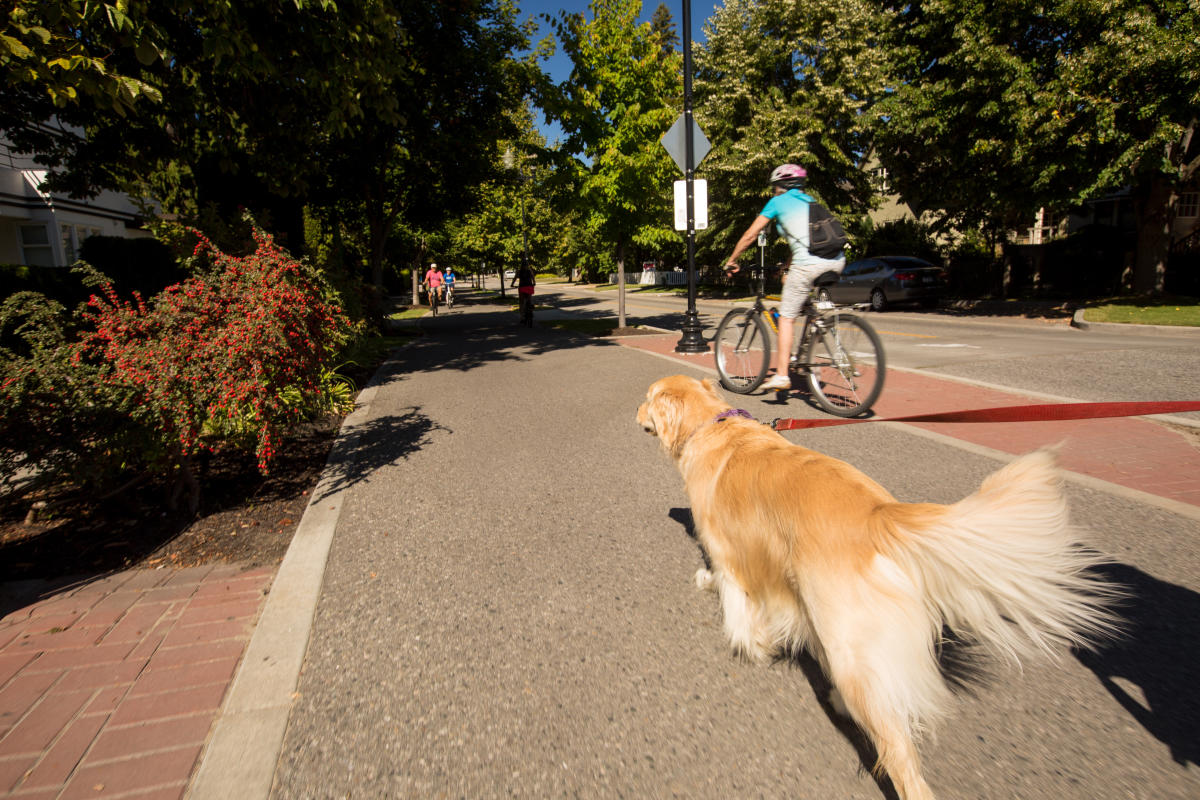 The Abbott Street Corridor runs from Kelowna City Park to Strathcona Beach Park and offers a wide, paved pathway that was designed for either walking or biking. You'll find several Beach Access stops along the path so if you get too hot on your walk you can jump in the lake for a quick cool down! We love that you can really spend an entire day enjoying this walk, as it's not only close to the beach, but to many restaurants and several other businesses as well (if you continue south on Abbott Street you can reach Pandosy Village which only one block east). Our favourite time of year for this stroll is actually in the fall, as the path is full of trees and their colour-changing leaves are beautiful to see. 
Whether you have accessibility needs or not, Kelowna is home to many well-maintained, flat and smooth pathways for people of all abilities to enjoy. Make sure you take advantage of these stunning trails on your next visit!