Thanks to the Edinburgh Festival Fringe which was founded in 1947, Fringe theatre and Fringe festivals have become a staple around the globe. On September 22nd, its Kelowna's turn to get in on the action and you don't want to miss it.
Later this month, Kelowna will play host to A Taste of Fringe. For one night only, the Rotary Centre for the Arts will be transformed into Kelowna's Fringe central, with attendees being wowed by performances from two award-winning acts fresh off the Fringe circuit - Red Hot Mama and RAGMOP Theatre. Both acts have received excellent reviews.
RAGMOP Theatre performs award-winning surrealist physical comedy. RAGMOP will offer their latest work, Hotel Vortruba, in Kelowna. The show earned rave reviews at the 2018 Edmonton Fringe Festival.
To get an idea of what RAGMOP is all about, check out their trailer for Falling Awake:
Red Hot Mama is Melanie Gall. An internationally-renowned Canadian vocalist, Gall has been knocking the socks off Fringe audiences around the globe - she recently sold out her entire Edinburgh Fringe run. Gall tells the story of Sophie Tucker, detailing her rise through early 20th-century vaudeville, cabaret and Hollywood. You'll get jokes aplenty while being serenaded with the standards from the '20s.
These stellar performances will be followed by a mind-blowing after party with indoor street-style live performances, refreshments and hopping good times. The after party is almost going to be a mini-fringe festival itself!
You don't have to be a theatre buff to enjoy the festivities - this is going to be another of those Kelowna events where for those who miss it, the FOMO will be real.
After all, A Taste of Fringe isn't your average event. It is an event for rebels, curious, adventure-seeking renegades and those seeking a new, unique and thoroughly mesmerizing Kelowna experience.
In addition to the performances, A Taste of Fringe also encompasses a series of free professional development workshops for local emerging artists. These workshops will take place from September 19 to 21, full details can be found here.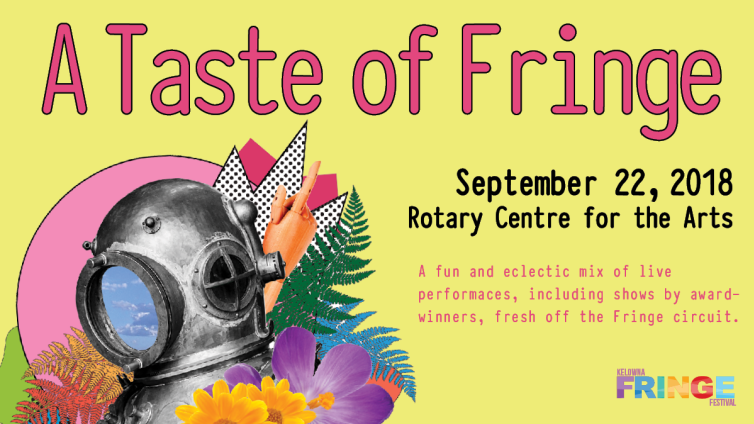 A Taste of Fringe is happening on Saturday, September 22nd, 2018 at the Rotary Centre for the Arts. Doors at 6:30 p.m., main stage at 7:00 p.m. and after-party from 9:00 p.m. to midnight. General admission tickets (includes after party) are just $35.
Find everything you need, including where to purchase tickets, workshop info and more, by visiting KelownaFringe.ca. What will you discover during A Taste of Fringe?