Nothing tastes better than fresh, local ingredients so I like to shop at the various local farms, orchards, and markets in Kelowna and area. At this time of year, a great one-stop shop is at the Kelowna Indoor Farmers Market. The Kelowna Outdoor Farmers Market opens April 1st. Several of the below items can be picked up at the Kelowna Farmers' & Crafters' Market, Quality Greens Farm Market, and Codfathers Seafood Market.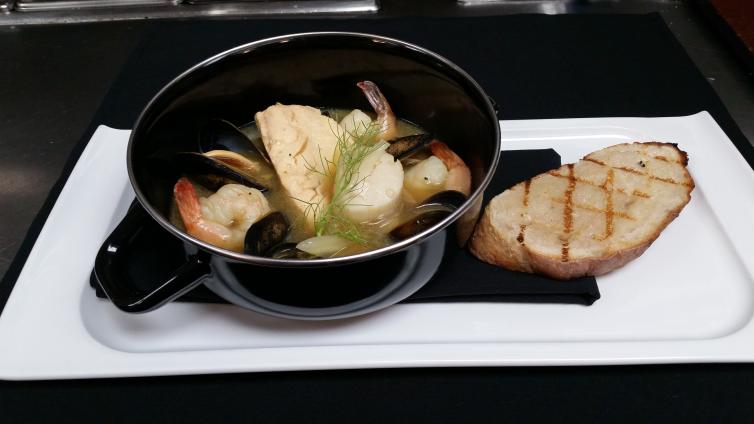 Recipe: Yield: 6 Litres
½ Lbs white onions
 ½ Lbs celery
4 large leeks
6 carrots
3 Tbsp whole coriander
3 Tbsp black peppercorns
3 Tbsp fennel seeds
2 oz fresh thyme
2 oz fresh dill
½  oz tarragon
3 Tbsp minced garlic
4 bay leaves
5 Litres fish stock
1 Litres local chardonnay
1 tsp saffron
Directions
Rough Chop all vegetables and put in a large stock pot with minced garlic. Sautee vegetables until slightly soft then deglaze with white wine. Add the stock and herbs and simmer for 1 hour. Remove from heat and pour through china cap with a coffee filter twice.
Seafood is from Codfathers Seafood Market. Codfathers is 100% Sustainable, Oceanwise, and fresh. Freshly caught seafood, often day-boat caught and shipped every day from the coast. 
2 dozen Salt Spring mussel, scrubbed
2 dozen 21/25 prawns
1 pound char, cut into sixteen 1 1/2-inch pieces
6 U10 scallops
Directions
Add the mussels to broth, cover and cook over moderate heat until they just begin to open, about 3 minutes. Add the Arctic char, cover and simmer for 2 minutes. Add the prawns, and scallop cover and simmer until the mussels are open and all the fish is cooked through, about 4 minutes.
Serve in, desired dish with sourdough bread from (either a place at the Kelowna's Farmers' Market or Okanagan Grocery).
Enjoy!
 
---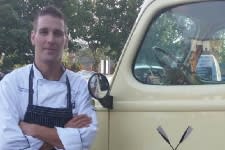 Chef Vince Van Wieringen is a red seal endorsed Chef, with creative culinary skills, extensive food and beverage experience and a passion for food. Vince's menus focus on Farm to Table and seasonal dishes with ingredients that feature local farmers, orchards, meats, and sustainable BC seafood. He is Executive Chef at Hotel Eldorado and the current President of the Vernon and District Metis Association.