When May long weekend passes, it signifies the unofficial start of summer. With that in mind, we thought we'd take you on a quick run-through of upcoming Kelowna summer music festivals.
Parks Alive!
Parks Alive! Is an annual Kelowna favourite with both residents and tourists, and it is clear to see why. Parks Alive! Fills Kelowna's parks and public spaces with free concerts during the summer months. The shows feature local and regional artists as well as touring acts. Learn more about Parks Alive! here.
Center of Gravity
As you may have heard, Snoop Dogg is coming to Kelowna this summer. The legendary rapper is headlining Kelowna's Center of Gravity in City Park. Now in its 10th year, "Canada's Hottest Beach Festival" will run from July 28 to 30. In addition to Snoop Dogg, there are other big names in hip-hop and EDM on the bill. Find out more about Center of Gravity here.
Open Air Performances - "Live! in Lake Country"
"Live! In Lake Country" is Lake Country's answer to Kelowna's Parks Alive!, and just like Parks Alive!, it's totally free. That means from Canada Day onward locals and visitors alike can enjoy open air concerts running on Saturday evenings through to the end of August. How awesome is that? Find out more here.
Rock the Lake
Rock the Lake 2017 promises to be just as epic as last year's edition when the event first hit our city. "Kelowna's Classic Rock Festival" is bringing April Wine, Kim Mitchell, Honeymoon Suite, Platinum Blonde, Rik Emmett and many more to town this August (Aug 11, 12 and 13). The festival features eleven acts performing in the heart of downtown Kelowna (at Prospera Place). Rock the Lake is presented by Kelowna's K96.3 and you can learn more about the festival here.
Whatever you get up to in Kelowna this summer, enjoy!
---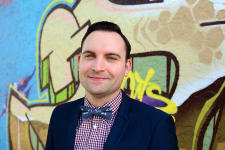 Vince Jones is a Bachelor of Arts graduate from UBC Okanagan and a passionate supporter of local and independent music. In the past, Vince was featured on 102.7 The PEAK in Vancouver, contributed to CBC Radio West and KelownaNow as a music columnist. He has hosted and contributed to indie music podcasts, and has booked, emceed and promoted numerous shows. He is currently the Marketing Manager for Kelowna's Walker Real Estate
To connect with Vince, you can find him on Instagram, Twitter or LinkedIn.