One of our favourite things to do when we arrive in a new destination is to walk the city. We like to explore nearby parks, pathways, and neighbourhoods under our own power, stopping at attractions and restaurants along the way. 
You can easily walk around downtown Kelowna, but more and more, locals and visitors are navigating the city on two wheels. As Kelowna has grown, so too has its pathways and dedicated bike lanes, which means it's possible to park the car and cycle to see the sights. And because the city is located in a valley bottom (and thus is fairly flat), you can turn a family holiday into a cycling adventure. Read on for a few local family spins that tick all the boxes.

Downtown Waterfront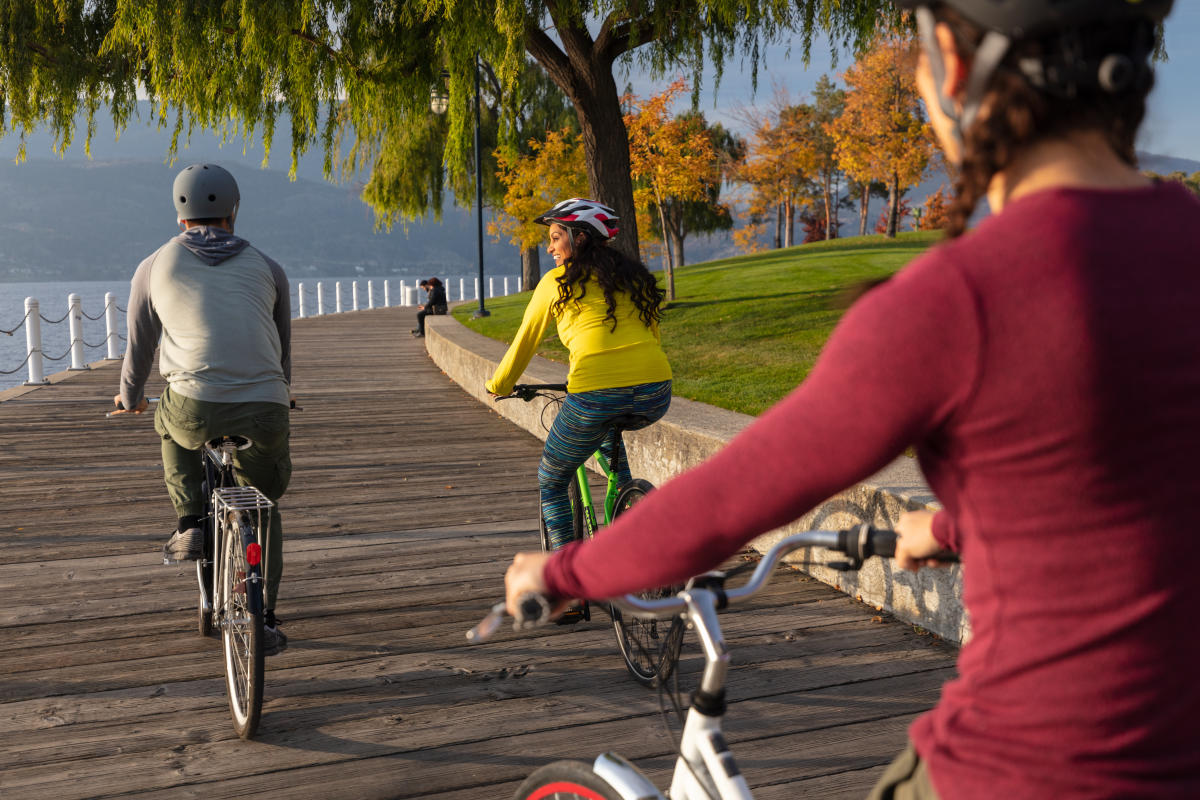 Photo by: Shawn Talbot Photography
Start small with a pedal around downtown Kelowna along the Waterfront Walk. You can cycle from the City Park beach, playground and splash park, past the statue of Ogopogo (a kid pleaser), and the Downtown Marina, all the way to Rotary Park Marsh, where the kids can look for ducks and red-winged blackbirds flitting between the cattails. The total distance is just two kilometres one way, which can be broken up with stops for ice cream or photo ops at On the Beach, a fun statue of five bronze sunbathers in Waterfront Park.

Cycle to Parkinson Recreation Centre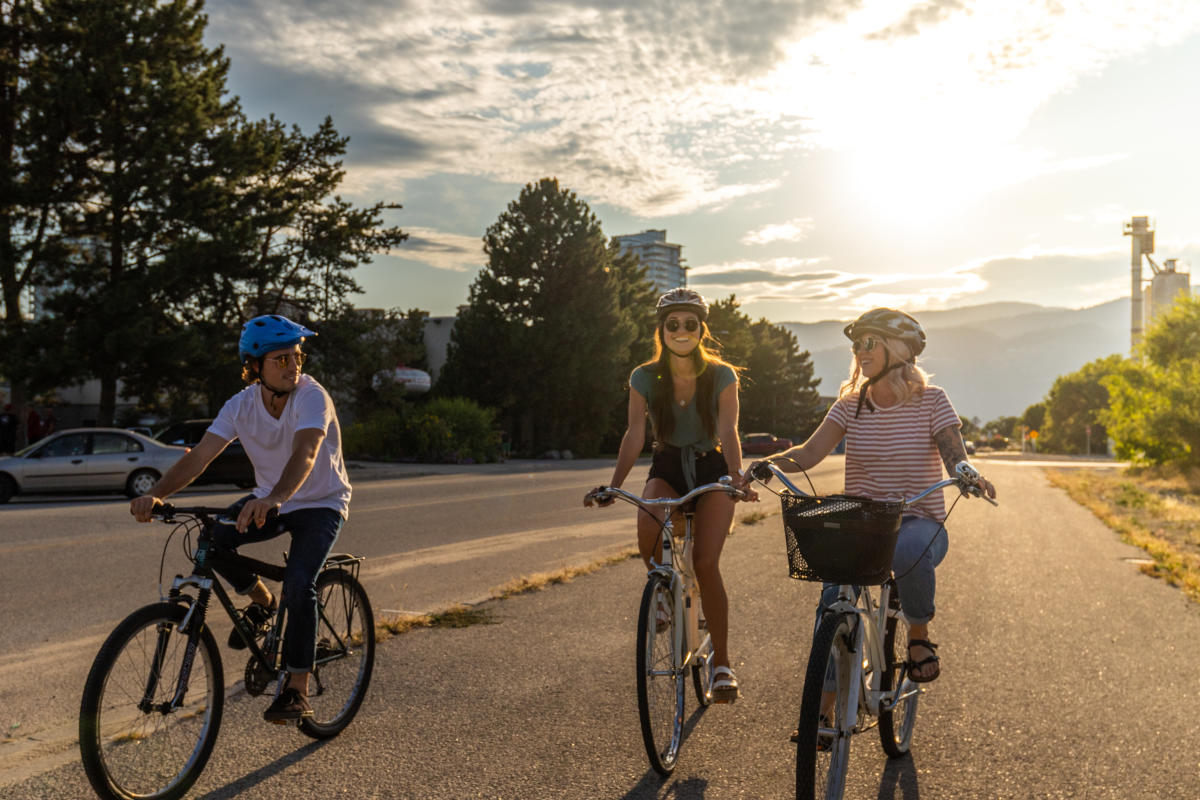 It's a quick 15-minute ride (3.3 kms) along the start of the Okanagan Rail Trail from downtown Kelowna to Parkinson Recreation Centre, a public pool and fitness facility located in an expansive green space with a playground, sports fields, and tennis courts. Just across Hwy 97 from the park is the Landmark District, where you'll find a few edible and potable rewards for your family's cycling effort. The kids will love the house made gelato at QB Gelato & Bakery, crafted with local seasonal ingredients such as haskap berry and lavender. Around the corner, parents will appreciate a tasting flight of ales, IPAs, and lagers from Copper Brewing, one of Kelowna's family-friendly craft breweries that features Nintendo sets at some of the booths (plus they serve gourmet hot dogs!).

Okanagan Rail Trail and Upside Cider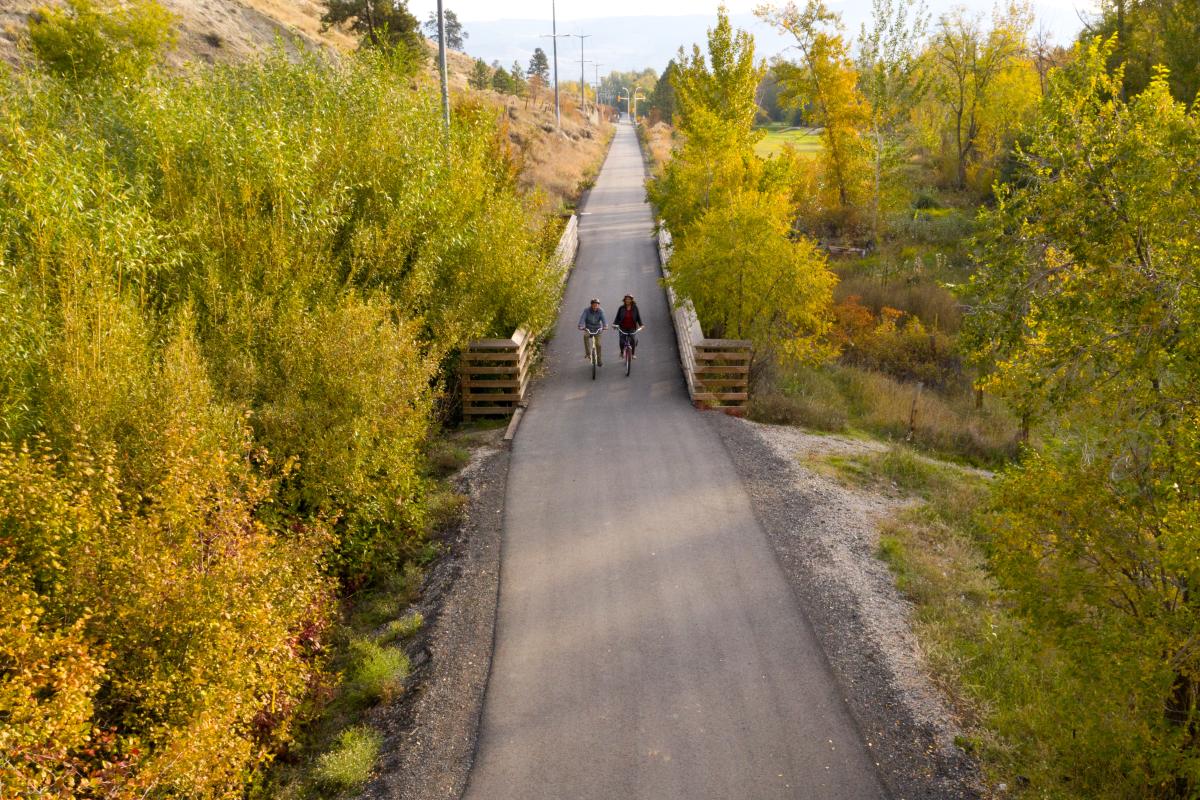 Consider cycling farther from Parkinson Rec along the Okanagan Rail Trail, which passes three lakes on its 50-km path north to Vernon. Of course, you likely won't make it that entire distance with kids along, but you could set your sights on Carney Pond near UBCO, and then carry on to Upside Cider, which features a kid-friendly patio with board games and a foosball table (in addition to amazing pizza and cider!). And while you're in this neck of the woods you may as well pedal a final six minutes down Old Vernon Road to Kangaroo Creek Farm, Kelowna's version of an Australian zoo complete with 'roos, wallabies and emus. This would add another 15 kms (one way) onto your ride, but the path is paved and mostly flat.

The H2O Centre and Mission Creek Greenway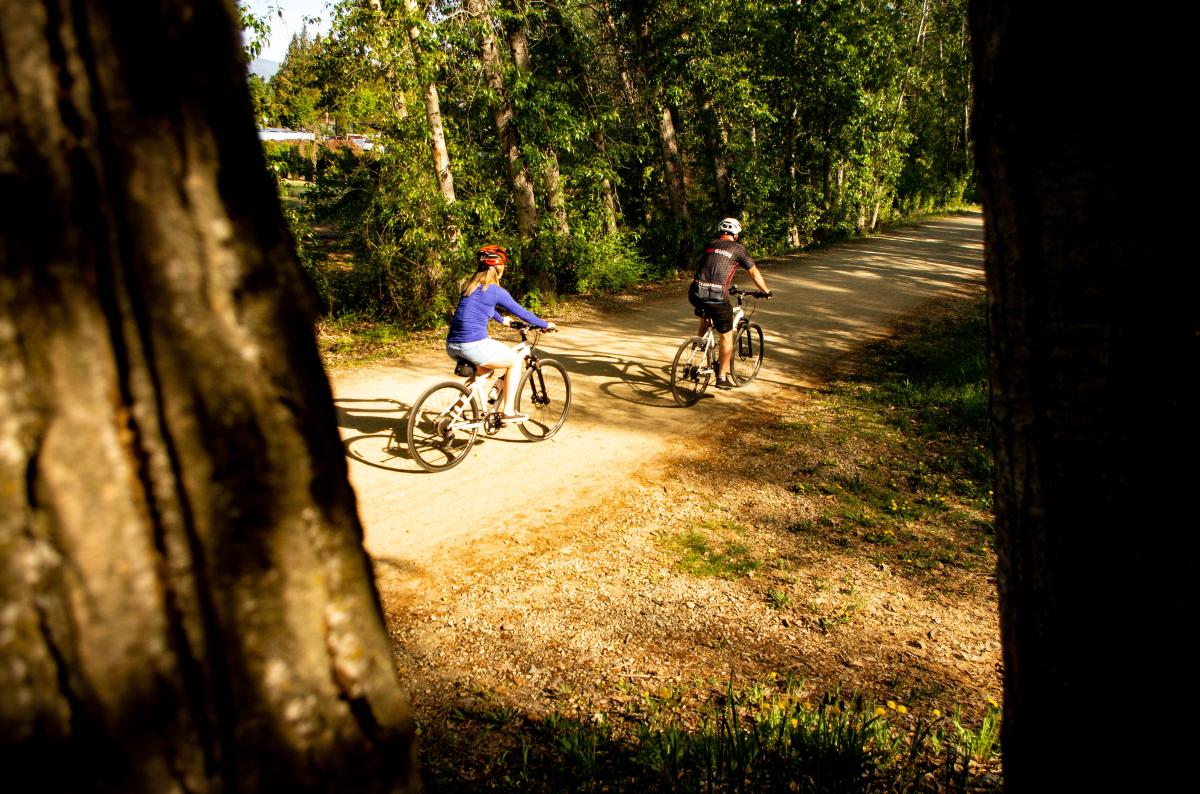 Photo by: Seekers Media & Nancy Shields
Your family can also pedal to the H20 Centre, another recreation facility with a pool, waterslides, and a lazy river that's a 25 minute ride (7.5 kms) from downtown. It's a scenic and shaded cycle along the paved bike path on historic Abbott Street to Lakeshore Road in the heart of Pandosy, a bustling neighbourhood where you can fuel up on pizza or burgers, or fish and chips at family-friendly Shore Line Brewing. Turn left on Lexington, then right on Gordon, and you can't miss Mission Recreation Park and the H2O Centre. After a swim, consider cycling part of the flat, packed gravel Mission Creek Greenway before circling back to Lakeshore via Casorso and Barrera roads.

Hit hidden beaches along Lakeshore Road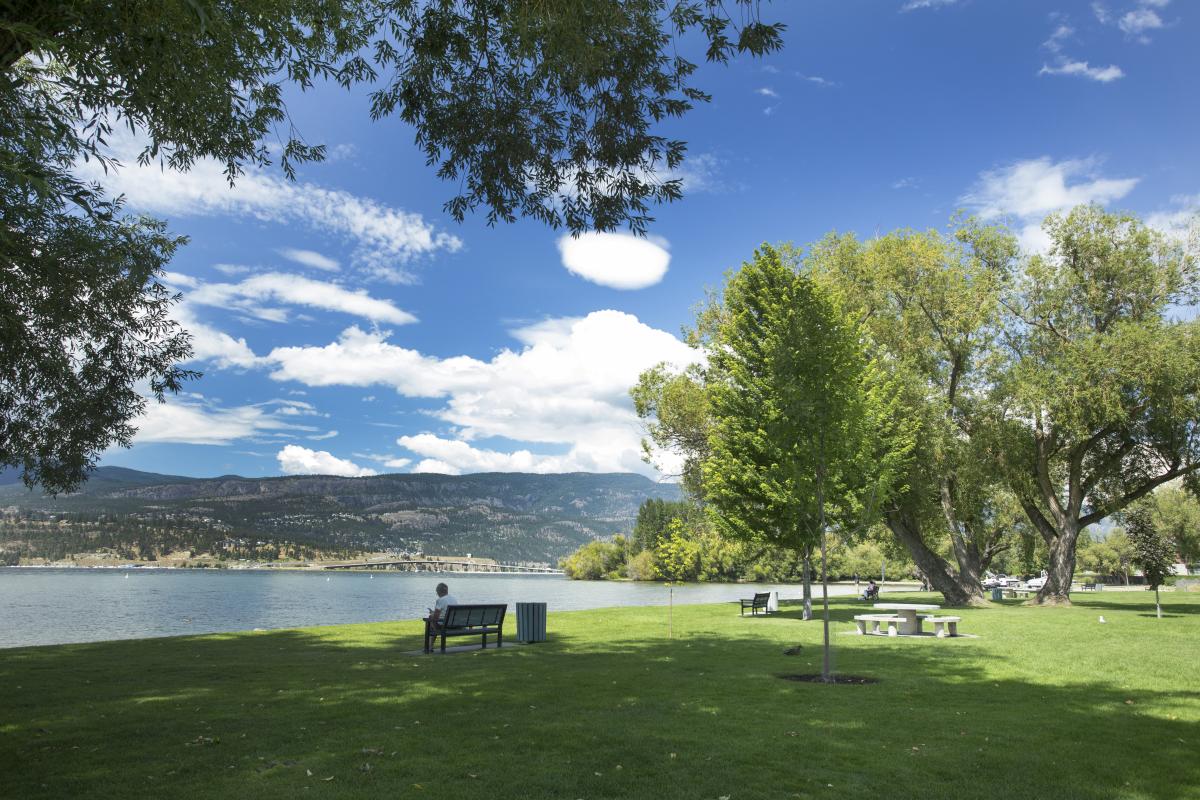 Kinsmen Park. Photo by: Matt Ferguson Photography 
Kelowna has over 30 lakeside beaches for sunny days spent swimming, picnicking or tossing a Frisbee. Consider skipping the popular spots and seek out more secluded stretches of sand instead. Some of these tiny beaches have limited parking, so hop on two wheels and cycle south from downtown along Abbott Street and then Lakeshore Road, and stop for a peek whenever you see a brown wooden sign that says "Beach Access." 
One of our favourite less-frequented haunts is Kinsmen Park, with a playground, picnic tables, and swimming area adjacent to the Sibelle Maude-Roxby Wetlands Boardwalk. "Hidden Beach," where Mission Creek empties into Okanagan Lake at the end of Truswell Road (follow the Beach Access pathway), is also a must-visit. Here, silt from the creek piles up like a proper ocean beach (you may see kids skimboarding) and your kids will appreciate sand (instead of pebbles) between their toes. Last, Fuller Road Beach has a picnic table, small playground and swimming area, and is in close proximity to Barn Owl Brewing and DunnEnzies Pizza with arguably the best patio in the Mission. To get here, take Collett Road at the traffic circle after you cross Bellvue Creek on Lakeshore Road.
Now that you've biked all over the city, the kids will be exhausted, which is another reason to consider a Kelowna family bike holiday!