Picture curling up by the fireplace with your loved ones while enjoying winter wonderland views. Imagine warming up your hands on a hot mug of cocoa in front of a natural fire pit and savouring a freshly baked chewy chocolate chip cookie.
If this sounds like the perfect cozy vacation, Kelowna is where you want to be this month!

Big White Ski Resort 
With an average total snowfall of 750cm per year, it's no wonder why visitors from all around the world come to the Okanagan to enjoy winter activities. Located about 50km from Kelowna and about an hour's drive, this snowy paradise makes a great day trip or a side vacation within your Kelowna getaway!
"Big White Ski Resort is completely locally family owned and operated, and our goal is to ensure that we stay in touch with what other local families, and visiting families, want and need," says Nikki Wiart of Big White Ski Resort. "We've been named Canada's Favourite Family Resort, are home to Canada's second largest lifting system, and Canada's largest totally ski-in, ski-out villages."
The average daytime temperature during ski season is around -5C at Big White, which is a comfortable temperature to hit the slopes, but it is also cold enough to keep the snow dry and fluffy. Referred to as 'Okanagan Champagne Powder', the snow is often so dry that it's next to impossible to pack a snowball.
If skiing or snowboarding is not your thing, there are many cozy non-skiing adventures available. Raft with your loved one and ride down the 5-lane tube park or glide around Canada's highest elevation skating rink. 
We took our family to Moose Tube Time. And when we say family, we meant every member including the dog - it's pet-friendly! The kids loved hanging out and riding down the tube park with the mascots Loose and Lucy Moose who take over the Big White Tube Town every Friday night from 6:30 pm to 8 pm. Bonus - riders and spectators alike get to enjoy free hot chocolate courtesy of the resort during the mascots' weekly visits.
A great spot to warm up and hang out after tubing or skating is the fire pit - there are two of them - one near the rink and one near the tube park. Take feeling toasty to the next level by grabbing a warm beverage at the adjacent Happy Valley Day Lodge to sip on while being mesmerized by the fire.
Booking a magical two-horse sleigh ride with your friends and family is also a great way to celebrate winter. You don't have to wait for the Christmas season to enjoy the sounds of jingle bells while snuggling up underneath a blanket on the wagon. Jim Long, who has been operating the sleigh rides with his Clydesdale horses at the resort for almost two decades, offers half-hour, one-hour, and dinner ride options. Whether you're up on the mountain for just a few hours or an extended stay, you can be sure you can find something that would fit your schedule if you're interested in being nestled in with some of your favourite people while travelling through a snow covered forest in an old-fashion way.

Where to stay and play to experience winter magic
After a fun-filled escape to the mountain, spend the night beside the lake! Eldorado Resort is where visitors to the Okanagan have been staying for almost 100 years. Opened in 1926, this lakefront hotel offers a bed and breakfast package so you can cuddle before heading down to the dining room for a delicious breakfast made by the in-house culinary team. 
Cheese or chocolate lover? Winter is the perfect season for a fondue night! Head to the Eldorado's lounge patio for fondue every Tuesday until the end of February. Reservations are required.
Grab a blanket, put on the layers and walk along the boardwalk. Once in a while, you might even get to view the dancing nighttime lights of the aurora borealis if the timing is right and the sky is clear. To maximize your view of the sky, the waterfront is one of the best places to check out this spectacular nature show.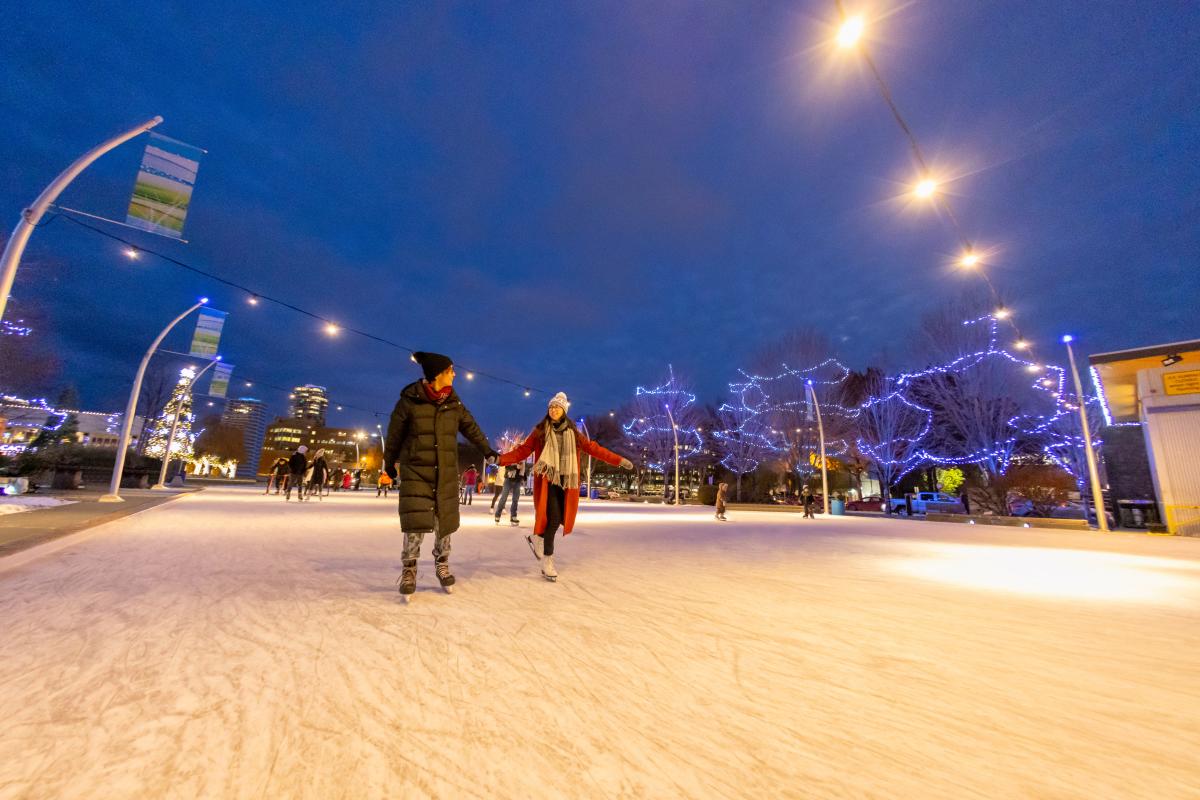 Stuart Park Skating Rink. Photo by: Darren Hull Studios.
A short drive downtown is where you will find Stuart Park. If you didn't get the chance to lace up the skates on the mountain, check out this free drop-in public skating venue. Don't have skates? Rentals are available for a fee from 11 am to 8 pm. Bring a camping chair and bundle up by the fire pit after blading on the ice. A food truck is also onsite during peak hours if you're feeling like a rink-side warm meal or drink. You can also check out the city's webcam to get a live view of the rink to see the conditions.