With Kelowna only a short drive (or a one-hour flight) away from Calgary, more and more Albertans are flocking to this wine country vacation hotspot.
From early spring until late in the fall, try one of the Okanagan Valley's most unique wine tours for a once-in-a-lifetime adventure.
Zipline and wine tour
Even if you've enjoyed some of the scenic wine country views before, you probably haven't seen them from a towering rope course that covers 2.1 km of the Okanagan Valley. On this excursion, Distinctly Kelowna Tours will take you to ZipZone Adventure Park, where you will zoom along six astonishingly high ziplines. Recover from your adrenaline rush with a visit to a couple of wineries on the Westside Wine Trail. Both the Kalala Organic Estate Winery and Quails' Gate Estate Winery are excellent spots to enjoy some well-earned R&R (as in, reds and rosés).
ATV and wine tour
Another of Distinctly's tour options takes you on the road less traveled (literally) to explore the Okanagan backcountry via ATV. On this tour, which is very close to the Westside Wine Trail, a guide will take you through the semi-arid desert and alpine terrain of the valley. You'll stop at the lush vineyards of Kalala Organic Estate Winery before enjoying a delicious lunch at 19 Okanagan Grill while enjoying the view overlooking the lake.
In the afternoon, it's back to wine country with a visit to Quails' Gate Estate Winery, which has been owned and operated by the same family since 1956. Celebrate the end of a long journey with their 25th-anniversary wine, Orchard Block Gewurztraminer, while taking in the scenic views of the lake, mountains, and vineyards at one of the Okanagan's most photographed wineries.
Sidecar wine tour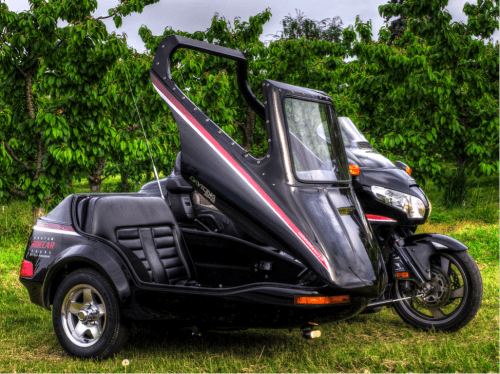 Image: Custom Sidecar Tours
If you want a unique experience for just the two of you, hop aboard a motorcycle sidecar tour of the Okanagan Valley. Custom Sidecar Tours will take you past wineries, orchards, farms, lake vistas and more on an itinerary tailored to your specific interests. Pro tip: travel along the Scenic Sip Wine Route in Lake Country to taste fruity, full-bodied wines at any of the route's six wineries and don't forget your camera because this wine route is appropriately named!
Cycling wine tour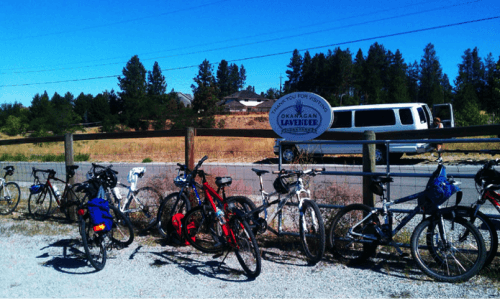 Image: Monashee Adventure Tours
Hoping for a more active outing? Monashee Adventure Tours arranges a guided Wine Trail Cycle Tour along the Kelowna Fab Five Trail, during which you visit Camelot Vineyards, The Vibrant Vine, SpierHead Winery and The View Winery. The tour is mostly downhill, making it a relaxing ride through the agricultural areas of East Kelowna. While you're in the neighbourhood, you can also check out the House of Rose and Sperling Vineyards. Some of the wineries even have picnic food and live music to enjoy!
Independent adventurers looking to forge their own path will love the Okanagan's only walking and tasting wine, beer and spirits tour. Stroll leisurely along the Grapes and Grains trails in downtown Kelowna, where you can try signature wines from Sandhill and Calona Wineries as well as craft beer and artesian spirits. Both Urban Distilleries and Okanagan Spirits utilize locally grown ingredients and have tasting bars where you can sample their premium products. The Tree Brewing Beer Institute pairs handcrafted flatbreads with their in-house draughts, so be sure to stop by for a flight or a pint of craft beer and a pizza. Don't forget to grab a growler for the room.
Vintage car wine tour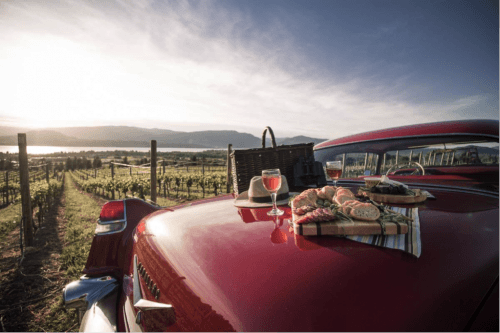 Image: Katie Huisman
Cruising along the Okanagan Valley in a pristine red 1956 Cadillac Sedan de Ville as you're driven from winery to winery — it doesn't get much better than this. Vintage Wine Tours pairs your party with their knowledgeable driver, Sam, who will shepherd you from one location to the next while giving you tips on which wines to try. Ask him to take you through Lake Country (with stops at Gray Monk, Arrowleaf, Ancient Hill, 50th Parallel, and Intrigue) or to follow the Lakeshore Route (visiting St. Hubertus, Summerhill, CedarCreek and Tantalus).
Classic car lovers can also sign up with Tours 59, a company that offers four structured wine tours or custom tours by request. Sit back and relax as you cruise along windy roads and take in scenic lakeshore views.
These are the perfect opportunities to take photos at any of the picture-perfect lake lookouts with the classic cars and rolling vineyards in the background.
Heli-wine tour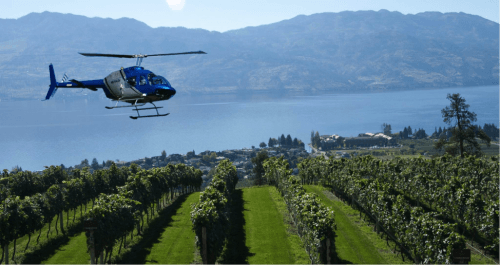 Image: Valhalla Helicopter Inc.
Treat yourselves to the adventure of a lifetime with a helicopter wine tour by Valhalla Helicopters or Alpine Helicopters. Your pilot will guide you to your choice of several local wineries where you can taste the finest wines in the region. Be sure to book your winery tours and reserve a table for lunch ahead of time, or pack a homemade picnic to enjoy in the vineyard or on a mountain top overlooking the valley.
Wine country half marathon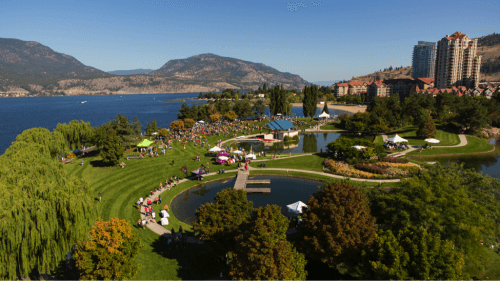 Turn your wine tour into a full-blown marathon this Labour Day weekend with Destination Races' Kelowna Wine Country Half Marathon. The race starts at The Vibrant Vine, winds its way through the East Bench and the greenbelt, and ends in downtown Kelowna at the Wine & Music Festival at Waterfront Park. Whether you choose to participate in the race or not, you can enjoy activities all weekend long and cheer on the finishers while sipping on a glass of delicious Okanagan red or white.
---
Article originally published on Daily Hive on August 17, 2016.