Be it a selfie captured with your new cell phone or a more sophisticated image thoughtfully crafted on a digital SLR, recording a visit to Kelowna means you've got to make the most of your photo opportunities. Good lighting makes a difference (the golden hour is extra special on Okanagan Lake), so does attention to detail. But nothing is as important as having the right subject. Here are a few locations to help you really deliver the magic while exploring everything Kelowna has to offer—from the mountainside to the lakeside.
Knox Mountain

Image: Kyle Pearce
Knox Mountain Park is located overlooking downtown Kelowna and offers a stunning vista that includes the Kelowna waterfront and Okanagan Lake. The summit is a short hike from a parking lot near the top of the mountain, which means you won't have to lug your camera too far.
Mission Hill Winery

Image: Peter Bond
Stunning. Awe-inspiring. Overwhelming. A little over the top, perhaps—until you visit the Mission Hill Winery and see it for yourself. It's all but impossible to take a bad photograph here. No filter needed.
Myra Canyon - Kettle Valley Rail Trail
Whether you're on foot or riding your mountain bike, you're going to find plenty of opportunities to stop and snap an image or two at Myra Canyon's Kettle Valley Rail Trail. Pose your subject on one of the 18 trestles overlooking the canyon or frame them in the opening of one of the two tunnels.
Kelowna's Downtown Waterfront

Image: Stuart Madden
Lots of sailboats. Lots of Birds. Lots of water. And lots going on. A stroll along the Kelowna waterfront is the perfect excuse to capture the action swirling around you. Put Okanagan Lake to your subject's back or pause at one of the many landmarks that line the waterfront for a unique snap.
Kasugai Japanese Gardens

Image: Wikimedia Commons
A tribute to one of Kelowna's sister cities, Kasugai Gardens is a quiet space that features many traditional elements of a Japanese garden, including ponds, waterfalls, stone figures and beautiful flowers. Capture a serene photograph and enjoy the zen for yourself.
Benvoulin Heritage Church
If angles are your thing, you'll want to arrange a visit to Benvoulin Heritage Church and work out your own way to capture the beauty of this iconic structure. Built in 1892 and fully restored in 1986, this charming pioneer church has been a landmark for more than a century.
Looking for more location inspiration? Search #explorekelowna on Instagram to see where other shutterbugs are snapping away.
---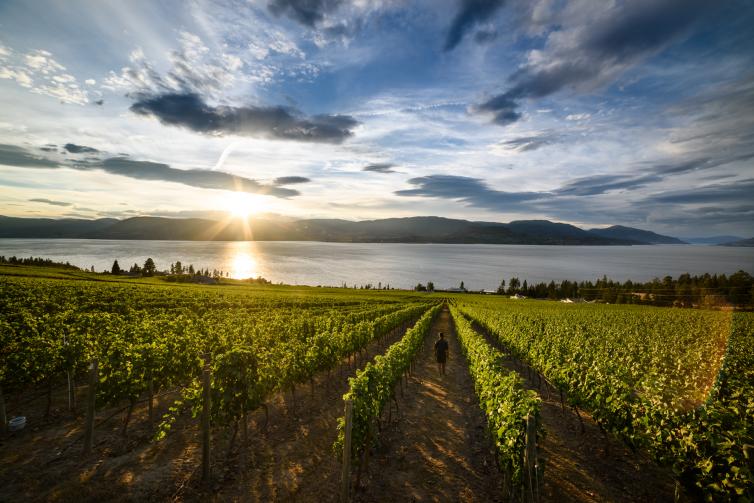 Cover photo: CedarCreek Estate Winery: Destination BC - Andrew Strain
Originally Posted on VanCityBuzz