During my 11 years in Kelowna, I've seen a lot of changes. There's this younger, more entrepreneurial energy and that's not just within the food and drinks scene but kind of everywhere, which is pretty amazing to witness.
Going back to the food, the best thing is that you don't necessarily need to have kitchen papers to be top of your game. When my family owned our restaurant, my Granny used to say: 'if you cook from your heart, people will come' and I've held onto that. I love shining a light on good humans who are good at what they do (and food just tastes better that way). Here are 5 chefs in and around Kelowna that I think you should get to know:

Andrea Callan / Red Fox Club
Andrea grew up in a small, rural town in Ontario looking after her family farms, so it's safe to say this food thing has always been in her blood. She moved away from her family's home kitchen to complete a home economics degree in Finland, then graduated from The Culinary Institute of Canada before moving to Ottawa and cooking for senators, royalty, and athletes, and then deciding to call the Okanagan home. Her Okanagan culinary life was shaped by stints as the Executive Sous Chef at Old Vines Restaurant at Quails' Gate Winery and even Okanagan Grocery, where she learned about crafting bread using slow fermentation methods. Then, the opportunity with Red Fox Club as General Manager and Chef de Cuisine knocked and shifted her focus 'to create simple, local and indigenous food with respect for Canada's Aboriginal and Canadian heritage.' I'd like to also mention that Andrea is a community-minded person who cares and that's reflected in her food – so win-win.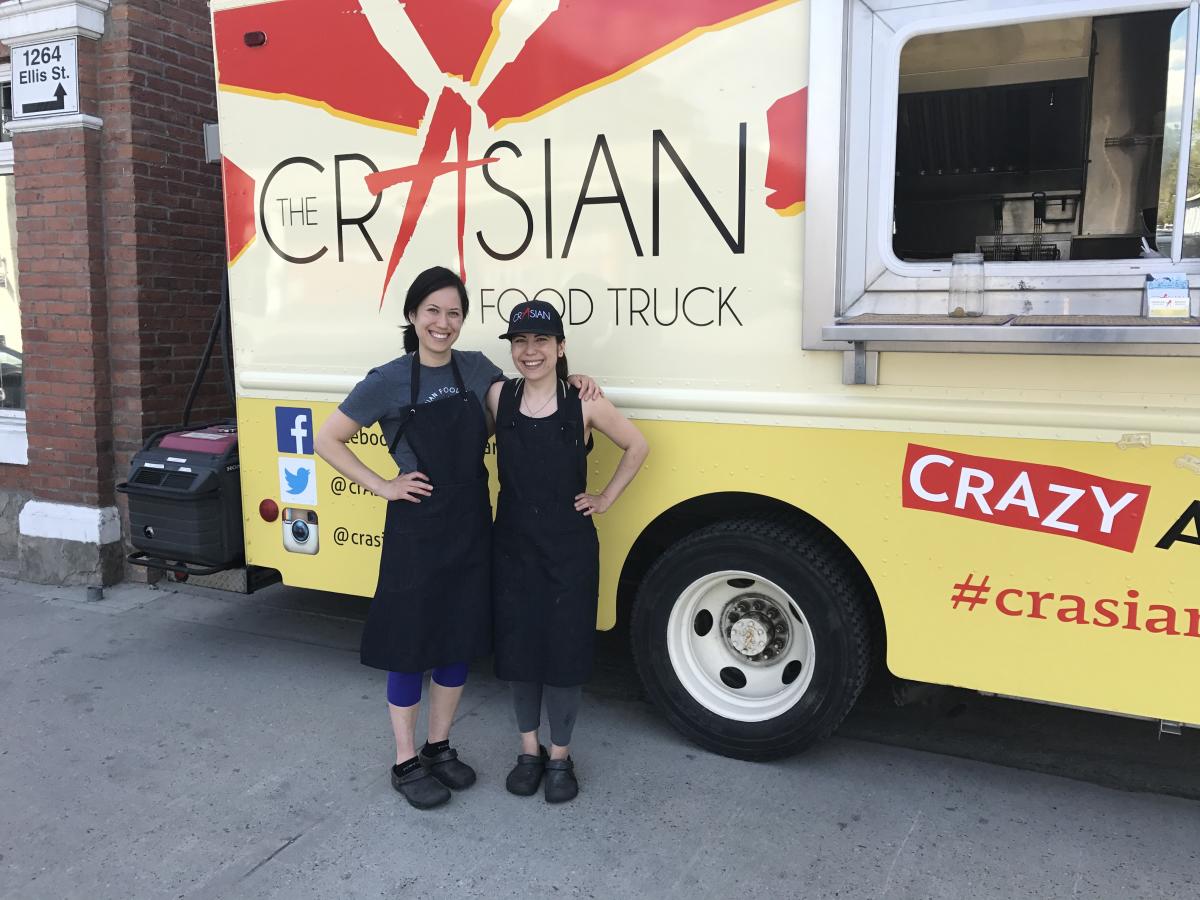 The story of sister tag team, Courtney and Meiko, will make you all warm and fuzzy inside (and I have a thing about family-run businesses). Food was a big part of the Koga household growing up; in fact, it was more than that. For them, 'the kitchen is truly the heart of the house.' Courtney left her non-cooking-related management job to open the CrAsian Food Truck in 2014 with her sister, Meiko, right by her side - sibling telepathy for when things get a little chaotic helps, too. The fact that neither sister had ever worked in a professional kitchen didn't stop them from trying with a goal to simply make food fun again. In the past year alone, they've opened Provisions Kitchen & Catering at Kettle River Brewing and are serving up Bahn mi's and steamed buns at BoxcAr (inside the BNA tasting room).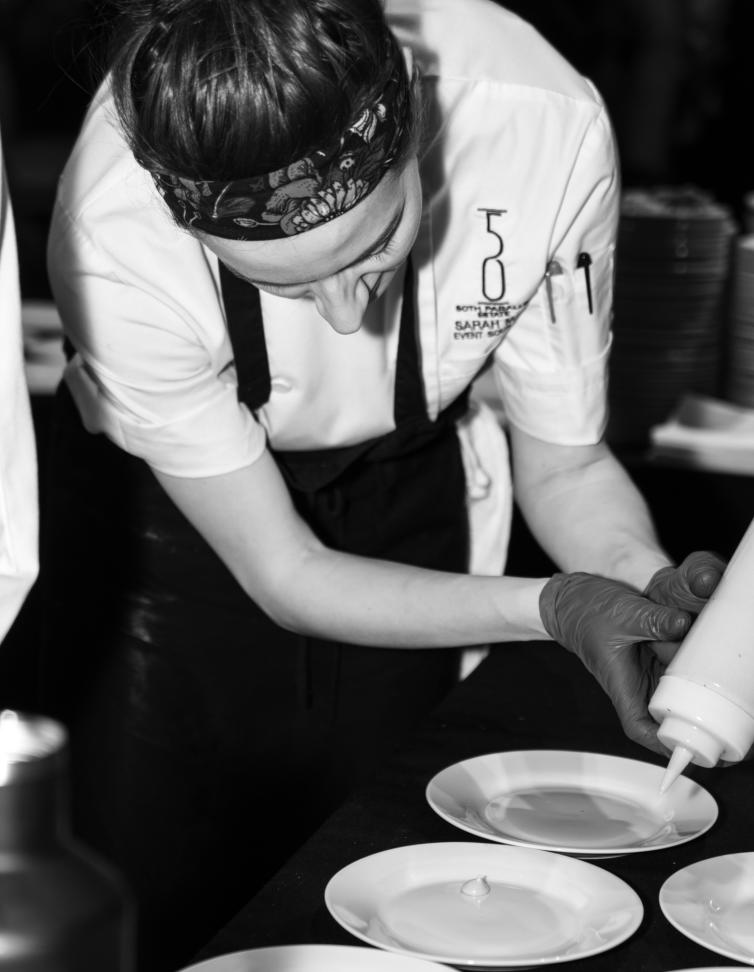 Photo by: Sarah Farmer & Transparent Kitchen
Meet Sarah Maw, a passionate Sous Chef for BLOCK ONE at 50th Parallel Estate Winery in Lake Country who believes that 'good quality ingredients speak for themselves.' Sarah is all about giving back, so she is a regular at community-driven fundraisers, including Grandmother's for Africa, Niteo, and my International Women's Day line-up last year. As a competitor at heart, Sarah has multiple competitions wins under the belt (that's a bit of an understatement because at one stage she won everything she entered) and just represented Kelowna in the Culinary Championships in Ottawa with Executive Chef and mentor, Kai Koroll. I'm excited to see what the future brings for this ambitious, super down-to-earth lady.
Sometimes you meet people whose way of life just shapes what they do, where they live, and what's around. Formerly based in Crofton, BC, at the Osborne Bay Pub, supporting local was another term for using and paying tribute to what was right there in Kacia's backyard, as well as neighbouring areas. The Okanagan called with a role at The Terrace at Mission Hill Winery, which led to meeting Susi, who had a vision for what is now the Rustic Reel Brewing Co. The rest is history. But now there's a focus on all things Okanagan and community (plus, she has a smoker to play with).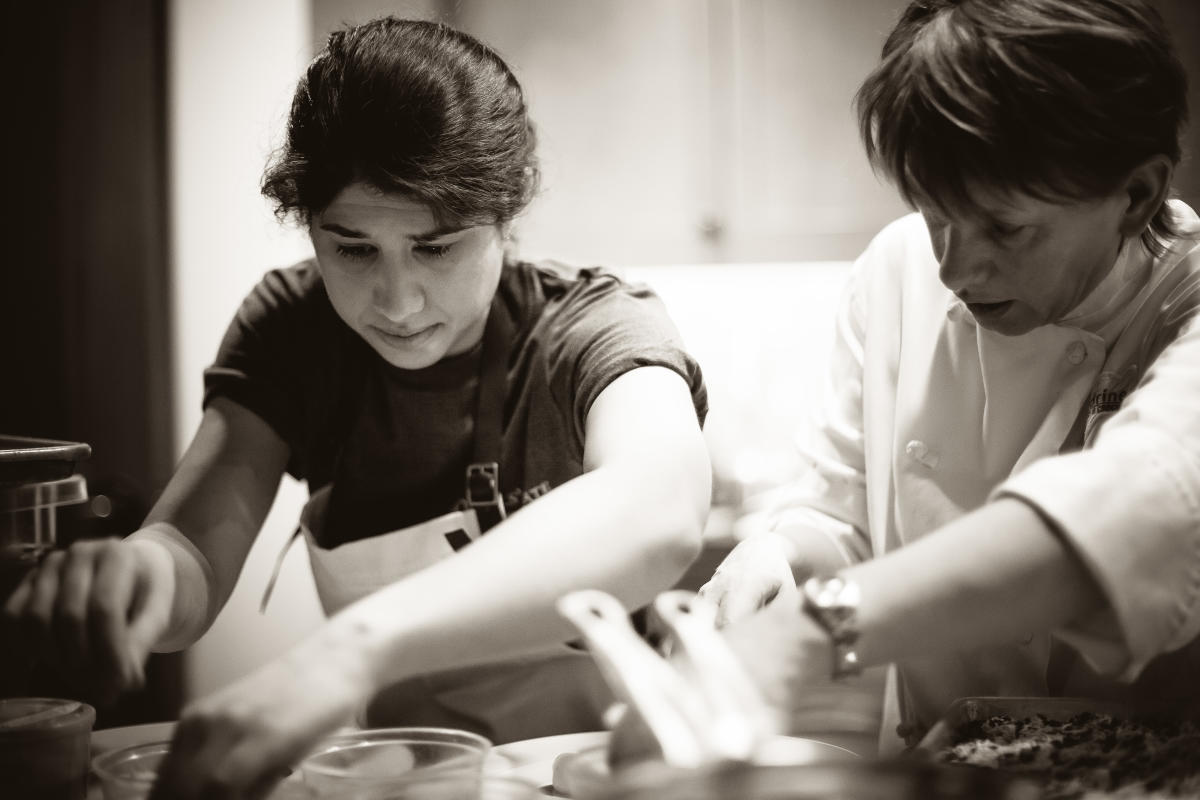 (Aman Dosanj (me), left; Sandrine Raffault, right) Photo by: Tarynn Liv Parker
Sandrine was born and raised in France, in the Beaujolais area, near Lyon. Her family has been in baking and pastry for over four generations! With an MBA in Finance and Entrepreneurship in hand and working as a consultant for start-up businesses, she decided to enter the pastry industry, training at her cousin's pastry and chocolate shop as well as Parisian Culinary Schools. In 2004, Sandrine moved to the Okanagan and launched La Boulangerie Gourmet Café, offering a French flair to bread, pastry, and savoury items. By 2010, she opened Sandrine French Pastry and Chocolate; a smaller shop specialized in cakes, macarons, and chocolates with a local focus. Fifteen years strong, the Okanagan is so much better for it.
Each and every year, March 8 is celebrated as International Women's Day. For me, every day is just that. These women deserve to be recognized simply because they're super talented at what they do and have paved their own path within our growing and ever-changing food scene.
Cheers to you!