With all the snow that has fallen in the Okanagan this year, there couldn't be a more beautiful landscape for hikers looking to get out into the fresh air. With some precautions, hikers can enjoy many of the local trails, while taking in the breath-taking winter wonderland landscape.
It is recommended that hikers heading out on the trails dress in layers, with a moisture-wicking under-layer, a warm hat, good boots, gloves, and of course, ample water for longer treks. Don't let the cold weather fool you! It's easy to work up enough of a sweat and have to remove a layer and develop a thirst! Additional supplies, like spikes for boots and hiking poles, can come in handy for longer adventures.
Winding through the hills above Lake Country is the Spion Kopje trail system. The system provides a great location for winter hiking, and a variety of trails to suit different ability levels. Be mindful of the summit trail during snow, as it consists of loose shale underneath. Various viewpoints open onto a vista of Okanagan Lake, Kalamalka Lake, and Woods Lake. Trails are relatively well marked with signage but can also be easily be followed by the usage tracks in the snow.
In John's Family Nature Conservancy hiking area, you will find the Lebanon Creek trail. A 4 km trek in one direction (2 hours round-trip), it will bring you up Cedar Mountain. From the top, hikers can take in the snowy winter landscape of Kelowna and the Okanagan Valley around a firepit with stone chairs.
Waterfalls are a favourite of many…so why not venture to check out the wintery waterfall at Mill Creek. If it's cold enough, frozen waterfalls are awe-inspiring as the water freezes in tendrils down to the churning water below. Be careful of slippery and icy paths as they aren't maintained in the winter months. The hike will take hikers approximately 1-hour round-trip

Get active this winter with these activities in Kelowna:
---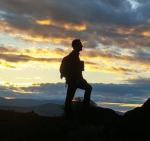 Josh Hoggan is an avid hiker who started Kelowna's HikingAddiction in 2011. Growing to over 6000 members, the group hosts free hikes every weekend in the Okanagan. When he's not seeking the next stunning vista or hidden trail fork, he's working designing apps with his business, Koingo Software, that he started when he was ten years old.