To the joy of visitors and residents who love music, Kelowna's vibrant and diverse music scene continues to flourish. Virtually any night of the week, you can find a wide range of gigs taking place in the city.
To celebrate the Kelowna music scene, I've compiled a list of three Kelowna artists you need to listen to now. Quick caveat; there are so many stellar artists in Kelowna that I could (and will) make multiple lists. These three are on my current playlist.
Ancient Engines
These guys are a genre-bending Kelowna indie rock band, and if they're playing while you're in town, go see them. Their lead singer, Matt Sandy Jr., has one of the best voices in the Kelowna scene. Take a listen to their sound here:
Find Ancient Hills online here. Keep tabs on upcoming Ancient Engine shows via Tourism Kelowna's events page.
The Bonsais
The Bonsais are a rock trio from Kelowna, with influences ranging from funk to indie. These guys are great live or on recording. Check out their music here:
Click here to visit the Facebook page for The Bonsais. Catch The Bonsais at downtown Kelowna's Habitat (248 Leon Ave.) on September 21st (9 p.m.).
Proper Man
Proper Man is a dynamic six-piece rock band from Kelowna. Fans of the modern Blink 182 may enjoy their music, and rumour has it they have some pretty big announcements in the works. Check out "Under the Sun" from Proper Man:
You can discover more of the band's music here. Keep an eye on Tourism Kelowna's events page for upcoming Proper Man gigs.
Find Proper Man on Facebook here.
Which local artists are you listening to? Give them a shout out in the comments. I'd love to hear your thoughts.
Whatever you get up to in Kelowna, enjoy this beautiful city! For a substantial list of upcoming local events, check out the events calendar.
---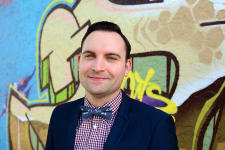 Vince Jones is a Bachelor of Arts graduate from UBC Okanagan and a passionate supporter of local and independent music. In the past, Vince was featured on 102.7 The PEAK in Vancouver, contributed to CBC Radio West and KelownaNow as a music columnist. He has hosted and contributed to indie music podcasts, and has booked, emceed and promoted numerous shows. He is currently the Marketing Manager for Kelowna's Walker Real Estate
To connect with Vince, you can find him on Instagram, Twitter or LinkedIn.