As the temperature drops and days get shorter, it's time to indulge a little, because food makes things better. These are my tried-and-tasted comfort foods to keep you cozy and shake off those winter blues:
We've all heard of flights of wine and beer, but Kelowna's newest craft brewery has introduced us to the sausage flight. It's pretty much locally raised, hormone-free sausages done three ways – baron of beef Bratwurst, farmer sausage, and a dry-aged Chorizo for an added zing. Served up with a warm house-made Amber IPA German pretzel and grainy mustard. Don't forget to wash it down with a beer – cheers! Oh, they have a vegan and gluten-free flight, too. So, you get a sausage flight, and you get a sausage flight, and you get a sausage flight (that's me, being Oprah).
760 Vaughan Avenue, Kelowna
I'm English, so I know a little something about fish and chips. Picking up from our local chippy is definitely a huge childhood memory for me and The Table at Codfathers does a stand-up job. Using sustainably sourced seafood that looks out for our ocean's health, their evenly coated batter is crunchy and even gluten-free. If you don't feel like eating in, you can pick up one of their family packs, designed for however much company unexpectedly shows up during the holiday season (or any occasion, really).
2355 Gordon Drive, Kelowna

Soup, Soup, Soup
The indoor Kelowna Farmers' Market is in full swing with squash and root veg right now, which is perfect for your homemade soup needs. Saying that you can get someone else to help you - The Okanagan Table, Okanagan Grocery, and Waterfront Cafe have deli fridges stocked with house-made, locally-inspired soups. If you're by the Landmark Buildings, QB Gelato serves up a weekly soup feature, plus a waffle grilled cheese that would love to be dunked.

Mexican Hot Chocolate (and Churro) / Ki-Bok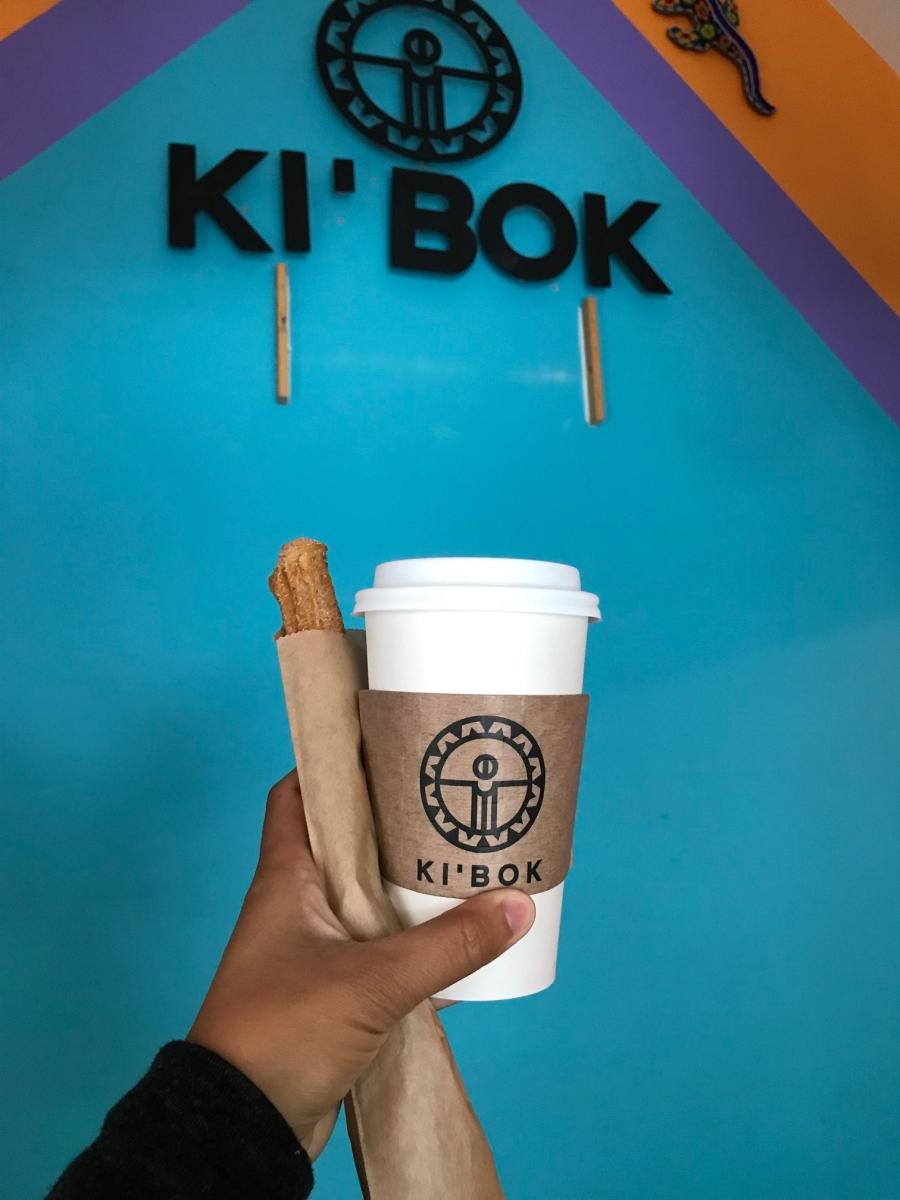 Ki-Bok brings a little bit of Mexico to Kelowna. Made with 70% cocoa and milk, their hot chocolate is rich, velvety, a touch bitter, and super chocolatey (so everything your hot chocolate dreams should ever ask for). As a non-coffee or tea drinker, this is quite possibly my favourite hot chocolate in Kelowna and I'm a hot chocolate connoisseur (if that's a thing).
482 West Avenue, Kelowna

Chicken Confit Poutine / RauDZ
This poutine isn't your usual fries, gravy, and squeaky cheese curd deal. The chicken is cooked low and slow in fat or oil (that's the confit part), which makes it really tender and even more delicious. Then, it's shredded up, layered with squeaky cheese that actually squeaks, and lashed with house-made gravy with just the right amount of salt.
1560 Water Street, Kelowna
Chef Brian Skinner is all about plant-based eats that makes even meat-eaters feel nicely satisfied in a wholesome and hearty way. Think thick Pappardelle pasta noodles, topped with tomato ragu made from minced Shitake mushrooms for meaty-ness without the meat, and then finished with a sprinkling of almond Parmesan, making it vegan, too. Real food made with real ingredients and no processed products in sight – yes!
Landmark District Market, 1717 Harvey Avenue, Kelowna
Shortly after they opened, Central became the go-to place for well-crafted burgers. I think a great burger is the sum of its parts. For Central, that starts with a patty that's a mix of Two Rivers heritage Angus beef and Fraser Valley pork. That patty is held together by a good pretzel bun and their special sauces that can create this nice little juicy meat/sauce drip action down your arm. And don't forget the golden coloured fries on the side because without carbs you're going to feel cold.
1155 Ellis Street, Kelowna
For me, ramen is like a hug in a bowl. It really is my ultimate comfort food and the thing I crave the most in life (food-wise). This Shoyu ramen is packed with umami – the made-from-scratch chicken and pork base is layered with soy sauce for even more depth. Fortunately for me (and you), Little Tokyo Ramen is keeping us warm and well-fed this winter with noodle-y soup-y goodness with the help of Copper Brewing – beer and ramen and a puppy-friendly patio. Don't forget to add an egg!
Find the food truck at Copper Brewing 1851 Kirschner Road, Kelowna or follow @little_tokyo_ramen on Instagram

The Swiss Potato Rösti / Waterfront Café​
I love potatoes, but this Rösti is like a super potato. First, it's perfectly crispy and golden brown on the outside whilst being soft, fluffy, and a bit gooey (thanks to the Gruyere cheese) in the inside. And then there's hidden bacon chunks. Yes, the menu description does tell you about the bacon, but there are actual bacon surprises inside the potato pancake. Nestled on top are two soft poached eggs and this lush black pepper gravy. (Available on the weekend brunch menu)
2245 Abbott Street, Kelowna

Donuts / Waterfront Café
If your taste buds are more on the savoury side than sweet, you'll want to head to Waterfront Café for Donut Thursdays. Ever-changing feature flavours will keep you entertained without watching that fireplace channel (and it's tastier, too).
2245 Abbott Street, Kelowna
Chef Nelson has a way of making food delicious. One thing I keep on ordering is the Chicken Pâté that's served in a mason jar. Some pâté can taste a bit metallic, but that's not the case here. Creamy and rich, spot-on seasoning with hints of thyme then topped with Arlo's honey for a savoury and sweet vibe. Oh yes, then there's its partner-in-crime: the grilled house-made brioche. It may seem like a simple dish, but it really isn't when it's done right.
1033 Richter Street, Kelowna

Curry / Poppadoms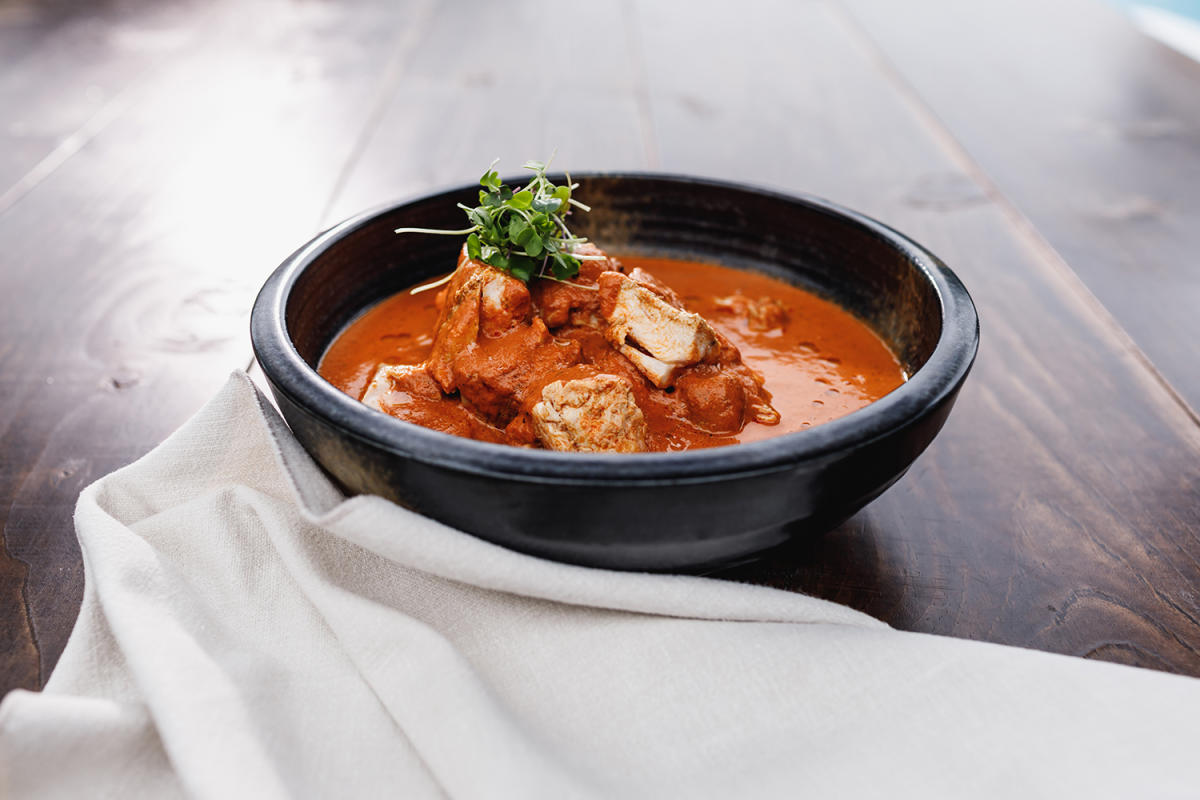 My family used to own a farm-to-table Indian restaurant in town called Poppadoms. Even though we closed our doors nearly four years ago, the food has lived on with Mum and Dad retailing frozen curry sauces for when you're in need of a quick meal. Expect homely sauces made with ingredients that you can actually pronounce, nothing GMO, and true-to-its-roots flavours - 'tis the season to eat curry and all.
Available at Sunshine Market, Kelowna Farmers' & Crafters' Market, Farm Bound Zero Waste.
Comfort foods are there to entice your happy dance to make an appearance. Hopefully, this list of some of my favourite things does that for you. Supporting local is pretty much a gift that keeps on giving – you get a pick me up and the people behind the food gets a well-deserved pat on the back as well. So, maybe it's not a guilty pleasure after all.
I'm hungry now.