Handmade, handcrafted, one-of-a-kind, shopping local — these are all words to describe what you will experience when attending a holiday market. I really enjoy attending several markets as we lead up to the holidays; you meet so many great artisans who spend their time creating these unique pieces of art, clothing, jewelry, aromatherapy items, food, the list goes on.
Often I can cross so many people off of my shopping list and each person receives something that is often one of a kind. I'm able to share a story on why I selected that unique gift for them and a bit about who created it... plus, I usually end up buying myself some gifts, too. There are so many holiday markets in Kelowna that it was hard to narrow it down to just 12. Bonus, by attending these you'll get your shopping done nice and early so you can enjoy the holidays stress-free.

Sugar Plum Fair at Quail's Gate Estate Winery
November 16 - 17
This annual Sugar Plum Fair is on its way to Quails' Gate Winery again! Bring the whole family down for a festive afternoon including a winter market with local artisans and a 15% discount in the Wine Shop. In the spirit of the season, they will be accepting donations on behalf of the Central Okanagan Community Food Bank and Inn From the Cold - Kelowna.

East Kelowna Artisan Community Holiday Market
November 17 & 24
This magical Christmas market is held in the historical and quaint East Kelowna Hall, with over 45 local amazing vendors, food, coffee, wine tastings, food trucks, live local musicians, and so much more! Visit on November 24 to say hello to Santa (photo ops from 10:30 - 11 a.m.) and to drop off food bank and toy donations (the South East Kelowna Fire Department will be filing their truck with the donations).  

Winter Wineland on the Southeast Bench
November 23
Visit the wineries along the Southeast Bench to get into the holiday spirit. The View Winery's Winter Wineland event will offer up light treats paired with their wines and ciders, along with live music. Be sure to pick up a Fab Five brochure to collect stamps as you visit the wineries - you can enter to win a case of wine!  

Sandhill Wines Holiday Market
November 23 - 24
Sandhill Wines is partnering with local craft-market aficionados, Craft Culture, to host a holiday market in their urban winery. Check out wares from a variety of local vendors, while also enjoying live music and sampling some delicious Sandhill wine. 

Earth to Table Vegan Market: A Very Merry Vegan Christmas
November 24
From food and beverages to beauty and household products, you'll be able to get everything crossed off your Christmas list. Whether you've been naughty or nice, Earth to Table Vegan Market has all the Christmas goodies you're looking for!

Flights and Frostbites at Lake Country's Scenic Sip Wine Trail
November 30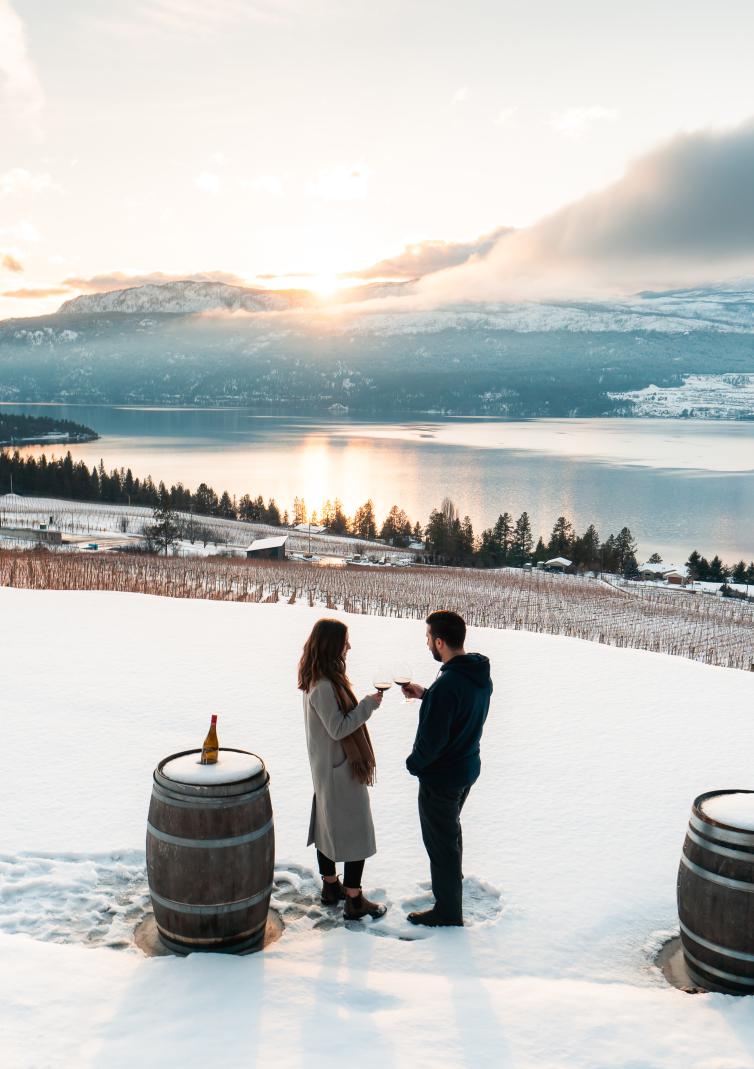 Photo by: David Vassiliev
Visit the eight wineries along Lake Country's Scenic Sip wine trail for a holiday tasting event. Enjoy a unique experience at each winery and in the spirit of giving, donations will be collected to benefit the Lake Country Food Bank (donations may be cash or non-perishable food items).

Touch of Christmas Crafters and Vendors Fair
November 30
The Annual Touch of Christmas Crafter and Vendors Fair! Your unique one-stop Christmas experience; featuring 80 plus crafters & vendors, 50/50 draw, door prizes, online and onsite silent auction, musicians and performers. Our Touch of Christmas Cookie Bar will be serving mouth watering Christmas cookies and delicious beverages.

Downtown Kelowna Winter Street Market
December 1
The Downtown Kelowna Winter Street Market returns on December 1, taking place along Water Street and in Stuart Park. Bring the whole family down to explore the festive market, skate on the Stuart Park ice rink, listen to live music or even meet the big man in red himself. At the market, you can indulge in some festive sweets and treats, munch on some delicious street food, or sip your hot chocolate by a cozy fire. Once you've taken all that excitement in, finish the evening off with the annual tree lighting celebration.

Sip Into the Season on the Westside Wine Trail
December 1
Sip into the season by spending the afternoon touring the wineries of the Westside Wine Trail.  The event takes place the first Sunday in December with each winery displaying the works of the artisans and crafters and offering tasty bites and sips for attendees. 

HomeGrown Holiday Night Market
December 6
HomeGrown Market is bringing back its popular Night Market. Head to the Innovation Centre to join local vendors and small businesses, with a tasty beverage in hand, and shop for that special someone this holiday season!

Craft Culture Winter Market at Prospera Place
December 7 - 8
This is the largest, genuine craft fair in the Okanagan, with over 175 talented crafters and artisans selling handmade/designed wares. This is the perfect place to buy unique items for even the toughest person on your shopping list!

An Artisans Christmas at Rotary Centre for the Arts
December 7 - 8
Over 60 talented artists and crafters will be at this two-day Christmas Market. There will be food trucks, activities for the kids, and swag bags, too! Donation for The Food Bank will be gladly accepted.

Bonus: Winter Warm-Up at Kelowna Visitor Centre
December 14
Looking for a place to warm up, check out local products, and enjoy some local treats? Stop by the Winter Warm-up and Market at the Kelowna Visitor Centre. There will be hot chocolate, coffee, games for the kids, prizes, and more. Come together with the community and enjoy everything Kelowna has to offer.