Situated in the heart of British Columbia, Kelowna is the hub and largest city in the Okanagan Valley. With breathtaking views overlooking Okanagan Lake and an endless number of year-round adventures available, visitors to the region are spoilt for choice when looking for rest and relaxation, high adrenaline activities, family time or a mix of all three. 
In addition, Kelowna continues to live up to its renowned reputation as a culinary destination. 2019 has seen impressive new restaurants opening, the wine scene continuing to thrive and several cideries and breweries popping up. Below is a sampling of what's opened in the last year, plus what's on the horizon.
What's New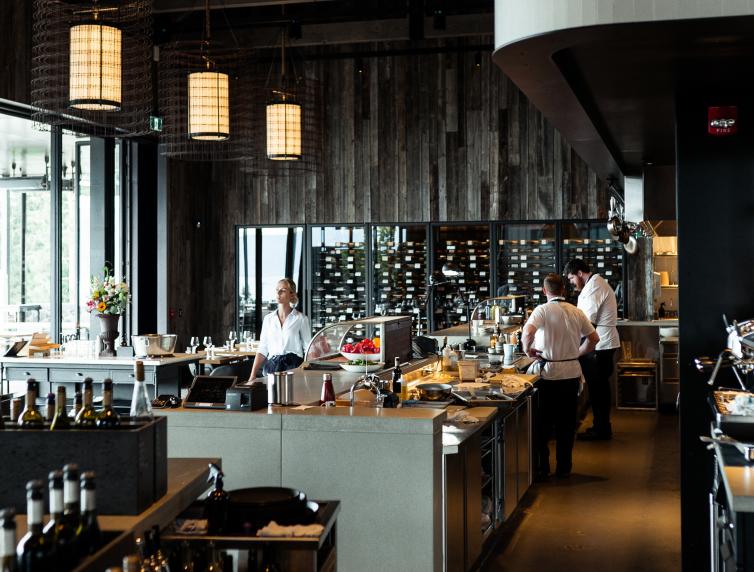 NOW OPEN
Restaurants
Home Block at CedarCreek Estate Winery – May 2019
"Honest, confident and approachable food."
Situated on the fifty-acre Home Block Vineyard along the shores of Okanagan Lake, the farm-house style restaurant it crafted out of field stones and 100 year-old barn wood.  Featuring terroir to table dining, Chef Neil Taylor takes the best ingredients and uses natural cooking methods to create food that pairs perfectly with CedarCreek wines. 
Frankie, We Salute You – May 2019
"Full of heart, health and (most importantly) fun!" 
Frankie, We Salute you was born out of owner Chef Brian Skinner's love of family, growing things and supporting local businesses.  The plant-based menu is crafted to be tasty and to offer options that meat eaters and veggie eaters will want to devour. 
The Lookout Restaurant at Gray Monk – May 2019
"Raise a glass, savour local bounty and bask in the view."
Not entirely new, but redesigned and relaunched, Executive Chef Maurice Desharnais has reimagined The Lookout menu to feature European-inspired fare using the best local ingredients possible. Pair your meal with a reserve wine from the Andrew Peller winery family, a classic cocktail, or a Frozé (frozen rosé).
Orchard Room – June 2019
"Where farm-to-table meets orchard-to-glass."
The cozy 30 seat Orchard Room offers a plant anchored menu, hand-crafted cocktails and an extensive cider list.  With a bright and welcoming Miami vibe, this is the second restaurant helmed by Chef Chris Shaften following the success of Krafty Kitchen & Bar. 
Breweries
Barn Owl Brewing– July 2019
"A doctor, a teacher, and a church worker walked into a barn … and the rest is history."
Kelowna's newest brewery is housed in a heritage barn in the city's Mission area.  With nine taps, seven of which feature their own brews, this neighbourhood gathering place welcomes beer fans to hang out on the patio, in the tasting room or up in the loft.  With a few snacks on the menu, the brewery encourages guests to bring their own food or order in from one of their neighbours. 
Kelowna Brewing Company – June 2019
"Bringing the fun and games."
Located on Academy Way near UBC Okanagan, Kelowna Brewing Company is a locally owned pub with 23 taps featuring local craft beer and tasty comfort food.  In late 2019 they'll be adding their own brews to the taps. 
Wild Ambition Brewing – December 2018
"Making each beer 37% more wild and 24% more ambitious than the last" 
Brewing up beer that is 100% naturally carbonated via bottle and keg conditioning, Wild Ambition Brewing is focused on mixed fermentation beer.  Ranging from the flagship Flower Market Hibiscus Sour to barrel aged stock ales to dark sour with local coffee it's safe to say their flavours are wild and ambitious. 
Cideries
Upside Cider – June 2019
"From tree to glass on our own organic farm."
Sustainability is top of mind for Upside Cider.  Using organic juice grade apples saves 1000s of pounds of usable fruit from going to compost, a commitment to biodiversity and regenerative agriculture and a plastic-free policy you'll feel good knowing you're enjoying a tasty beverage in a responsible manner. 
Spirits
Forbidden Spirits – May 2019
"Get your "apple a day" in a whole new way."
Nestled in the hills of south east Kelowna, Forbidden Spirits uses apples to distill their signature Rebel and Forbidden vodkas. Try them in the tasting room in a "Rebel Gimlet" or "Forbidden Martini". 
 
COMING SOON
Restaurants
Breweries
Spirits
Winter Park
Bull Mountain Adventure Park – December 2019
After closing in 2014, Crystal Mountain will re-open under new management this winter creating a close by, family-friendly skiing option just outside of West Kelowna. Basic beginner ski runs with a T-bar, snowboard park and ice rink will be ready for opening with plans for a tube park in the future. 
UPCOMING EVENTS
Fall Okanagan Wine Festival
October 3 – 13, 2019
Skate Canada International: The Grand Prix of Figure Skating
October 25 – 27, 2019
Okanagan Spirits Craft Distillery Mixoff
November 8th, 2019
International Indigenous Tourism Conference
November 12 – 14, 2019
Dine Around Thompson Okanagan
January 2020
World Mixed Doubles & Senior Curling Championship 
April 2020
Peak Pride Big White
April 2020
Memorial Cup
May 2020

Story Ideas
Community Building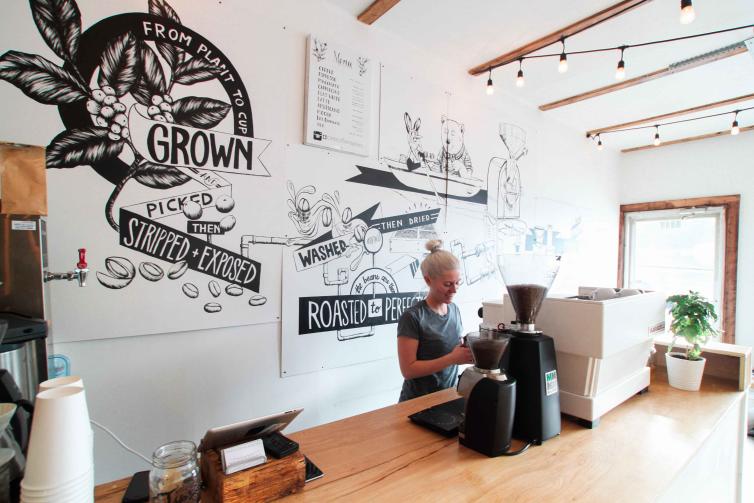 Kelowna's Farmers' and Crafters' Market is teaming with local producers and artisans. Seasonal harvest is highlighted by asparagus in the spring, peaches in the summer, and tomatoes of every shape and size in the fall. Chef Rod Butters, touts the market as his favourite place in the city. Canoe Coffee Roasters has been a staple at the market for a number of years, serving up locally roasted pour overs en masse, and now welcomes coffee lovers to gather at their roastery for a brew. Chocolatier and pastry chef Julian Helman creates stunning chocolate creations and delectable desserts at Karat Chocolate such as artistic quails' eggs, local honey infused chocolate bars and bites filled with hand-picked apples and cherries. Okanagan Lifestyle apparel was created by a pair of young Kelowna entrepreneurs filled with valley pride; you're sure to see the above-mentioned community members and, locals in general, rocking their hats, hoodies, and tees.

Agritourism Rules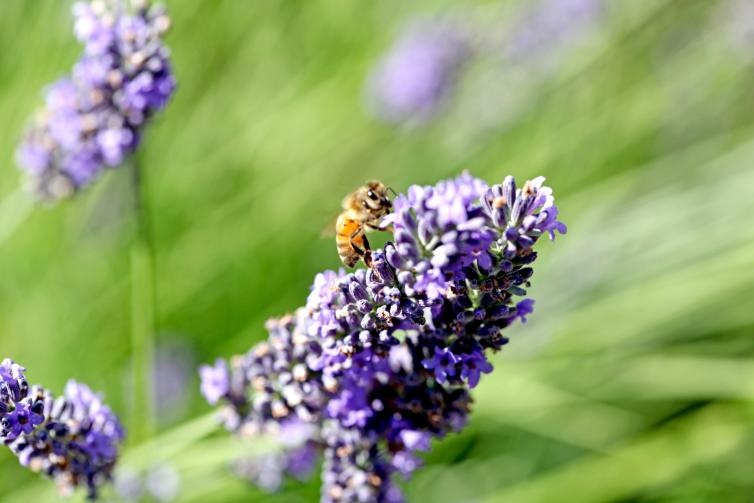 Kelowna is well known for orchards, vineyards, and a bounty of agricultural offerings. Embrace eco experiences and explore naturally; an agri-focused cycling tour with Giro Okanagan keeps things active. Beyond honey at Arlo's Honey Farm, learn from the bees themselves about the vital role they play in our ecosystem. Over 60 varieties of lavender have the bees to thank at Okanagan Lavender and Herb Farm. Surrounding u-pick orchards allow you to snack in the freshest way possible. Sperling Vineyards is a historic Kelowna site that practices organic and incorporates biodynamic principals. Find ingredients from your explorations at farm to table dining pioneer Waterfront Wines, where flowers from chef Mark Filatow's personal garden adorn tables.

Stay Outside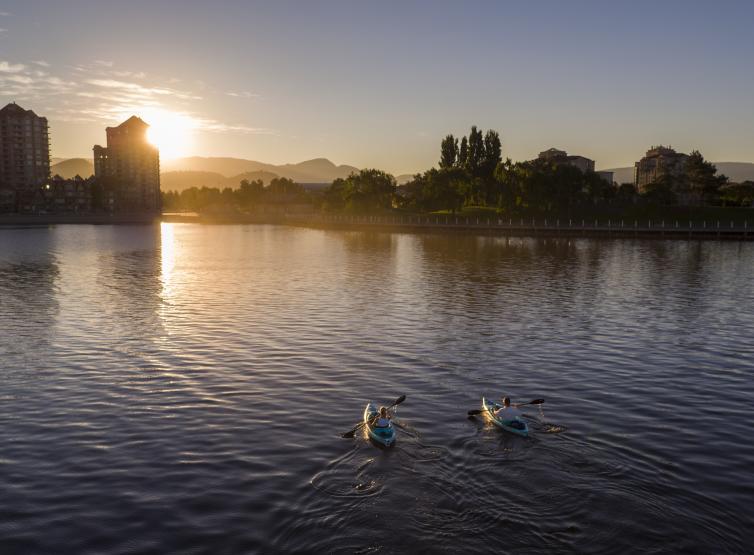 Ease into your day with stand-up paddle boarding or kayaking on Okanagan Lake. Don't want to get wet? Warm up with a round on one of Kelowna's 19 golf courses. Nibble buttery croissants from Okanagan Grocery Artisan Breads. Up the tempo and burn off treats with a hike up Knox Mountain in downtown Kelowna or Bear Creek in West Kelowna. For a faster pace cycle the historic Kettle Valley Rail, Myra Canyon Trestles or the Okanagan Rail Trail. Break for lunch and a well-deserved craft cocktail at waterside OAK + CRU. Soar above the trees at ZipZone in Peachland. Rise above the water with Okanagan Flyboard. You can even fly above it all with Ogopogo Parasail. The days not over yet, visit BNA Brewing Co. for a pint on the patio and bocce above the bar.

Unwind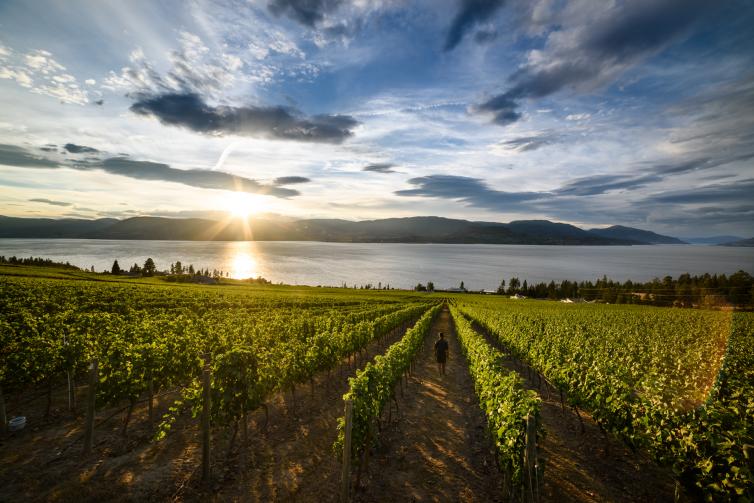 Grand terraces with lake views, wood bars at the centre of a production facility, or classic picnic benches set among apple orchards, Kelowna's more than 40 wineries have a seat waiting for you. Taste small lot Rieslings from Tantalus Vineyards, rarely found Pinotage from The View Winery (only one of three wineries in the Okanagan Valley to produce the varietal), and bold Bordeaux blends from Sandhill Wines. When you've tasted all you can, for now, switch gears for yoga between the vines at CedarCreek Estate Winery, salsa dancing at Summerhill Pyramid Winery, culinary classes with renowned chefs at Quails' Gate Winery or a summer party like no other at Kitsch Wines annual Splendor in the Grass (complete with live music, food trucks and a fashion show.) Ready for more? Sip while you dine at Red Fox Club at Indigenous World Winery, Garden Bistro at The Chase Wines, or Terrace Restaurant at Mission Hill Family Estate.

A Trestle for Every Season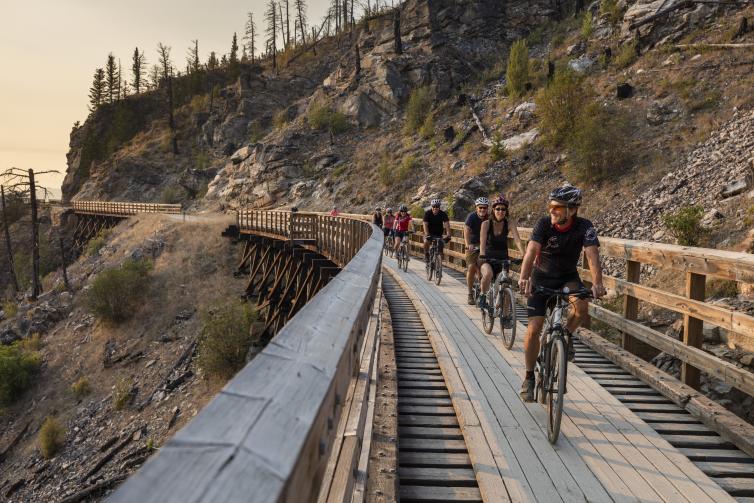 Myra Canyon's Kettle Valley Railway trestles may be the ultimate outdoor offering in Kelowna. Why? Not only does Myra Canyon serve up scenic views sure to leave you in awe, there is no shortage of ways to enjoy the site year-round. Spend the fall peddling over bridges on a cycle tour, trudge through blankets of sparkling powder in the winter with snowshoes, hike or stroll with friends as spring blooms, beat the summer heat and admire the trestles from above the treetops in a truly cool helicopter tour.

Coveted Sips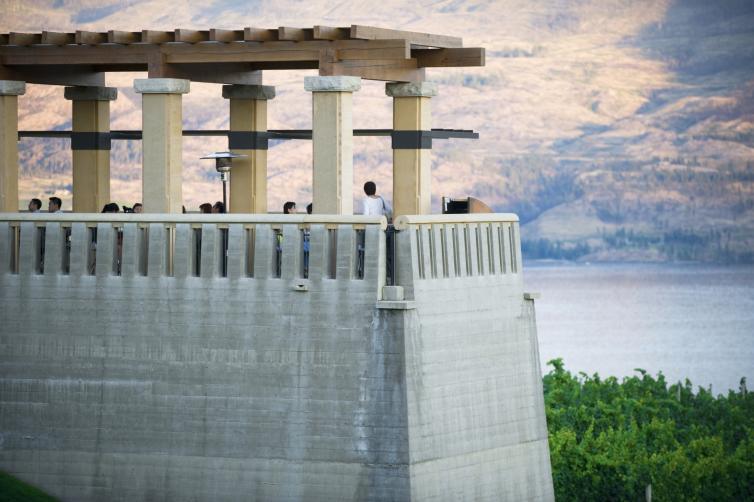 Kelowna is home to more than 40 wineries and five distinct wine trails. From wine giants such as Mission Hill to family estates like Quails' Gate Winery and plentiful boutique and garagiste offerings like Nagging Doubt, the hatch and Off the Grid Winery, one thing is constant for all, the majority of their wine is sold through their wine shops, and for smaller wineries sell-outs each year leave wine drinkers waiting for the next release. Travel to the birthplace of BC wine to discover hidden gems, taste the wines you wish graced your local shelves, and get it before it's gone.