What's New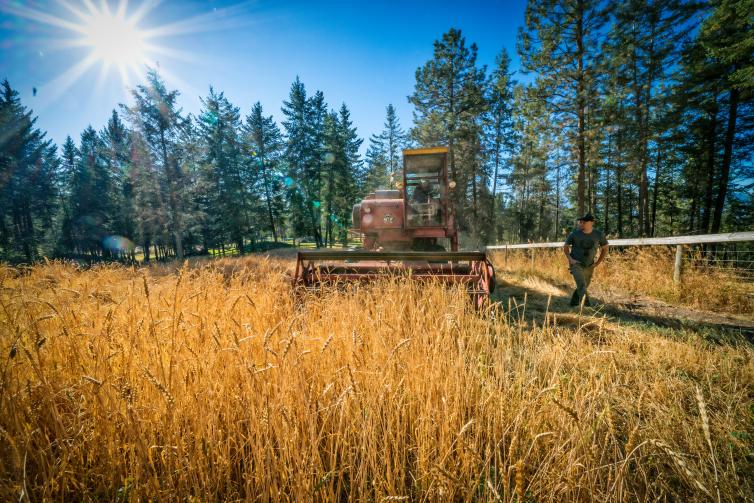 Glamping with Luxe Camp Okanagan, cruising Okanagan Lake on a luxury sailboat with Okanagan Yacht Tours, or touring the city in a Tesla with Current Taxi, there is a must do experience for everyone in Kelowna. Check out established innovators and new brews, like Red Bird Brewing, along the Kelowna Ale Trail; Smile Cycle Tours offers a fun and social way to explore your favourite craft brews. Discover Wiseacre Farm Distillery (opening soon) at Caldwell Heritage Farm as they expand Kelowna's farm to flask offerings; growing their grain on their property (a rarity in craft distilling).
Treat yourself to something special at Karat Chocolate, Okanagan Ice Pops, Parlour Ice Cream or QB Gelato (get hands-on here and learn to make gelato!) Dine above the city at Perch Café atop the Okanagan Innovation Centre, or at Waterfront Café, the newest offering from renowned chef Mark Filatow, located in Kelowna's ever-expanding Pandosy neighborhood. Sip into a Kelowna classic and visit new wineries, The Chase Wines or Burnt Timber Wines (opening soon) and check out expansions at CedarCreek Estate and 50th Parallel.

Festivals & Events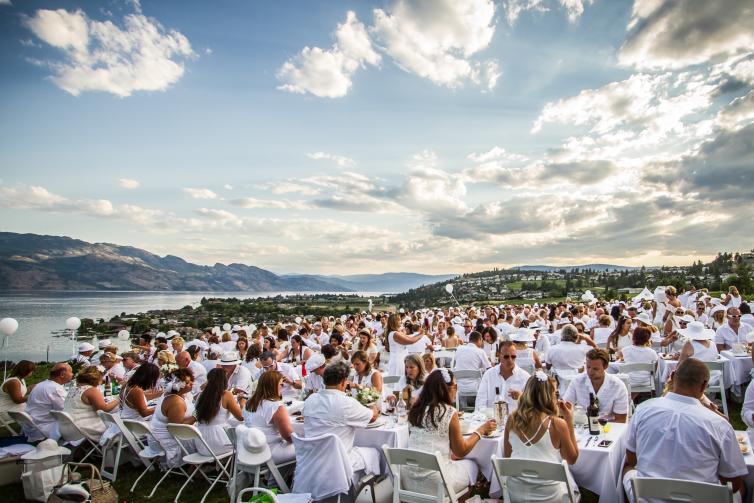 There's always something to do in Kelowna. The popular Dîner en blanc will transport you to a mysterious location where the white linens and wines flow. The seasonal wine festivals will introduce you to wines you won't forget about, Appleooza celebrates cider, and the Great Okanagan Beer Festival will have you sampling new brews on the lakeshore. We can't forget about food, Amuse is a delectable sampling of Kelowna's best, and Feast of Fields showcases local flavours. Chill out to the cool sounds at the jazz festival, turn your wheels at the Kelowna Gravel Gran Fondo, join in Kelowna Pride Week, or challenge your personal best time in the Wine Country Half Marathon. 

Community Building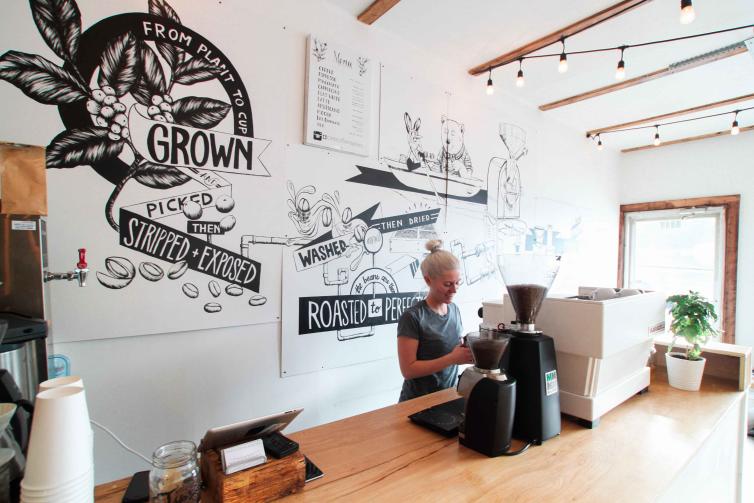 Kelowna's Farmers' and Crafters' Market is teaming with local producers and artisans. Seasonal harvest is highlighted by asparagus in the spring, peaches in the summer, and tomatoes of every shape and size in the fall. Chef Rod Butters, touts the market as his favourite place in the city. Canoe Coffee Roasters has been a staple at the market for a number of years, serving up locally roasted pour overs en masse, and now welcomes coffee lovers to gather at their roastery for a brew. Chocolatier and pastry chef Julian Helman creates stunning chocolate creations and delectable desserts at Karat Chocolate such as artistic quails' eggs, local honey infused chocolate bars and bites filled with hand-picked apples and cherries. Okanagan Lifestyle apparel was created by a pair of young Kelowna entrepreneurs filled with valley pride; you're sure to see the above-mentioned community members and, locals in general, rocking their hats, hoodies, and tees.

Agritourism Rules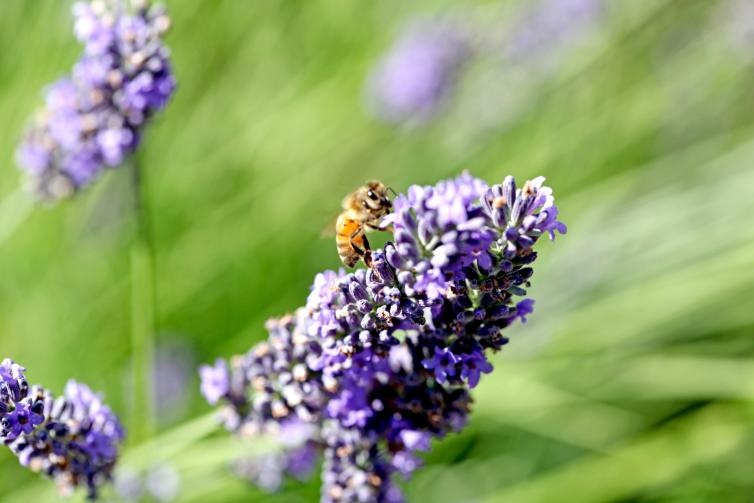 Kelowna is well known for orchards, vineyards, and a bounty of agricultural offerings. Embrace eco experiences and explore naturally; an agri-focused cycling tour with Giro Okanagan keeps things active. Beyond honey at Arlo's Honey Farm, learn from the bees themselves about the vital role they play in our ecosystem. Over 60 varieties of lavender have the bees to thank at Okanagan Lavender and Herb Farm. Surrounding u-pick orchards allow you to snack in the freshest way possible. Sperling Vineyards is a historic Kelowna site that practices organic and incorporates biodynamic principals. Find ingredients from your explorations at farm to table dining pioneer Waterfront Wines, where flowers from chef Mark Filatow's personal garden adorn tables.

Stay Outside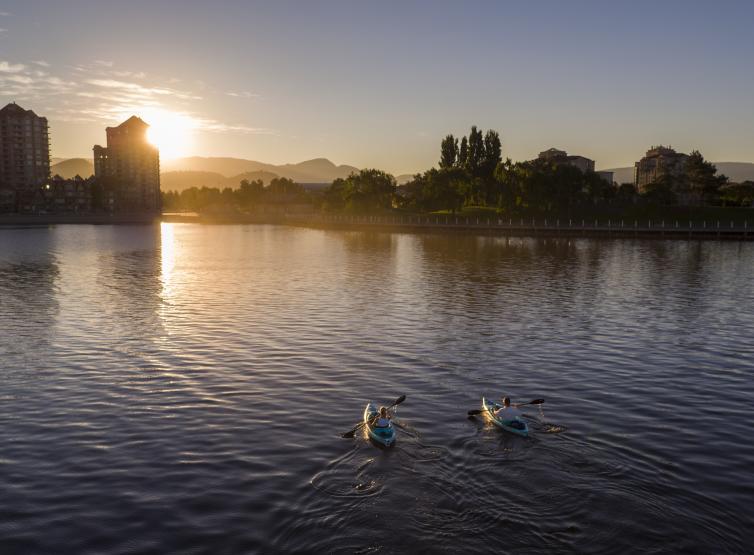 Ease into your day with stand-up paddle boarding or kayaking on Okanagan Lake. Don't want to get wet? Warm up with a round on one of Kelowna's 19 golf courses. Nibble buttery croissants from Okanagan Grocery Artisan Breads. Up the tempo and burn off treats with a hike up Knox Mountain in downtown Kelowna or Bear Creek in West Kelowna. For a faster pace cycle the historic Kettle Valley Rail, Myra Canyon Trestles or the Okanagan Rail Trail. Break for lunch and a well-deserved craft cocktail at waterside OAK + CRU. Soar above the trees at ZipZone in Peachland. Rise above the water with Okanagan Flyboard. You can even fly above it all with Ogopogo Parasail. The days not over yet, visit BNA Brewing Co. for a pint on the patio and bocce above the bar.

Unwind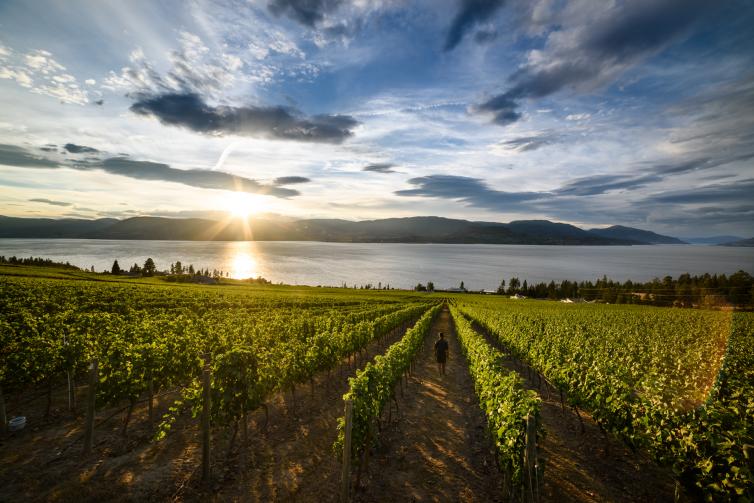 Grand terraces with lake views, wood bars at the centre of a production facility, or classic picnic benches set among apple orchards, Kelowna's more than 40 wineries have a seat waiting for you. Taste small lot Rieslings from Tantalus Vineyards, rarely found Pinotage from The View Winery (only one of three wineries in the Okanagan Valley to produce the varietal), and bold Bordeaux blends from Sandhill Wines. When you've tasted all you can, for now, switch gears for yoga between the vines at CedarCreek Estate Winery, salsa dancing at Summerhill Pyramid Winery, culinary classes with renowned chefs at Quails' Gate Winery or a summer party like no other at Kitsch Wines annual Splendor in the Grass (complete with live music, food trucks and a fashion show.) Ready for more? Sip while you dine at Red Fox Club at Indigenous World Winery, Garden Bistro at The Chase Wines, or Terrace Restaurant at Mission Hill Family Estate.

A Trestle for Every Season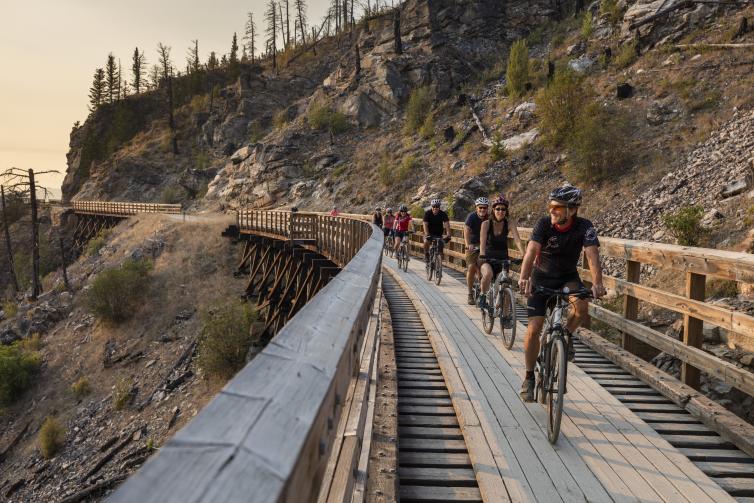 Myra Canyon's Kettle Valley Railway trestles may be the ultimate outdoor offering in Kelowna. Why? Not only does Myra Canyon serve up scenic views sure to leave you in awe, there is no shortage of ways to enjoy the site year-round. Spend the fall peddling over bridges on a cycle tour, trudge through blankets of sparkling powder in the winter with snowshoes, hike or stroll with friends as spring blooms, beat the summer heat and admire the trestles from above the treetops in a truly cool helicopter tour.

Coveted Sips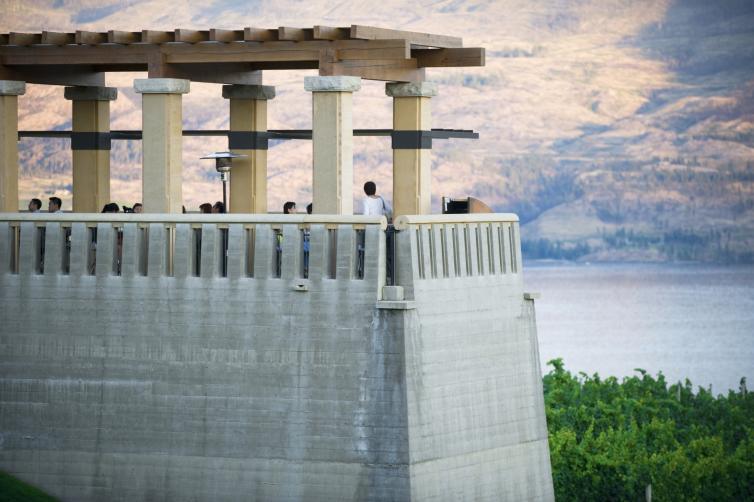 Kelowna is home to more than 40 wineries and five distinct wine trails. From wine giants such as Mission Hill to family estates like Quails' Gate Winery and plentiful boutique and garagiste offerings like Nagging Doubt, the hatch and Off the Grid Winery, one thing is constant for all, the majority of their wine is sold through their wine shops, and for smaller wineries sell-outs each year leave wine drinkers waiting for the next release. Travel to the birthplace of BC wine to discover hidden gems, taste the wines you wish graced your local shelves, and get it before it's gone.